Linksys WRT3200ACM AC3200 MU-MIMO Gigabit WiFi Router Review
---
---
---
Bohs Hansen / 7 years ago
Introduction
---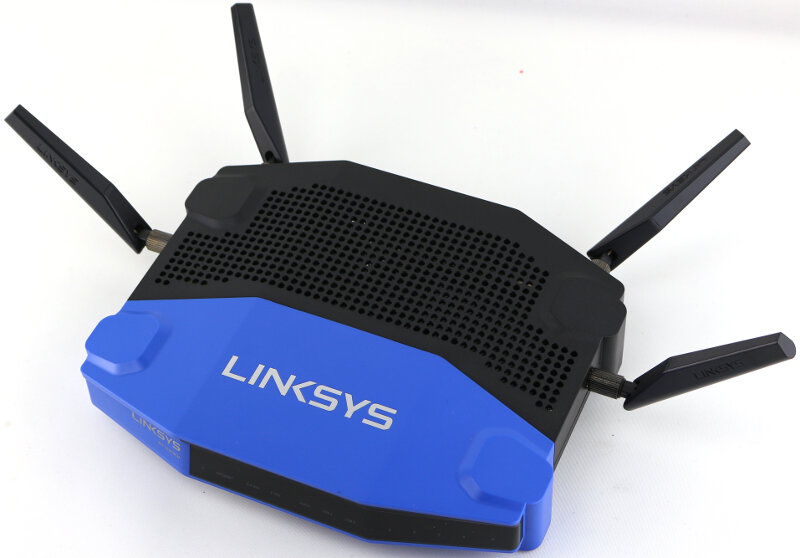 Linksys has had a lot of success with their WRT series, and that can't come as a surprise to anyone. They look great, are packed with features, and perform great too. Today I have the pleasure to take a closer look at the newest family member in the WRT series, the WRT3200ACM.
Linksys' WRT3200ACM is, as the name suggests, an AC3200 class router which means that it can deliver up to N600 speeds on the 2.4GHz band and up to AC2600 on the 5GHz band. The reason why it is so fast on the 5GHz band is that it uses the Tri-Stream 160 technology. The Tri-Stream 160 effectively doubles the bandwidth of the 5 GHz band through the use of three 160MHz channels. It is also Dynamic frequency selection (DFS) certified from the FCC which not only allows operation at 160MHz, it also triples the channels available at 80MHz. That allows your router to operate in the clearest airspace and where other routers aren't allowed.

The WRT3200ACM isn't just fast for single connections as it is part of the new MU-MIMO routers. MU-MIMO stands for Multi-User Multi-Input Multi-Output, and it allows multiple devices to get their full speed at the same time without lag, interruptions, or throttling. In traditional single-user MIMO routers, one device transferring would limit other ones and you'd quickly end up with lags or buffering times when more than one person used it at the same time. It builds upon longtime broadcasting cornerstones, such as spatial multiplexing, beamforming, and scheduling algorithms, to boost overall throughput and distribute Wi-Fi bandwidth fairly between devices. Each connected client device receives its own dedicated data stream, so users won't have to compete with one another for bandwidth. Multiple users can simultaneously engage in 4K video streaming, play online games, and perform other data-intensive tasks without latency or buffer times.
Linksys gave the WRT3200ACM four external antennas. They are naturally dual-band antennas, and they're also detachable. That means that you can replace them with better high-gain antennas should you need an even better coverage than the included antennas provide can provide. And they aren't bad at all. Most users won't need to replace them as the router already is rated for "very large households". This is also thanks to the beamforming technology which focuses the wireless signals to the connected devices.
Such a great wireless performance also requires a sweet deal of horsepower under the hood, and the Linksys WRT3200ACM has that. It is powered by an enterprise-grade dual-core processor that runs at 1.8GHz. That might not sound like a lot in desktop terms, but it certainly is for a router. Otherwise, the rest of the hardware matches and it is equipped with 512MB RAM and 256MB flash. You get four Gigabit LAN ports and one Gigabit WAN port, making sure that you can utilise your fast +100mbit internet connection. You also get a USB 3.0 port and a combined eSATA and USB 2.0 port for external storage devices.
Connected storage devices can be shared via the router in more than one way. There is the traditional file sharing via your network environment, but it also features both an FTP server for file transfers and a DLNA server for media streaming to your set-top boxes, media players, consoles, and other smart devices.

The WRT3200ACM comes with a pretty great user interface. The simple design makes it quick and easy to use, and there is no shortage on functions either. It features everything from OpenVPN support over parental control to guest networks. With the parental control, you can schedule times when specific systems can connect to the internet at all, and you can also block specific URLs or allow just a whitelist for them.
The scheduling option is also available for the wireless networks in general. Why have the wireless network running throughout the night or when you are at work anyway and not using it. Save the power and let it turn itself on and off at pre-set times. You can also share your internet connection with friends and other guests in your house with the dedicated guest networks. This way you don't have to share your normal wireless key with them and keep your setup safer. It also keeps them out of your private network with the option to only allow them to access the internet.
Other features include device, game, or app prioritising. This will make sure that the vital systems and features always have enough bandwidth to provide you with a smooth and joyful experience. Security features include firewall options and DMZ.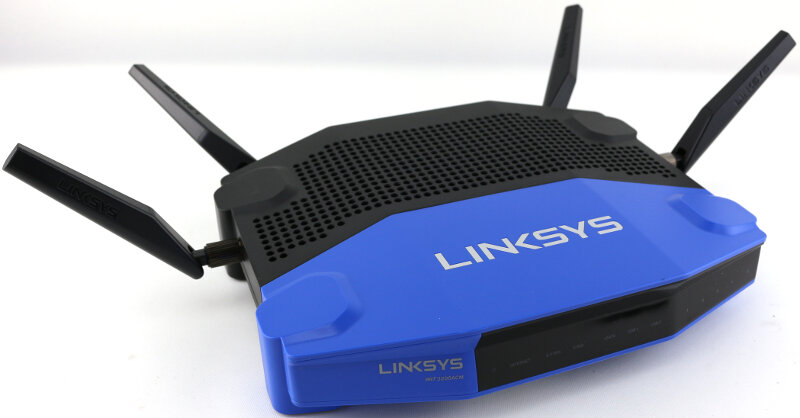 Should you not like the default user interface for one reason or another, then you have the option to install OpenWRT or DD-WRT onto the router. Speaking of installing another firmware, the WRT3200ACM supports automatic firmware checking and updating. This eliminates the need to check for new versions, download them, and install them manually.
Remote management isn't a problem either with the Linksys Smart Wi-Fi App. With the app, you can closely monitor and manage your home Wi-Fi remotely using an Android or iOS smartphone or tablet.
Feature Highlights
AC3200 Dual-Band
Tri-Stream 160 technology
MU-MIMO and beamforming technology
Open source ready with OpenWRT and DD-WRT
1.8GHz Dual-Core CPU
USB 3.0 and eSATA/USB 2.0
Package and Accessories
Linksys' WRT3200ACM comes in a beautiful box showcasing the router as well as all the features. Inside it's all well packed with cardboard for the accessories and foam padding for the router itself.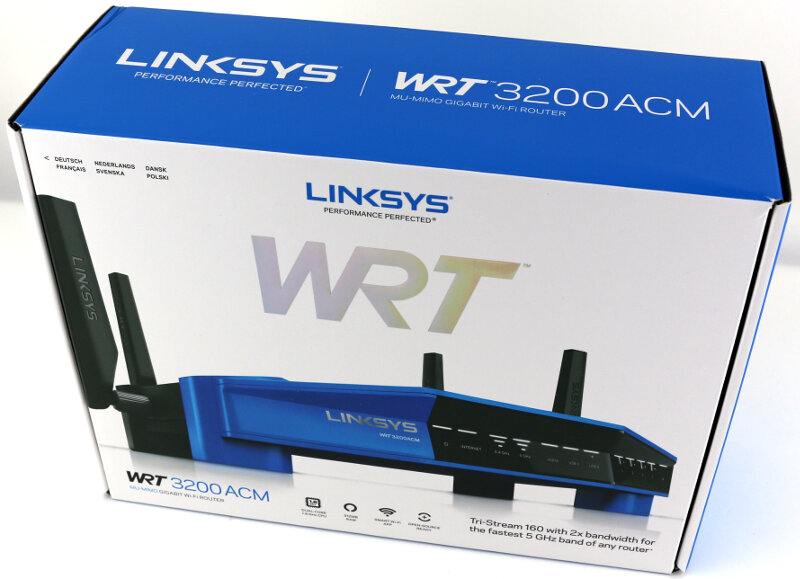 The front side has the feature highlights at the bottom below a picture of the router itself. At the top, we see the large series logo that clearly shows that this is a WRT router.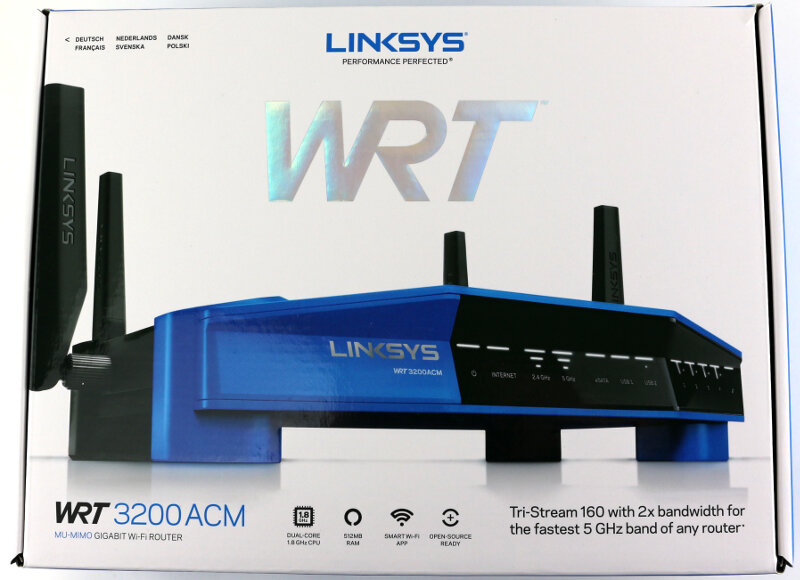 The rear side explains the Tri-Stream 160 and MU-MIMO technology in several languages. All the features highlights and specs are found on the sides of the package.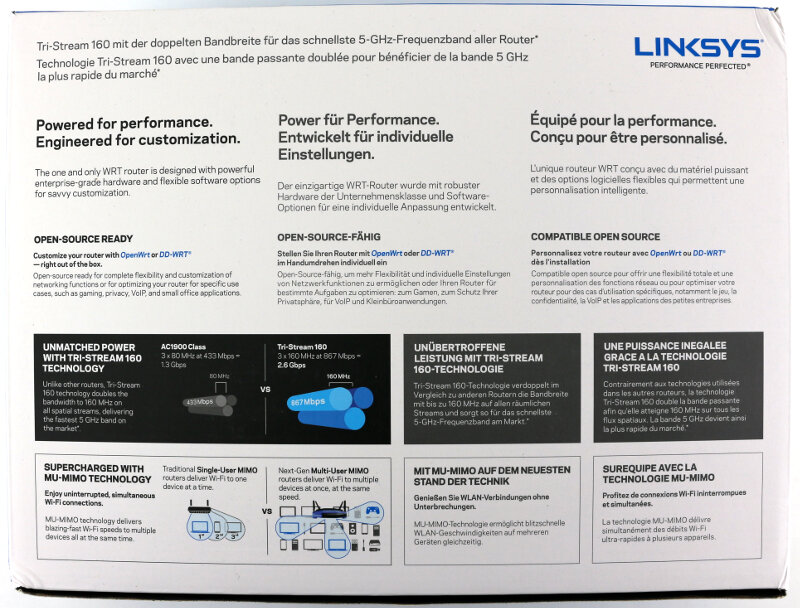 Inside is a quick start guide as well as a documentation disc for those who need that. Most users probably won't need either of these, but it's great that they are included for those who do.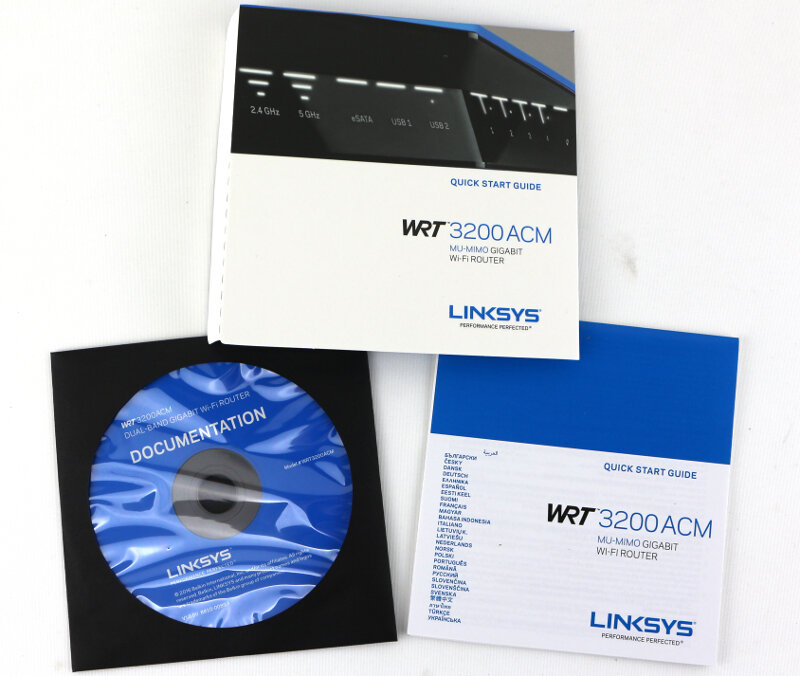 You also get a flat RJ45 cable and naturally the four adjustable antennas.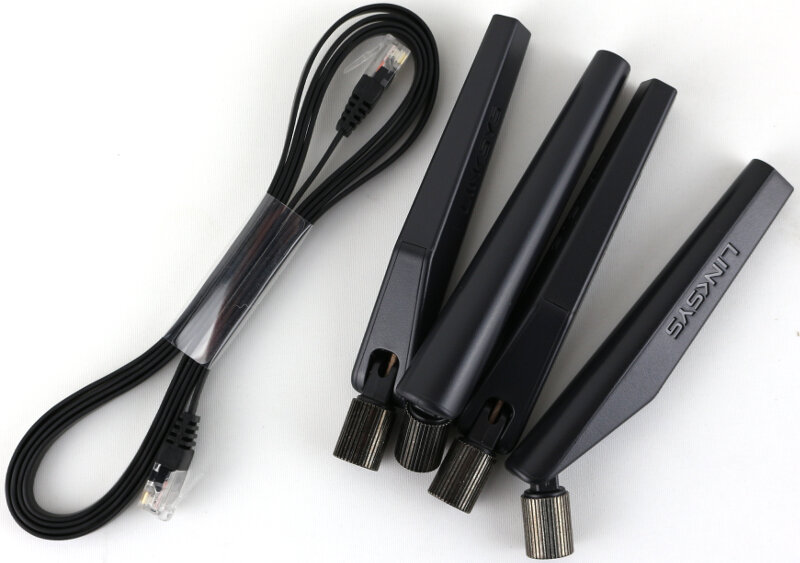 The power adapter delivers 3A at 12V which equals to about 36W power capabilities. That's plenty to make sure that the router will run without any power issues.