Linux Drivers Reveal Upcoming Liquid-Cooled AMD Dual-GPU Radeon RX Vega Card
---
---
---
Ron Perillo / 5 years ago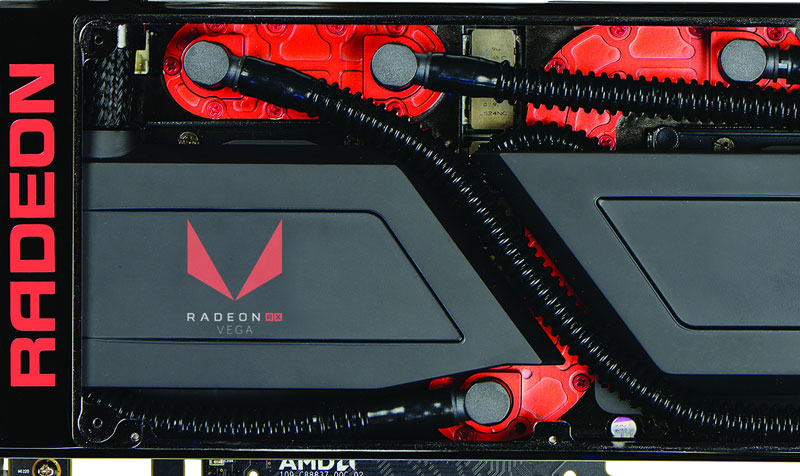 A dual-GPU RX Vega graphics card is in the works, as spotted within Linux drivers recently. Unlike Windows drivers, Radeon linux graphics drivers are open-source so interested parties can peruse the latest updates for unannounced information. There are seven device ID's identified for Vega 10 present in the Linux driver stack, but the latest patch from May 10 adds two more: 0x6864 and 0x6868. This brings the total number to nine, although this is still less than Polaris which had 12.  The following lines of code suggest the involvement of liquid cooling, with the temperature limit adjustment.
table->Tliquid1Limit = cpu_to_le16(tdp_table->usTemperatureLimitLiquid1);

table->Tliquid2Limit = cpu_to_le16(tdp_table->usTemperatureLimitLiquid2);
These were dug up by Redditor /u/8BitsinAByte in a thread on /r/AMD. These two lines suggest that it is a dual-GPU part since there is a PLX present. A PLX chip bridges multiple components and every dual-GPU video card utilizes one onboard. This allows two different Graphics processors to work together, while driving a single signal to the PCIe slot.
table->FanGainPlx = hwmgr->thermal_controller. advanceFanControlParameters.usFanGainPlx;

table->TplxLimit = cpu_to_le16(tdp_table->usTemperatureLimitPlx);
AMD is unveiling the Radeon RX Vega to the public soon on May 16th and this possibly flagship high-end Dual-GPU Radeon video card will most likely make an appearance.
What is new in AMD RX Vega?
There are several key performance improvements that the RX Vega brings to the table compared to Fiji and Polaris. The Vega 10 GPU itself, features 64 CUs, 4096 GCN shares, 4 shader engines with 2 Async compute per shader engin, 64 ROPs and 256 TMUs. The RX Vega equipped with the second-generation high-bandwidth memory HBM2 on a 2048-bit bus. This next generation memory supports up to 8x capacity per stack compared to Fiji XT. AMD can also leverage up to 512TB virtual address space with the high-bandwidth cache controller, having simultaneous access to NV RAM, System DRAM and network storage.
If you would like to read more about the upcoming AMD Radeon Vega, read our What We Know So Far feature, which puts everything currently known about the unreleased video card on a single page.