Logic Supply Introduces the ML350 Fanless PC
---
---
---
Bohs Hansen / 6 years ago

Logic Supply introduces their new ML350 fanless computer (link) which might look a bit boring at first glance, but it's quite the masterpiece. The ML350 is engineered from board to chassis to fit the needs of today's industrial setups. That includes industrial IoT, digital signage, data acquisition, and automation applications. It allows for a wide range of customisation and expansion options which is a big bonus.
"We believe computers should be designed for the people who use them," says Murat Erdogan, Director of Product Management at Logic Supply. "This belief has pushed us to search for new, innovative hardware solutions – systems built from board to chassis to connect and power our clients' innovations. With the ML350, we had the opportunity to create a board and chassis combination that would provide the flexibility and configurability to accommodate a wide range of embedded and industrial IoT applications."
Logic Supply ML350
The ML350 has a balance between size, performance, and configuration options. Redundant SSD, Wi-Fi and Bluetooth, 4G LTE, dual Gb LAN, dual DisplayPorts and optional expansion via CAN bus paint a picture. It's also rare to see such options in a compact and fanless system. At the heart is one of two Intel Apollo Lake processors and up to 8GB DDR3 memory.

Which Configuration Would You Pick?
There are a lot of configuration options for the ML350, starting with the motherboard itself. You can pick a Celeron N3350 with single Gigabit LAN or a Pentium N4200 with dual GbE LAN. The storage starts with a single 32GB mSATA module and ends at dual 1TB modules.
Wireless, Bluetooth, and 4G LTE is also an option through mini-PCIe slots. Those who need it can also get up to two extra COM ports.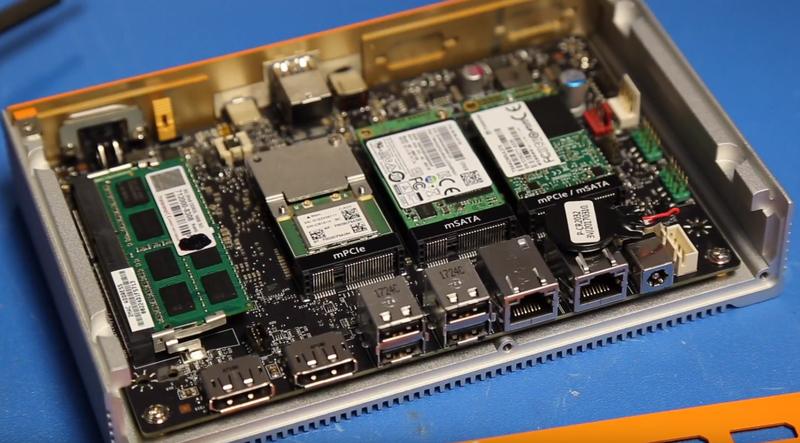 Hardshell Technology
Industrial PCs need to be able to stand up to harsh environments, which the ML350 easily can. It features Hardshell technology which includes solid state cooling in a sealed and fanless design. A sealed design comes with more benefits. You will not be bothered by dust build-up thanks to the ingress protection.
The casing also aids with the cooling due to the aluminium construction. But that's not all. It is also engineered to protect the system from interference. That could be outside RF signals which we wouldn't want.

Official Product Video
The official product video explains everything in details which makes it worth the time it takes to watch it. It highlights all the available features and options.
What does the ML350 Cost?
The price highly depends on your configuration, that's a given. It starts at $558.95 for a basic configuration while a dream configuration easily runs up to $2700.