Mad Catz R.A.T. DWS Wireless Gaming Mouse Review
---
---
---
Peter Donnell / 2 years ago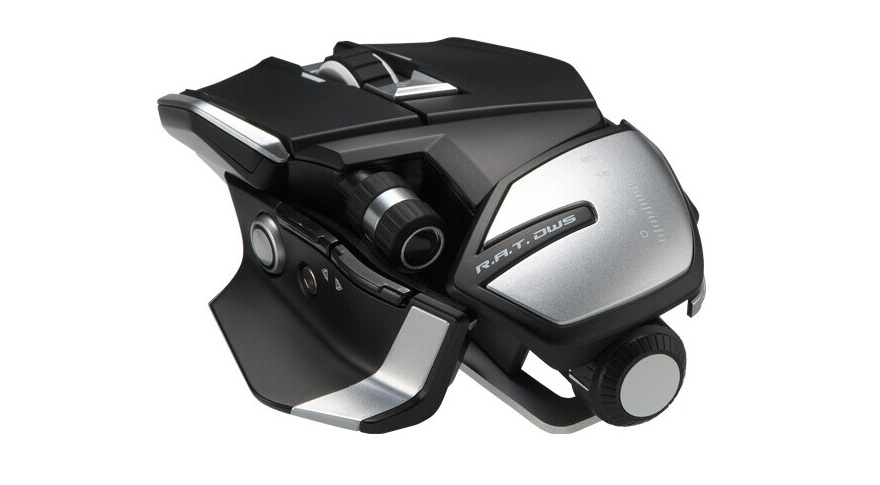 The Mad Catz R.A.T. series is the Marmite of gaming mice. It looks and feels unlike anything else on the market, and you either love it or you hate it. I really have found it to be a product that divides gamers. Myself, I love the design, and I've always found them to be rather comfortable too, especially the more advanced ones with adjustable ergonomics. They've had some success in recent months with the phenomenal R.A.T. 8+, which I reviewed here. However, now the R.A.T. is cutting the cables and going wireless, with the DWS Wireless Gaming Mouse.
Mad Catz R.A.T. DWS Wireless Gaming Mouse
Wireless gaming performance isn't the compromise it used to be, and Mad Catz certainly hasn't cut back on features for their latest gaming mouse. It comes equipped with the fantastic 60M DAKOTA mechanical switches, as well as the PAW3335DB Optical Sensor for truly high-end performance. You get a choice of both 2.4G and Bluetooth 5.0 connectivity, too, meaning you shouldn't have any issues getting it paired with your devices. However, despite all this, you still get around 300 hours of battery life! How did they do that, you wonder? There's no RGB LED lighting at all; isn't that a breath of fresh air?
Features
Highly-customized accessories
Mad Catz DAKOTA™ Switch – 2ms response time and 60M clicks
2.4G wireless and Bluetooth 5.0 connectivity
Up to 300 hours of optimized battery life
16000 DPI PAW3335DB optical sensor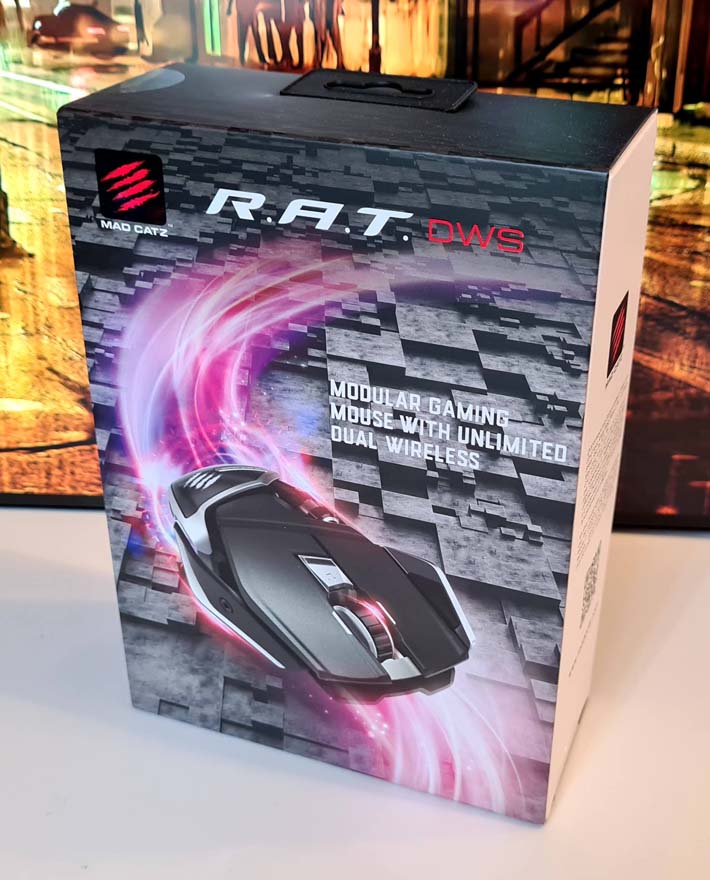 What Mad Catz Had to Say
"R.A.T. DWS is a triumphant return of the beloved Mad Catz R.A.T. wireless mouse. The additional and adjustable accessories fit different grip styles under every battle situation and are coupled with a dual-mode wireless connection that gives you the most convenient technique in gameplay. Equipped with the hyper-responsive 60M DAKOTA™ mechanical switch and the 16K high-end sensor, R.A.T. DWS achieves the ultimate performance, tracking ability, and longevity which other gaming mice can't compete with." – MadCatz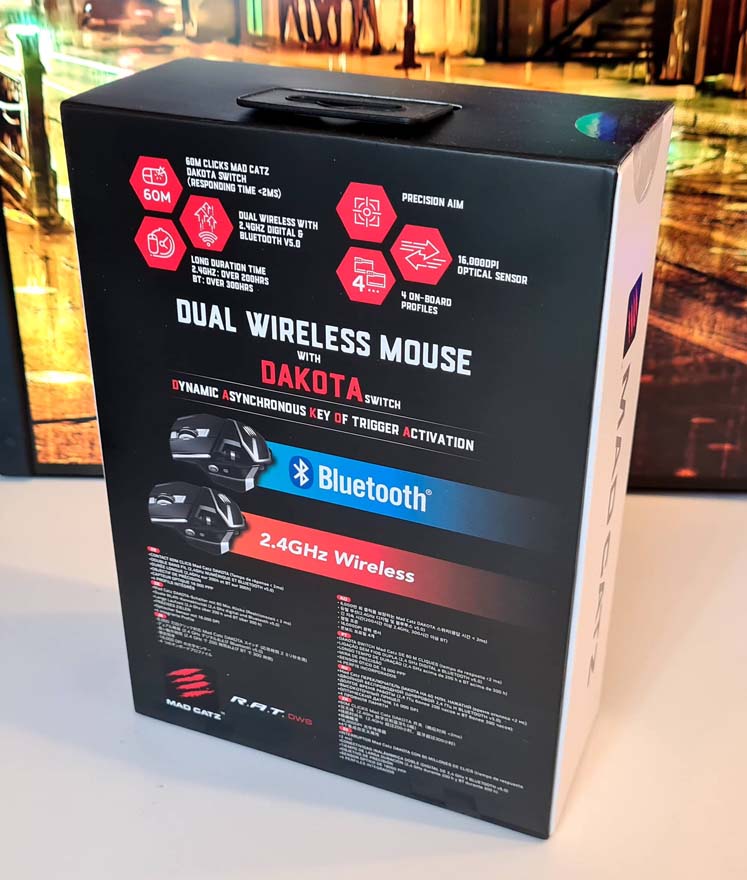 ———————–
Packaging & Accessories
The mouse comes nicely packaged in a durable and compact box. There's soft foam on the lid, ensuring nothing gets scratched up. Furthermore, the mouse is very securely clipped into a plastic mould.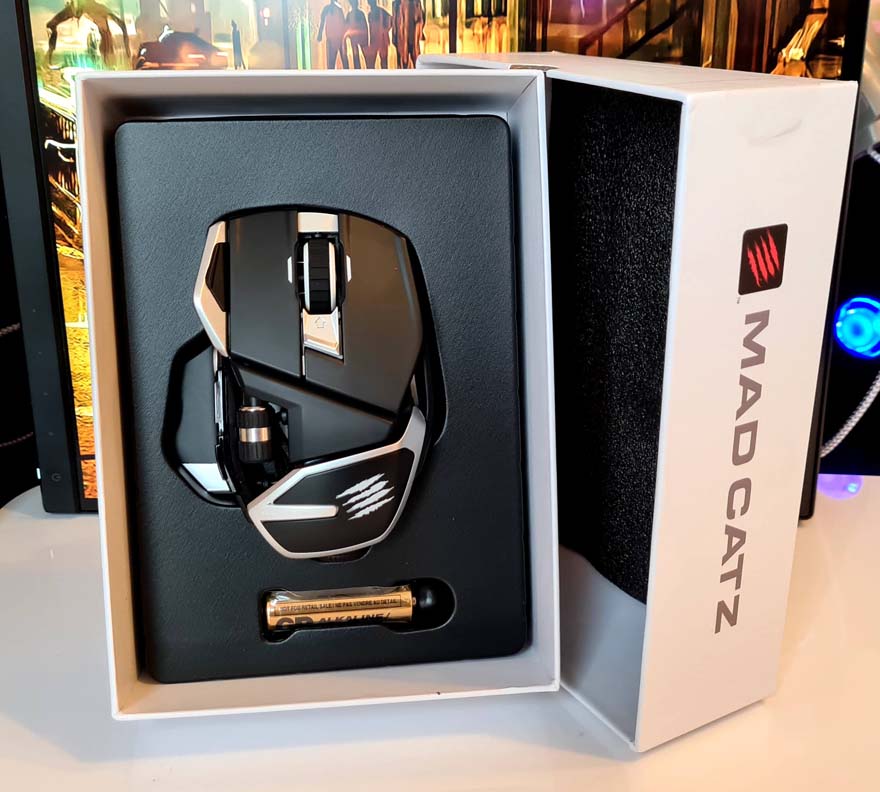 In the box, you'll find the mouse, obviously, as well as the AA battery, and adjustment too. There are three attachments for the mouse, a handy little cleaning brush, and all the usual documentation.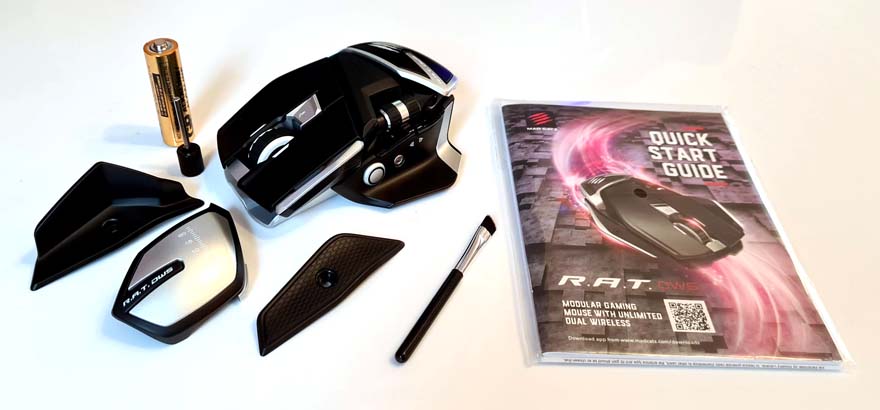 As you can see, these are optional panels that can replace the ones that are pre-installed on the mouse.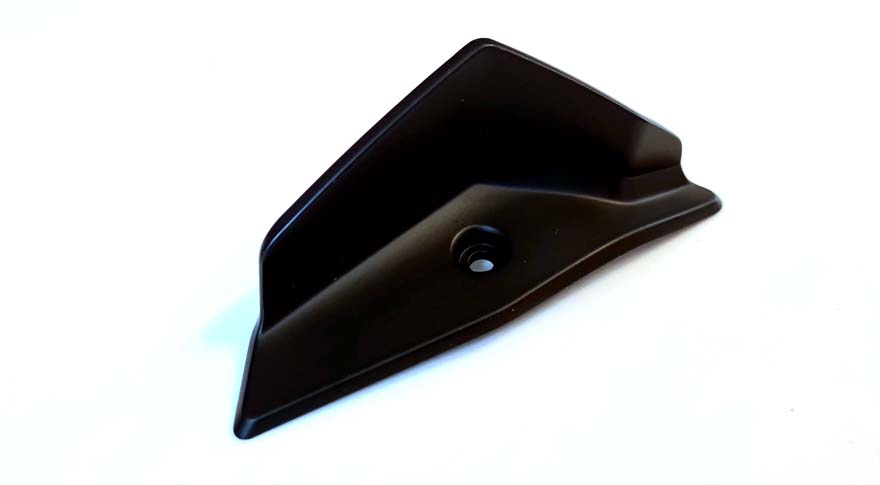 They will allow you to adjust the shape and size of the mouse to suit your grip.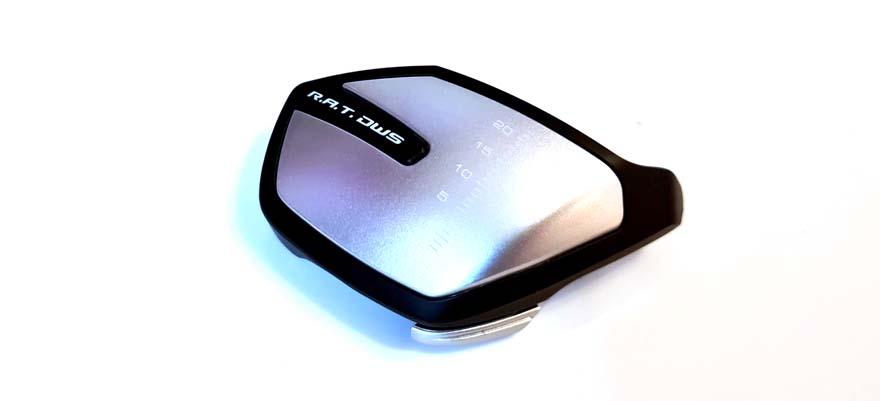 They consist of the Palm Rest (Silver), Pinkie Rest (Rubber), Pinkie Rest (Wing).

———————–
A Closer Look & Performance
If you've seen any of the R.A.T. gaming mice before, then this one should look pretty familiar to you. It keeps all the common style points, with only minor adjustments. However, the most obvious thing different with this one is the lack of any cable coming out of the front of it.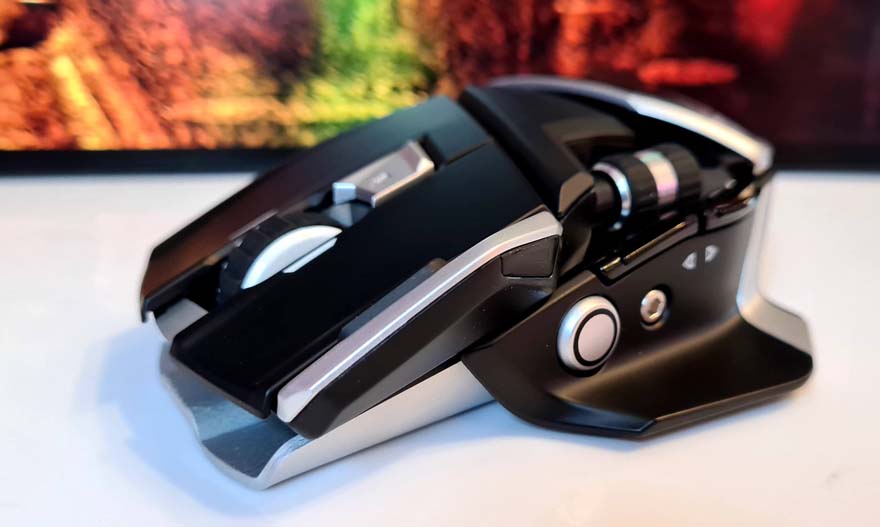 The left side of the mouse looks awesome with that slick two-tone design. You get a matte black mixed with a muted silver finish, and it just gives it a futuristic and premium aesthetic. There's a programmable button towards the front too, a sniper DPI level button by default, but it's fully programmable. There's also the usual forwards and back navigation buttons too.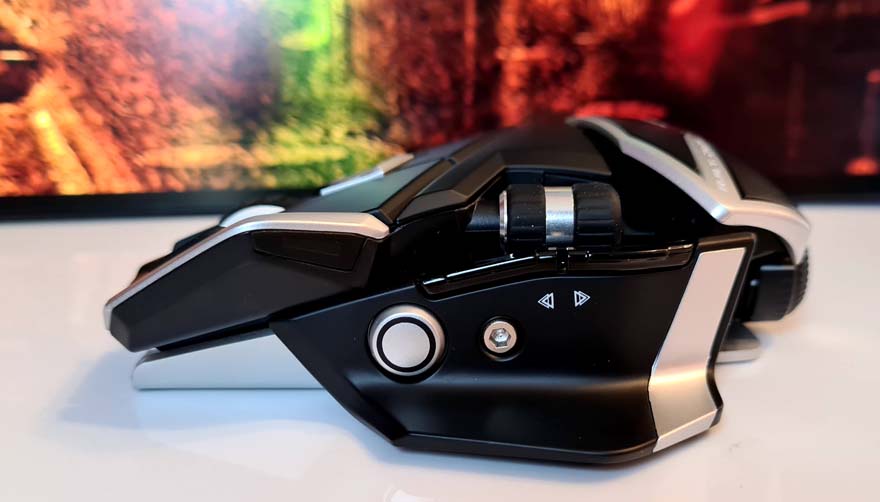 One of the more unique features is the thumb wheel, it's programmable too, but it's awesome for zoom levels on Photoshop, or camera distance in MMO games, etc.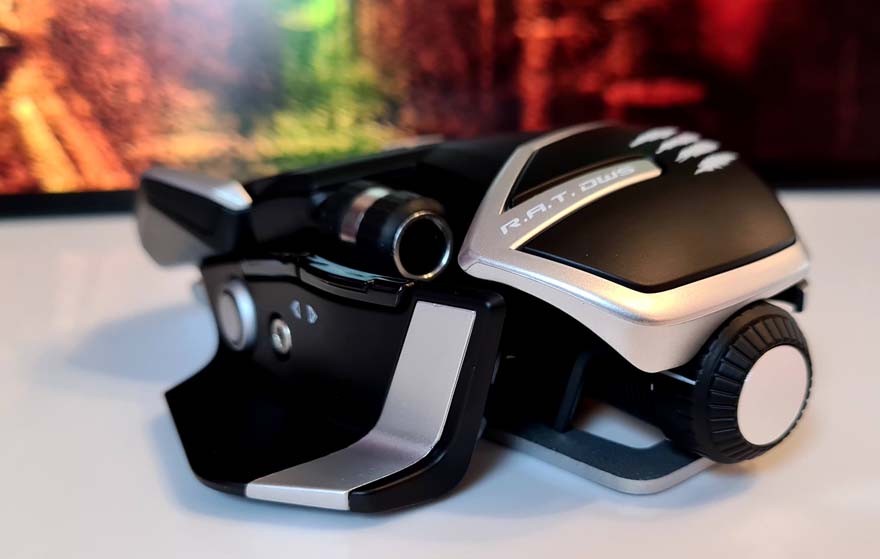 At the back, there's a plastic cap that is actually covering the battery compartment. This is a weight tuning system on some Mad Catz mice, but of course, that AA battery has to go somewhere!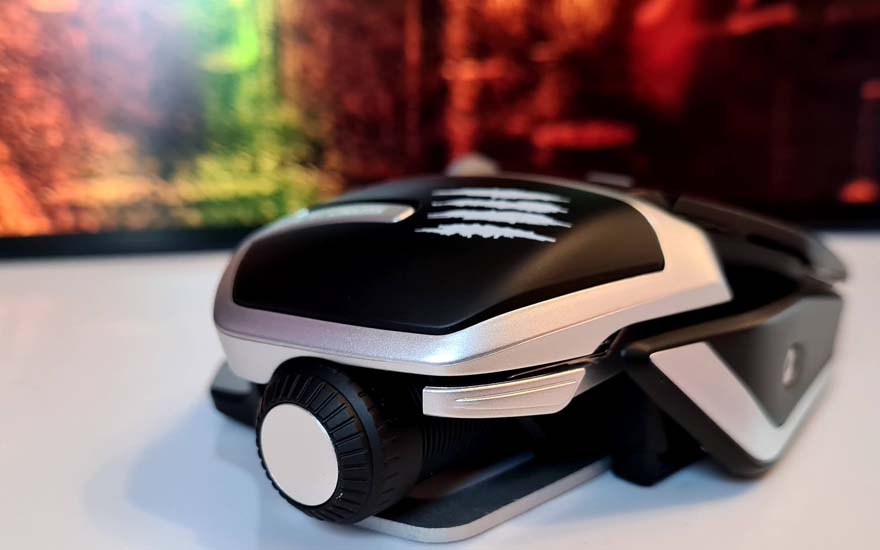 On the right side, there's a slim grip panel. As you can see, it has a bolt right in the middle of it. With the tool that came in the box, you can remove the side panels and replace them with one of the alternative ones.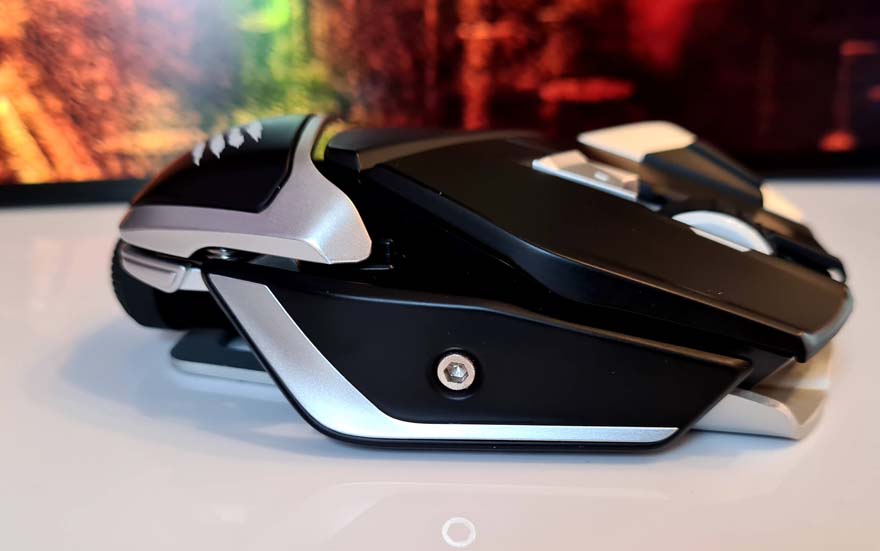 Ergonomics are a big thing for this mouse. It's quite wide, but I have fairly wide hands myself, so it feels very natural. The LMB and RMB are lightly scooped, which promote an excellent finger position for the optimal click.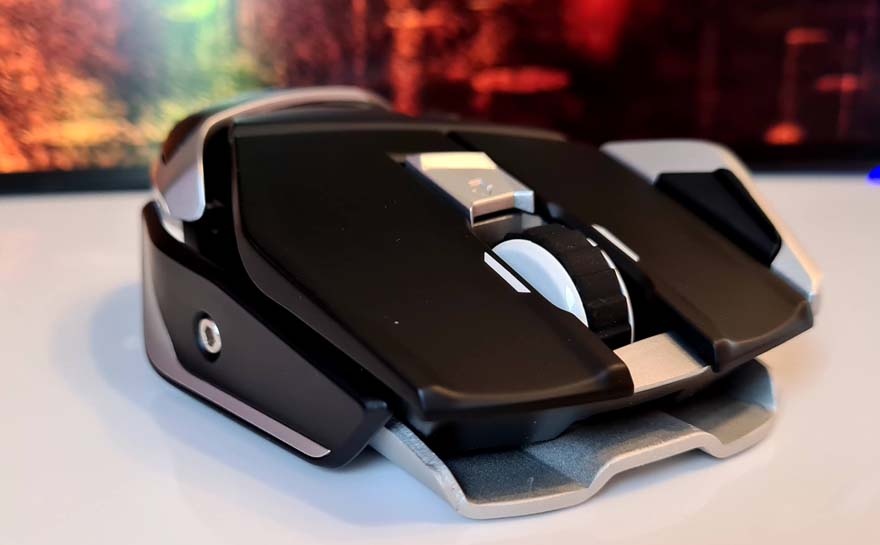 Both the LMB and RMB are mounted on their own individually sprung panel, ensuring no feedback between them. Both of them have a really crisp click, too, thanks to those stunning DEKOTA switches. You can really spam them both consistently, which is great for high CPM games like League of Legends.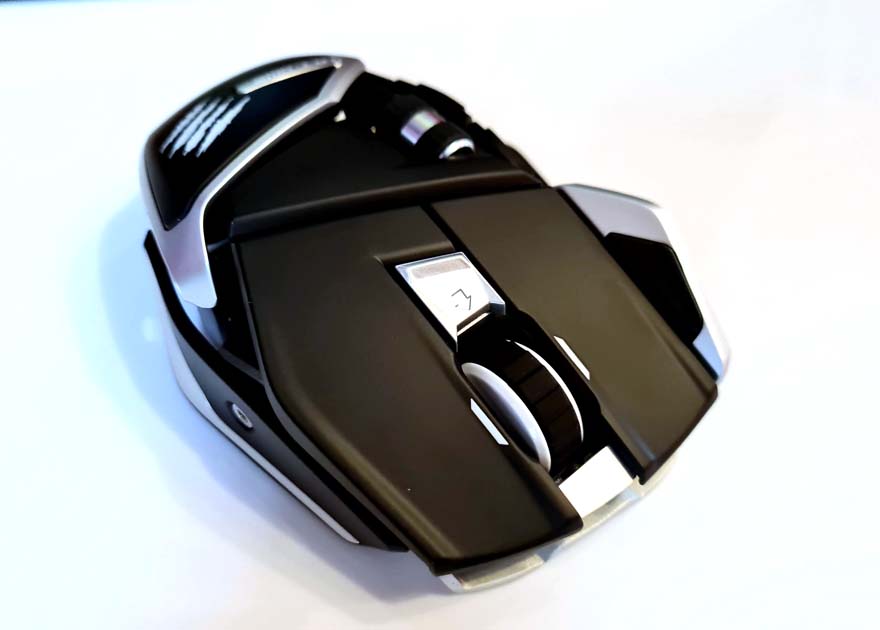 There's another button tucked on the left front wing too. By default, this is a profile button; handy if you need different uses for the thumbwheel and sniper button, such as switching between gaming and a music/media control mode.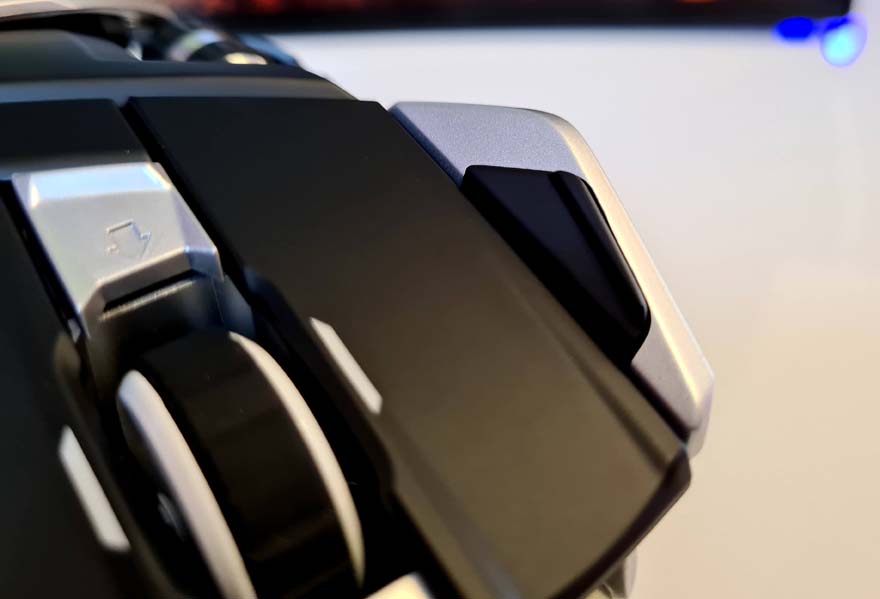 The mouse's underside is stunning, with a single piece of metal folded to form all the mounts for the upper panels. It's a solid style of construction. There's a cut-out for the scroll wheel, allowing it to be larger and sit lower in the mouse body, and of course, a small cut-out for the sensor. One thing I love is that there's a little USB dongle storage bit, just below where it says "push here". Give it a push, and it'll click and come free, simple yet effective.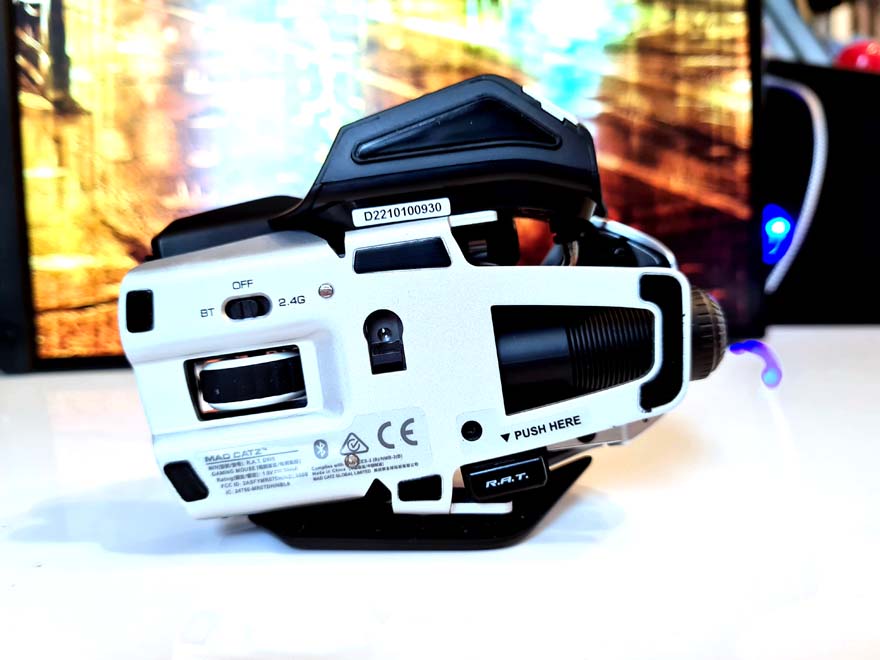 Configuration of the mouse is super easy, though. If you want Bluetooth or 2.4G connectivity, flick the switch on the underside of the mouse. Furthermore, that switch can also turn the mouse off completely to save power. As for the ergonomics, the handy little tool allows you to strip the side panel off, which the top panel has a locking slider adjustment. However, if you adjust it far enough, you can remove it completely.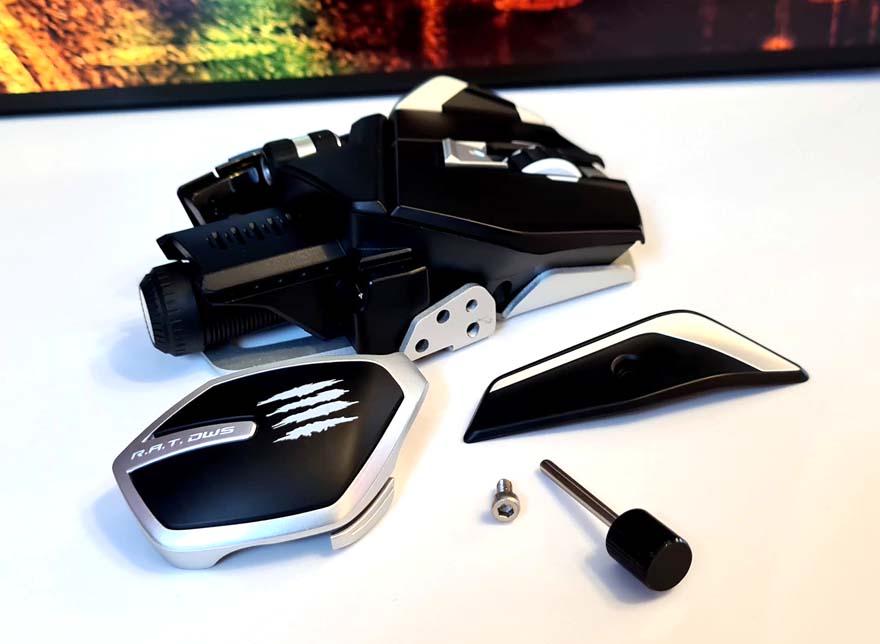 By default, I find the mouse looks and feels great in my hands. Despite being so wide, it's very nimble and glides far better than I expected, given the size of the contact area on the bottom.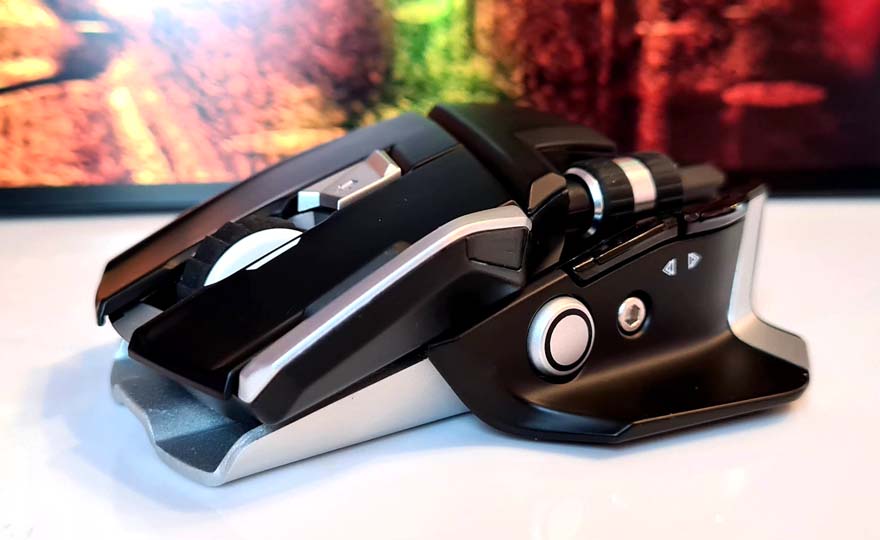 This is thanks to five PTFE pads on the bottom of the mouse and additional pads on the wing attachments and reduced friction due to the cut-away material on the underside of the mouse.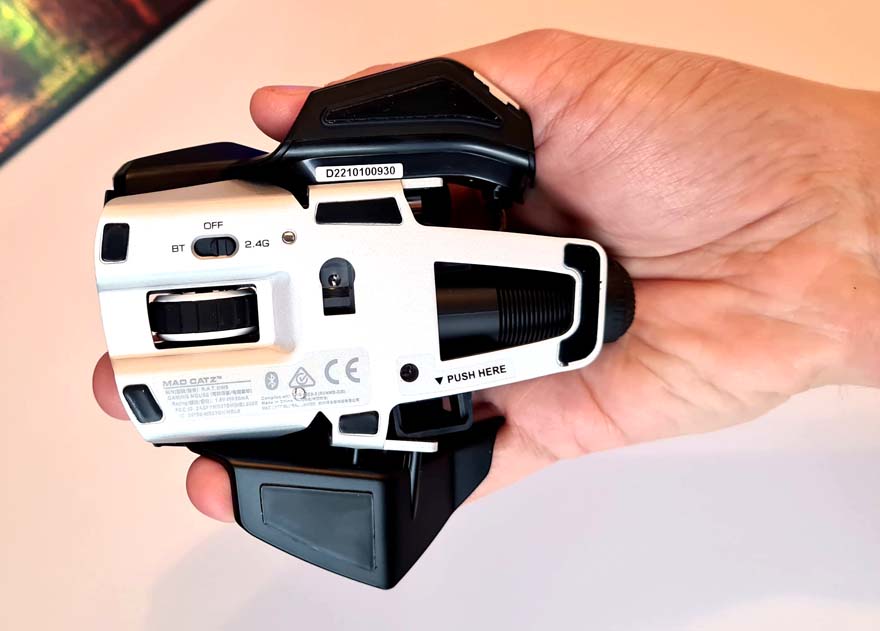 As you can see, the mouse can be made drastically wider with the right side wing in place. This is great is you want a lazy hand position that doesn't drag on the desk. It's great for those marathon-length MMO gaming sessions and can really reduce fatigue. Of course, you can opt for the slimmer grip, too, if you want to make it more suitable for a claw/fingertip grip type.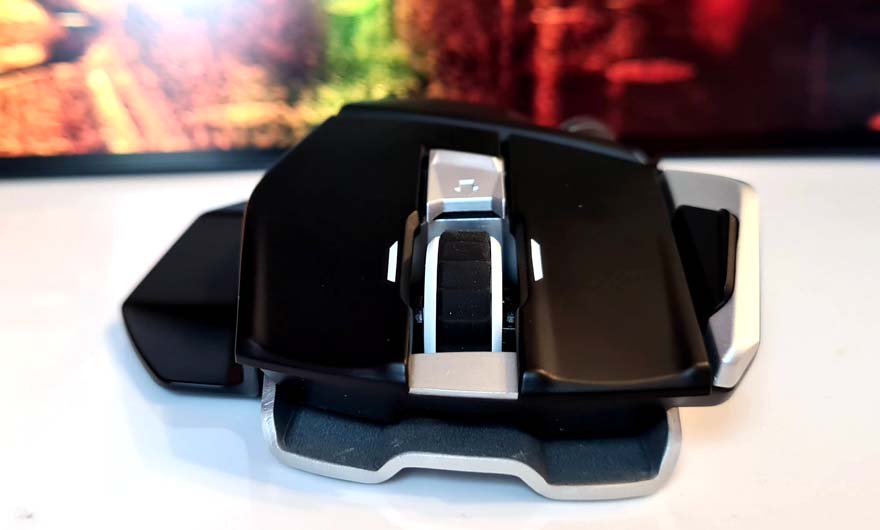 Overall though, the mouse offers rock-solid performance. There were no signal or latency issues that I could detect either. I mean, I'm not eSports pro, but I didn't feel the wireless performance was holding me back either. The sensor phenomenal too, tracking silky smooth from the lowest settings right through to the maximum of 16,000 DPI, although I never really felt the need to go much about 6000 DPI myself. It'll track at 400 IPS, with 40G acceleration and a 1ms response, so even the most enthusiast gaming session won't throw this sensor off track.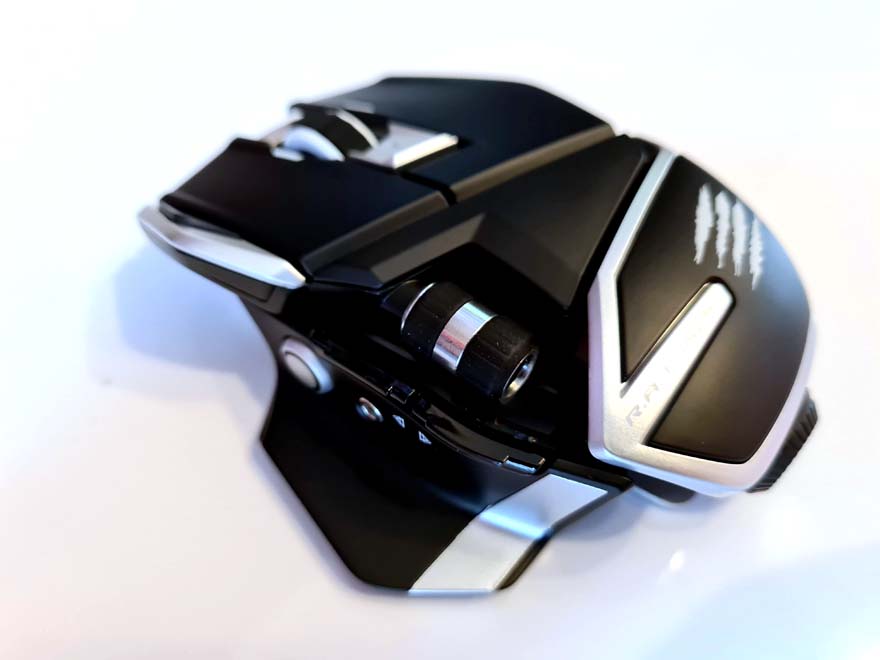 ———————–
How Much Does it Cost?
Lockdown, COVID, Brexit, take your pick, it seems everything has a stock issue these days. Unfortunately, at the time of writing, I couldn't see stock anywhere. However, you can check for stock and prices on Amazon here. What I do know is that the mouse has an MSRP of £119.99/$119.99. That may seem like a lot, but for a feature-packed, high-end wireless gaming mouse, it's pretty competitive. The price is similar to the Razer Viper, SteelSeries Rival 650, Logitech G502, and Corsair Dark Core Pro SE.
Overview
There's no shortage of truly amazing gaming mice these days. In fact, a lot of that comes down to the overall quality of sensors really, as a bad sensor is a very rare thing these days. However, Mad Catz has gone for something above average with their latest gaming mouse, and it really does manage to stand out from the crowd with superb performance, and not just because of its unique aesthetics.
Unique
I'd say this mouse looks unique, but the R.A.T. design has been with us for nearly ten years now. I even remember reviewing the M.O.U.S.9 from eight years ago, and even that looks broadly the same as this new one. That's no bad thing though, as if you're a long-staying fan of the design, the overall fit and feel of it is unchanged.
Of course, with so many customisation options for the side panels and the slide adjustment on the mouse, you can still tailor it to fit your hand, but overall, it's still going to feel flatter and wider than your traditional Intellimouse style designs.
Hardware
Mad Catz has opted for 60M rated DEKOTA switches on this mouse. That's a good choice too, as they feel really responsive to use, with a nicely defined tactile and audible click. A good click is obviously important, as you'll be doing a lot of it. That's backed up by the flawless sensor performance, excellent glide, and lag-free wireless too. Plus, with 200 hours in 2.4G mode and 300 hours in Bluetooth mode, you won't have to swap the battery out too often. However, a lot of the large battery life comes from the complete and utter lack of ANY RGB hardware. However, you may see that as more of a perk than a con, but I'll let you be the judge, as it's pretty subjective either way.
Should I Buy One?
If you need a gaming mouse that is free from the burdon of cables, the Mad Catz R.A.T. DWS Wireless Gaming Mouse is a really strong competitor. While it lacks RGB, that does feel like a breath of fresh air in the current market, and it uses its interesting ergonoimcs to make a statement, not lights. Overall, it's the classic RAT look but with killer wireless gaming performance!