Mad Catz S.T.R.I.K.E. M Keyboard Review
---
---
---
Peter Donnell / 9 years ago
Introduction
---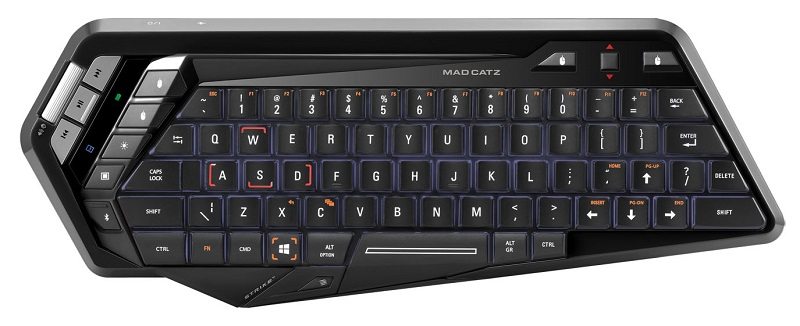 Gaming is incredibly popular, that much is obvious to anyone who hasn't been living on a remote island for the last 40 years! It doesn't matter what kind of games you play, these days you're overwhelmed with options of when and where you can play; gaming at home on your desktop computer, consoles, handhelds, laptops, phones, tablets and more, or gaming on the go with most of the same devices. It doesn't matter where, but how you play that really makes a difference. Touch screen phones are a prime example of how many people play games on their tablets and smartphones, but they're simply no substitute for a good old fashioned keyboard and mouse, or at least a high quality control pad. The same can be said about touch screens for typing and working, writing up a long email, a word document or any large block of text on a touch screen device can be a labour intensive task.
Mad Catz are well-known for their high-end gaming peripherals; they make some of the coolest and most unique gaming keyboards, mice and headsets on the market and now they're taking a shot at the world of mobile peripherals. Mad Catz new STRIKE M keyboard looks set to solve the problem of cumbersome touch screen interfaces by giving you a real keyboard for your mobile work and gaming. The STRIKE M promises a compact, lightweight design that is packed full of the kind of features you would expect to find on a premium desktop gaming keyboard.
Main Features
Compact keyboard for mobile and desktop platforms
Integrated OFN (optical finger navigation) cursor control, ideal of web browsing, navigation and touch games.
Bluetooth connectivity for multi-platform wireless gaming and productivity.
Adjustable white LED backlighting
Rechargeable battery – 18 hours life (backlit), 45 hours life (no backlight)
Quick switch between 4 paired devices for seamless multi-tasking
Dedicated multi-platform media buttons
Up to 33ft (10m) operational range
Micro-USB port for battery charge and firmware updates
Smart Device stand, supports devices up to 10" screens.
Minimum System Requirements
Android: (M.O.J.O., phone, tablet Version 3.0 or Higher)
Smart Devices: Device supporting Human Interface Device (HID) keyboard input over Bluetooth 3.0+
PC: Windows XP or Higher
Mac: OS X 10.8 or Higher, iOS 7+
Mad Catz products are always well packaged and the STRIKE M is no exception; there is a clear photo of the keyboard on the front, as well as a few details of the main features, such as Bluetooth support and the 30+ hours battery life.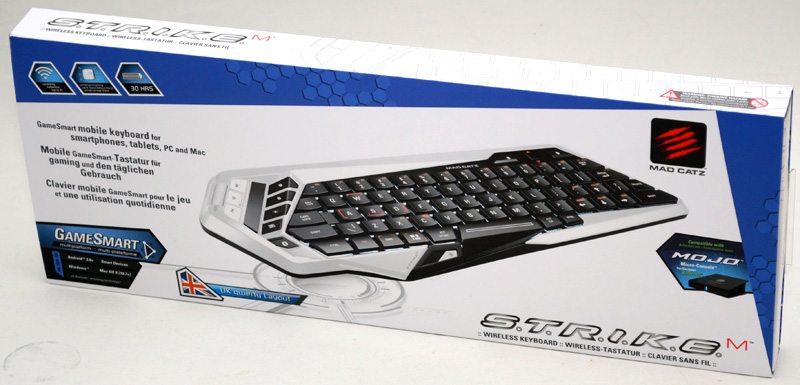 Around the back you'll find a more detailed rundown of the STRIKE M's features, but we'll take a closer look at those in a few minutes.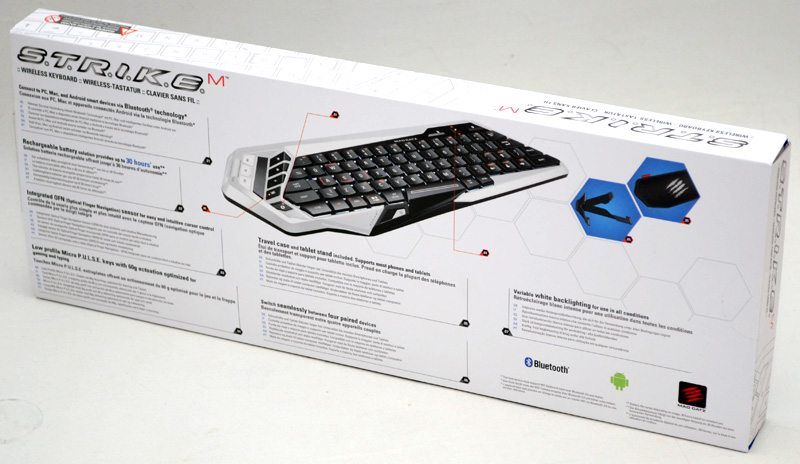 The box cover slides off, revealing another nicely designed white box.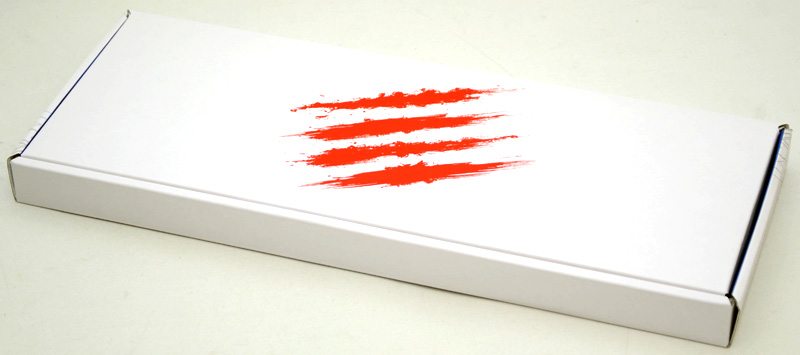 On the interior you'll find a bunch of smaller boxes and packages all neatly arranged and protected.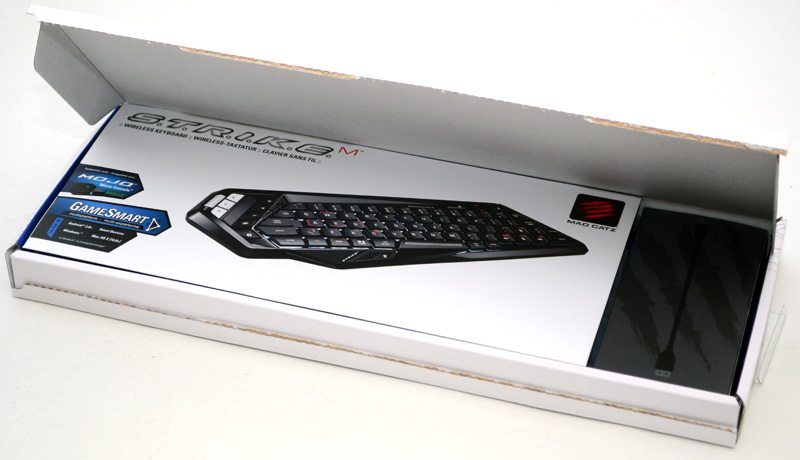 The smaller box contains a tablet / smartphone stand and a high quality USB cable.

The larger section of the box features a fold-out setup/user guide, some Mad Catz stickers and a protective plastic bag.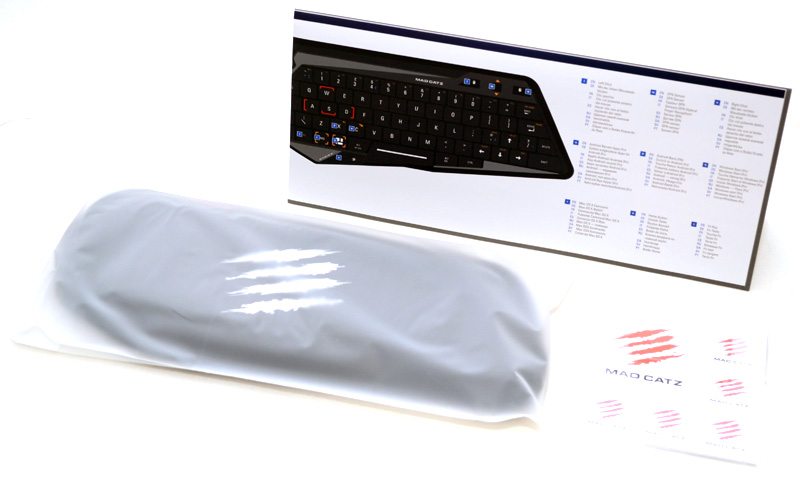 Inside the bag you'll find a padded slip-cover carry case which already contains the keyboard.