Mad Catz Unveils New RAT Gaming Mouse Range
---
---
---
Ashley Allen / 6 years ago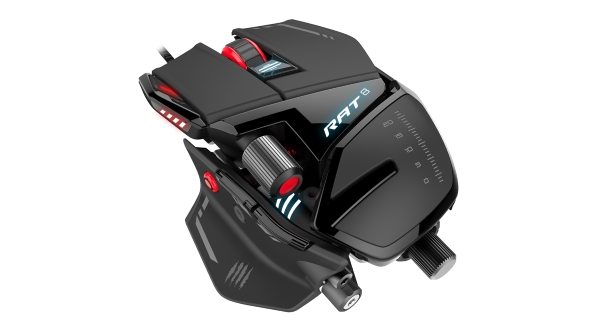 Mad Catz has unveiled a complete refresh of its RAT gaming mouse range – which includes the RAT1, RAT4, RAT6, RAT8, RATPRO S+, and RAT PRO X+ – boasting upgraded sensors for improved reaction times, new button configurations, plus a streamlined ergonomic design and new colour schemes.
The upgraded RAT gaming mouse line includes:
Dynamic Ergonomics — Various adjustments and customizations of key mouse components designed to accommodate different hand shapes and grip styles and improve the gaming experience and overall comfort of play;
Kameleon RGB Technology — Integrated intelligent lighting provides multiple illumination zones enabling users to select up to 16.8 million color variations and apply various illumination effects; and
FLUX Software Interface — Integrated software enables users to quickly and intuitively tune all aspects of the sensor, macro buttons, and RGB LEDs to meet their specific needs.
"The steady increment of features and performance throughout the new range, from the RAT1 all the way to the RAT PRO X+, provides gamers and enthusiasts of all levels a choice of peripherals to match the level and overall sophistication of their gaming rig," Andrew Young, Chief Technology Officer of Mad Catz, said. "Whether it's button switch life, sensor capability, programmable features, on-board memory or RGB lighting, the new range of RAT products proudly continues Mad Catz' tradition of bringing together the best materials and components, highest level of engineering and latest technologies to deliver the key features, precision and customization that gamers seek."
The RAT1, RAT4, RAT6, and RAT8 are available now, priced between £25 and £90, while the RATPRO S+, and RAT PRO X+ are expected for release before the end of the current fiscal year, with pricing for the latter yet to be announced.