Mad Catz Cyborg F.R.E.Q.7 Headset Review
---
---
---
Peter Donnell / 10 years ago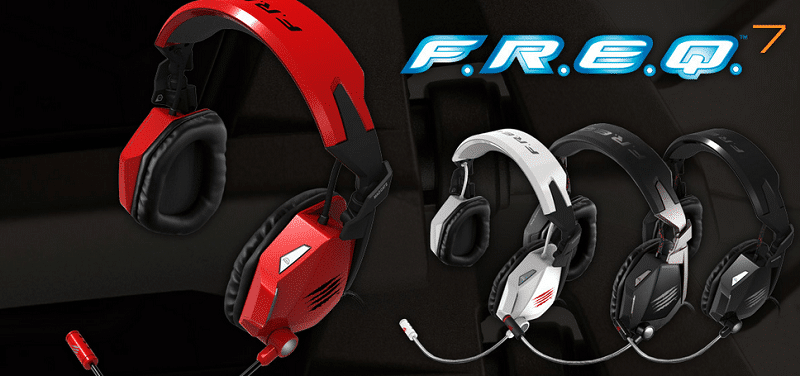 Mad Catz, Tritton, Saitek and Cyborg, you may know some of or all of these brand name, but one thing you may not know is that they're all divisions of the same company. Mad Catz have been making quite a name for them selves recently and while they do have a strong history and some great products that span many years and several gaming generations, its their latest brands and products that have been taking the gaming world by storm.
Over the last year we've seen a few entries to the F.R.E.Q headset range, first up we had the F.R.E.Q.5 headset, the F.R.E.Q.5 Red and now the F.R.E.Q.7 which have come under the various brands such as Saitek, but are all fundamentally Mad Catz F.R.E.Q. Headsets. the F.R.E.Q.5 has long been my number 1 personal headset of choice, ever since I wrote the original review for the product it literally hasn't gone a day without being used for my daily gaming, music and skype activities.
I was ecstatic to find out I would have the opportunity to review this headset, and there was only one question in my mind when I saw it "do I finally have a contender that could temp me away from the F.R.E.Q.5?" Well that is what I hope to find out today, but given the performance of the previous model, the F.R.E.Q.7 certainly has its work cut out.
Mad Catz have a very clear cut product naming strategy, one that is well demonstrated by their R.A.T. mouse range, the R.A.T3, R.A.T.5, .RA.T.7 and R.A.T9 rank in order of low to high in terms of features, performance and price. Starting with the 3, the most budget friendly and the 9 being the most feature-laden premium product. The same principle is applied to the F.R.E.Q.7 and while it looks almost exactly like the previous model it does have some upgraded hardware which we'll be taking a closer look at in just a moment.
Even the packaging for the new headset bares a striking resemblance to the previous model, very little is different here, the only tell tale signs that we have a new product are the Dolby Digital Pro Logic II badge on the box and of course the new product name.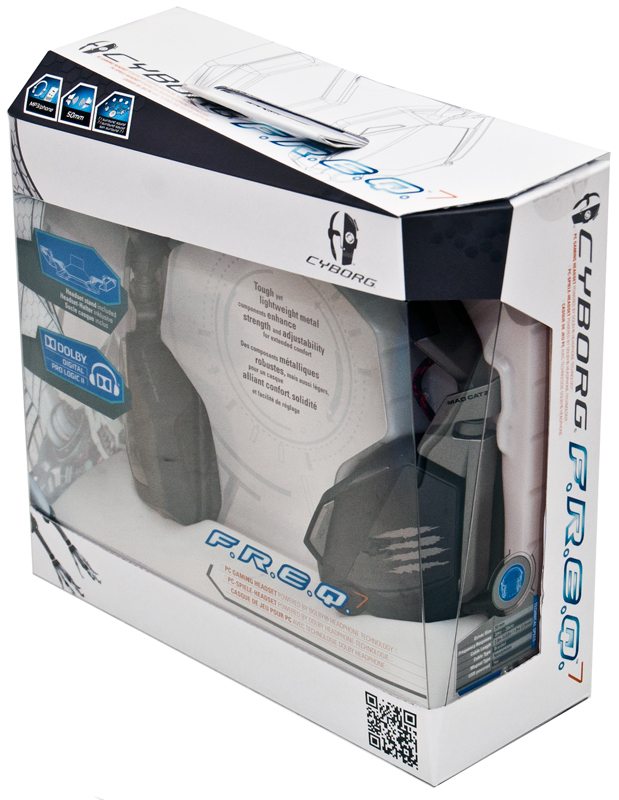 around the back of the box we have a quick run down of the major features of the set, the most notable being 7.1 surround sound and 50mm drivers. You can also see here the detachable microphone and a photograph of a headset stand that is now included with the device.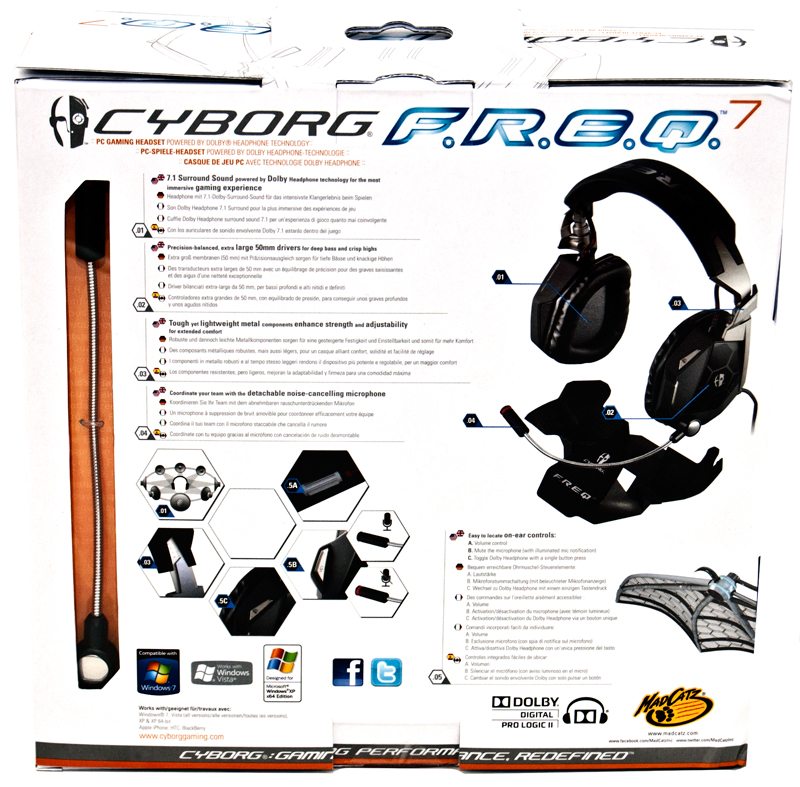 In the box I found a well written instruction booklet, detachable microphone, 3.5mm to USB braided cable, USB to USB braided cable and of course the headset its self.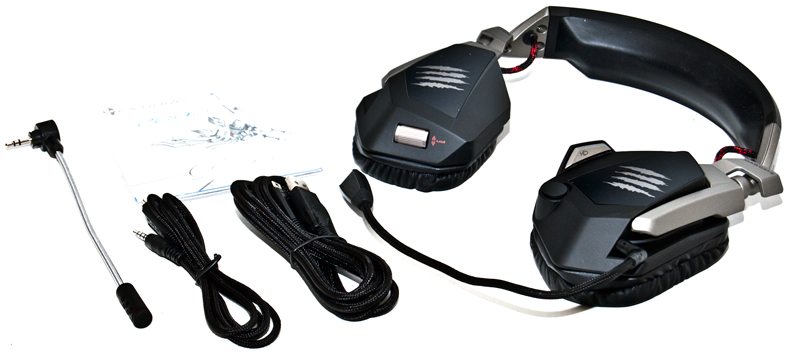 The microphone feels very well made and features a highly adjustable boom, red LED mute indicator, and as you can see it's also fully detachable from the headset.

The new headset features near identical construction to the F.R.E.Q.5 and this is no bad thing, the mixture of high quality metal and plastics still makes this one of the best made headsets on the market.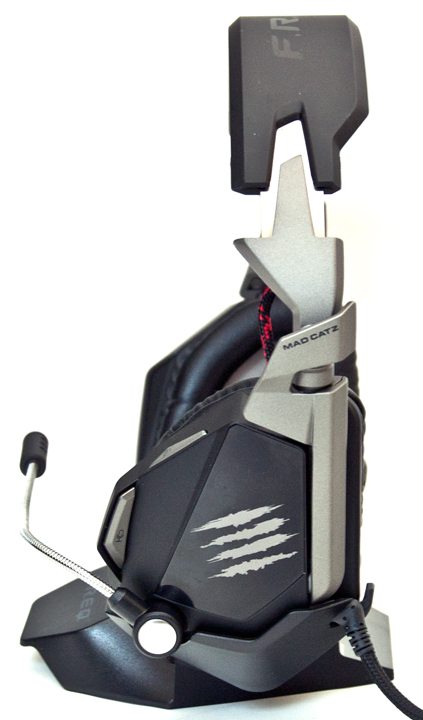 Each ear cup is finish a mixture of plastics, the softer looking main body and the glossy black which features the Mad Catz graphic. Here you can also see a small plastic circle on the ear cup, this is a removable cap to protect the microphone socket, Mad Catz have nicely included a little notch on the headset stand which will hold the plastic peg when you don't require it.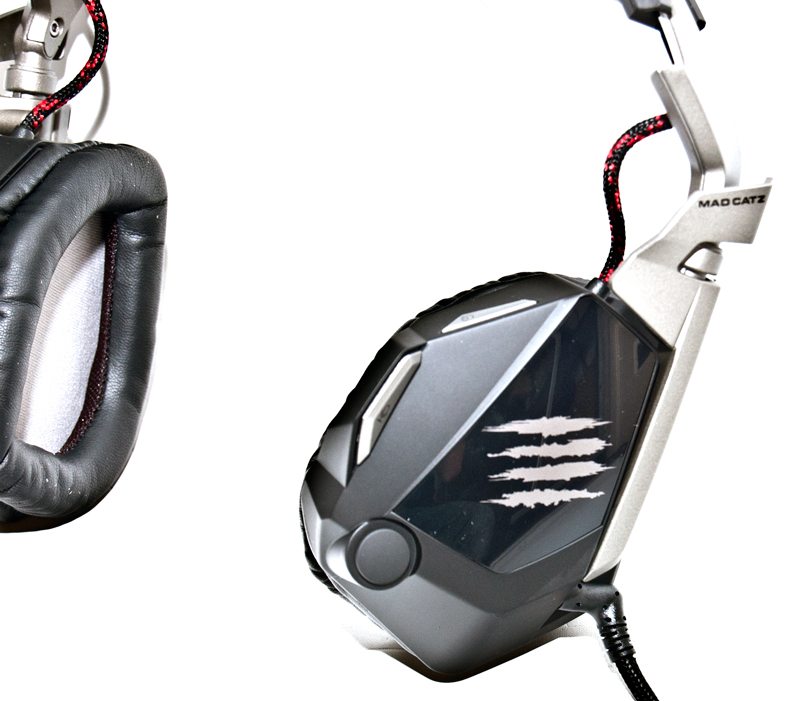 The left ear cup features the Dolby and Microphone buttons, while the right holds a high quality, metal construction volume toggle wheel.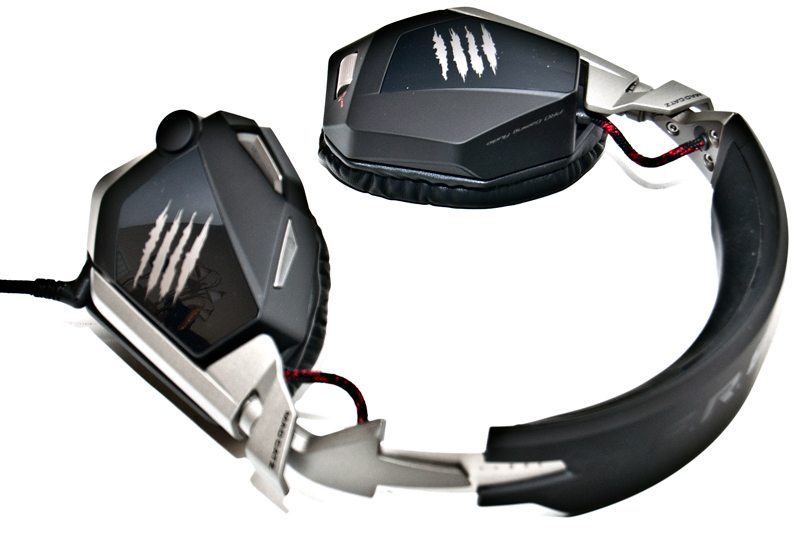 Exposed wire from the headband to the drivers has been lovingly covered with a black and red braiding that will help protect the cable, but also adds an extra styling touch.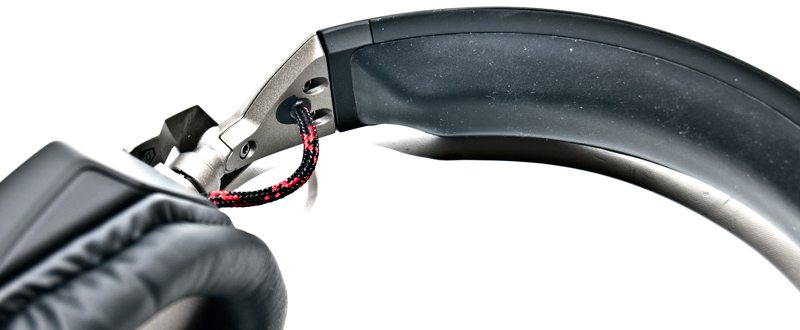 Soft leather padding should provide extra comfort during long gaming sessions,and a hollow rubber strip on the headband is extra soft to touch, but still feel supportive when on your head. The headset is fully adjustable and features high quality sliders that shouldn't wear out over time. The addition of having rotatable ear cups allow you to wear the headset around your neck, handy for when you need to take a few moments rest between games.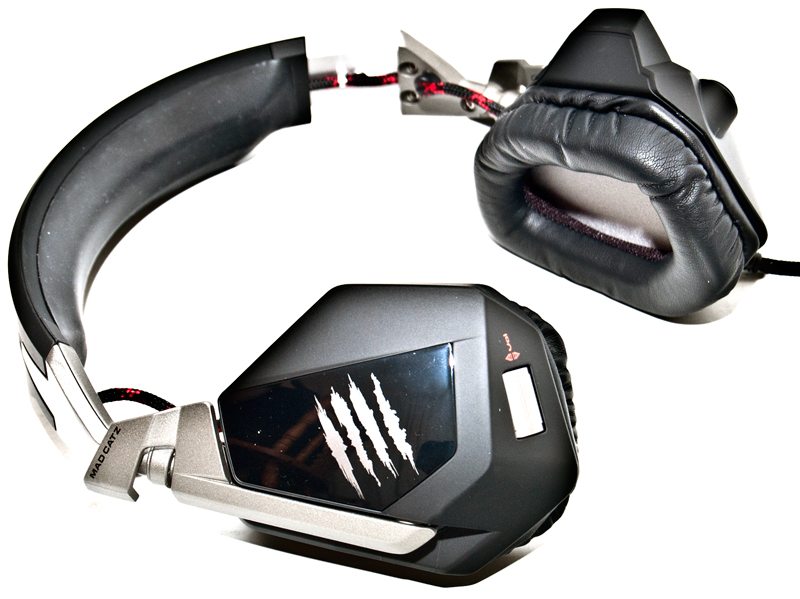 The plastic moulded base may not look much but its a perfect way of keeping your headset stored on your desk and a welcome addition to the bundle.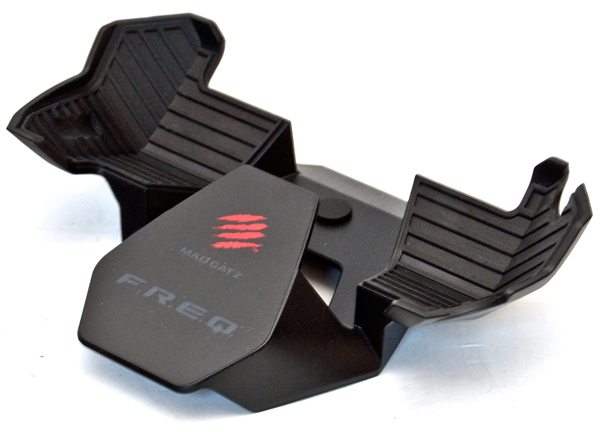 As you can see, the headset clips onto the base nicely, serving as much as a presentation display as it does a storage device. Here you can also see the detachable boom microphone.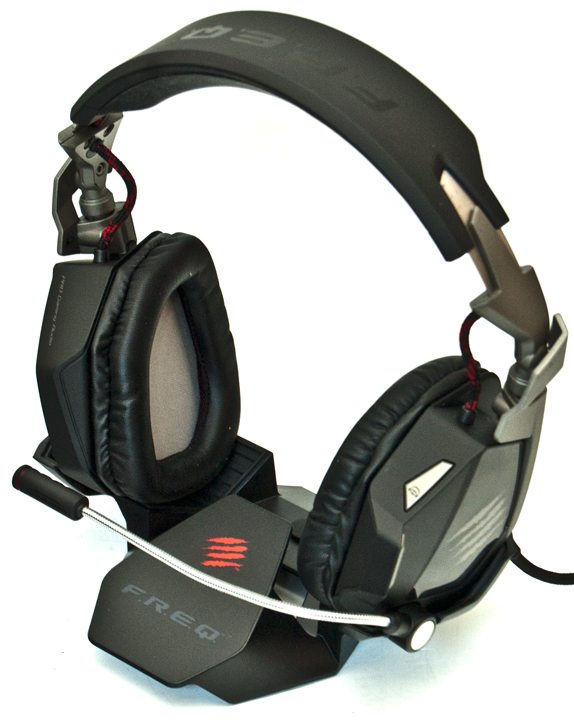 Setup & Installation
For use on the PC Setup was as easy as plug-and-play as windows found the basic drivers with ease for the USB connection. Of course this can be even easier if you only wish to use the 3.5mm jack plug, which is even compatible with smartphones to allow for use as a mobile headset, MP3 players or just about any 3.5mm equipped audio device.
The official software can be download from the Mad Catz website and this allows you to control volume, EQ and dolby on/off settings. Dolby mode only works via the USB cable and is not a feature you can use via the 3.5mm jack plug on something like an MP3 player.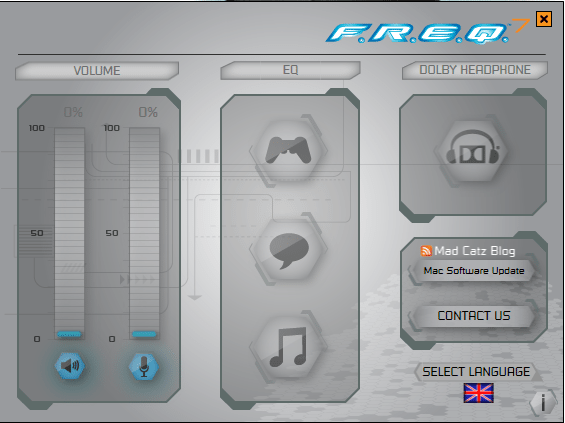 Music
When I reviewed the F.R.E.Q.5 I put the headset through its paces with a whole range of music and was amazed by the quality and also the performance of the various EQ settings. Judging from the specification on the box the F.R.E.Q.7 features identical drivers but after just a few songs I am certain they have made some tweaks and changes to the performance. Bass, mid tones and high frequencies are clearer than ever and I'll be damned if I can think of a headset that sounds this good at playing back my music, excluding maybe a few pro audio focused sets that cost several hundred pounds more.
Movies
Movies was much the same as music, simply jaw dropping clarity for stereo drivers and the Dolby mode does an impressive job of giving you a wide audio field, bringing the sound away from your ears and filling the virtual room. I tend to find that virtual Dolby tech can be a little disappointing and that it tends to hollow out the sound, yet it looses none of its punch here.
Gaming
Gaming is the real winner for the F.R.E.Q.7 as this is fundamentally what it was designed to do and its definitely where it shines through the most. The high quality microphone is perfect for online gaming, the powerful drivers manage to keep the low rumbles of bass in Battlefield 3 free of distortion and the wind in Skyrim can be heard roaring behind you with the Dolby mode enabled.
General Performance
I use my personal F.R.E.Q.5 every day and I decided to put the F.R.E.Q.7 through all my daily tasks, long Skype calls, listening to music, gaming, wasting time on YouTube and most importantly to me playing my guitar, which I have loopped through my PC. I have to wear a headset for about 6 hours a day and its important that its comfortable and performs to an enjoyable standard on a daily basis and The F.R.E.Q.7 didn't fail me once.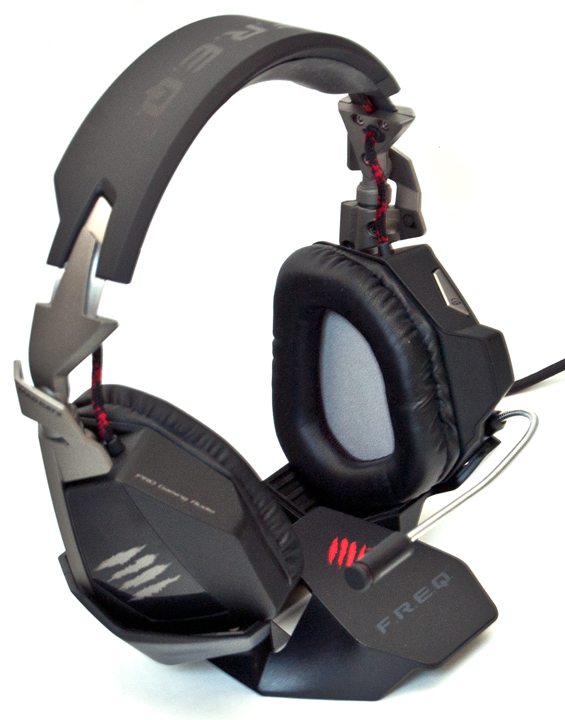 I think its pretty obvious at this point that I really like the F.R.E.Q.7, and I fear I may have come across somewhat smitten with the headset yet even though that may be the case, its for good reason.
The quality of the materials used in their construction and the overall build quality here is second to none, the overall finish is of a premium, high quality and highly durable product, add the general attention to detail that has gone into their design and overall style, which I admit may not be to everyone liking, but that much is true of any product and your already an long way to justifying the three digit price tag that goes with them.
While build quality and style alone can be enough to tempt some people to make the purchase, the thing that really matters to me is the audio performance and best in class sound quality is something that the F.R.E.Q.7 seems to do with ease, its virtually faultless in its execution of even the most demanding audio selections right across their full volume range and that is a rare thing in any headset. Not that you would want to take these to max volume of course as the drivers are likely to blow your ear drums before long.
Priced at around £130 / $200 US the F.R.E.Q.7 is far from cheap, but you do get a lot for your money in terms of quality and performance, so much so that I would still say the headset is excellent value for money. If you want to be amazed I can't recommend the F.R.E.Q.5 headset enough, it's about 30% cheaper, looks near identical and out performs just about anything on the market today, but if you want to be blown away then you need to be saving up for this model, plus you get a free plastic stand to display them on, and every extra feature counts when your spending over a £100.
I've already upgraded my headset to a F.R.E.Q.7, and that makes this a true editors choice product, the question for me now is, will it ever be topped, maybe Mad Catz will make a F.R.E.Q.9 and change the rule book once again, but only time will tell.