Major Facebook Outage Seems to Affect Millions
---
---
---
Bohs Hansen / 6 years ago
It seems that people around the world have trouble accessing their Facebook accounts and as a result, the worldwide productivity rises by 80%. Nah, I'm just kidding about that last part, but Facebook does seem to be unavailable to a lot of people.
The downtime of Facebook can easily be followed on Twitter with the hashtag #FacebookDown where there are plenty of tweets to read. While writing this, the service seems fine for me here in Denmark where I'm physically located – but I could be one of the lucky ones in that regard. If I hadn't been told about the issue, I probably never would have noticed it.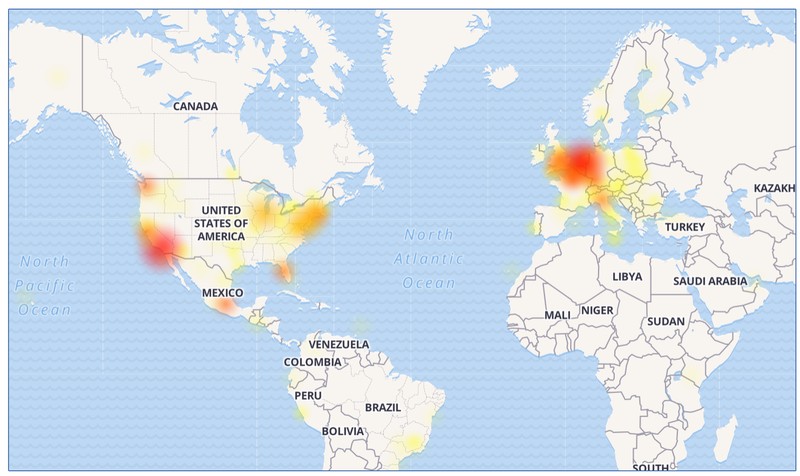 Down Detector also shows a lot of spots on their map with both the east and west coast of America being affected by this Facebook outage, and so are most parts of Europe in some degree.
Have you noticed any Facebook downtime or is it working fine for you? Do let us know in the comments. It will be interesting to see how far this outage reaches among our readers.
https://twitter.com/Nomysahir/status/819958759078457344
When all Facebook pages are down and you consider using myspace again! #DontPanic #FacebookDown #LiveKorman #FridayThe13th pic.twitter.com/NBVVYaAvRV

— Korman Residential (@LiveKorman) January 13, 2017
https://twitter.com/MPetrikas/status/819965257401692161
https://twitter.com/Nomysahir/status/819958705093545986
Facebook is down! Friday the 13th! #friday13th #facebook #facebookdown pic.twitter.com/0DPGTd08sh

— Egzon Bunjaku (@egzonche) January 13, 2017