Major US Retailer Lists 30TB External SSD For Just $38.99 (Scam Ahoy!!!)
---
---
---
Mike Sanders / 1 year ago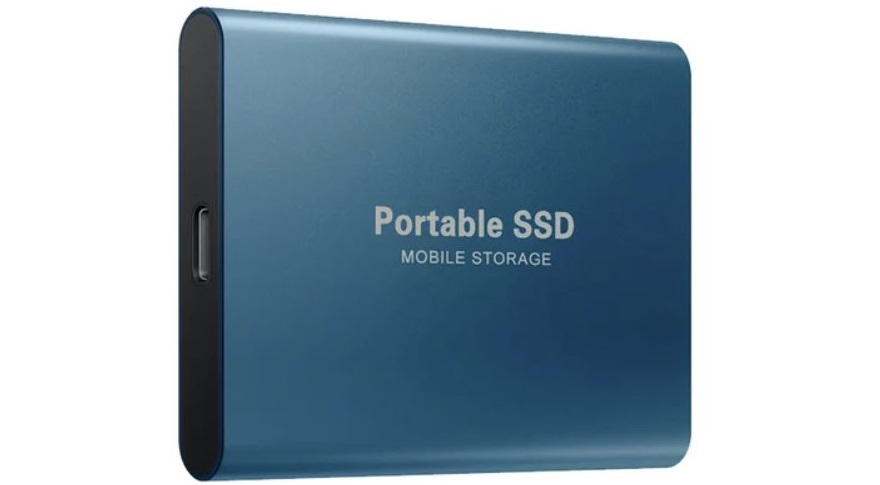 Everyone loves a bargain. At the same time though, there is always the old (and usually correct) adage that if something looks too good to be true, it probably is! – With this in mind, therefore, when you hear of a 30TB external SSD for sale for under $40, I would hope that for the vast majority of you this would have your spidey senses tingling. – In fact, I'd hope many of you would (usually rightly) suspect that this was yet another dodgy tech item being sold on Wish or AliExpress.
Following a report via ArsTechnica, however, this particular example is not being sold on some kind of dodgy website with a reputation that proceeds it. It is, instead, being sold right now, in America, via Walmart! Yes, that monumentally huge retailer is selling what is clearly a scam, fake, and exceptionally dodgy "30TB" external SSD!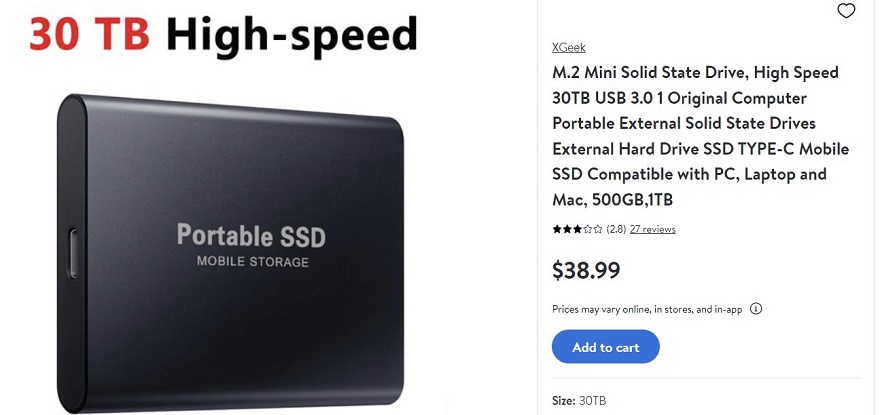 30TB External SSD for Under $40? – Only in America (or China)
Now, just in case this needs to be said, there is no way on God's green and flat Earth that you can buy an actual 30TB external SSD for under $40. – In fact, for what it's worth, I'm not even actually sure that consumer 30TB external SSDs even exist. And if they do then they'd undoubtedly be priced at something likely well over $5,000. – Put simply, this is not a 30TB external SSD.
So, if it's not, then what is it? – Well, it appears to be one of those exceptionally dodgy Samsung-clone knock-offs. Instead of actually hosting 30TB of data, what you apparently get instead is a nice and legit-looking external case… With a circa 512MB thumb stick basically glued inside!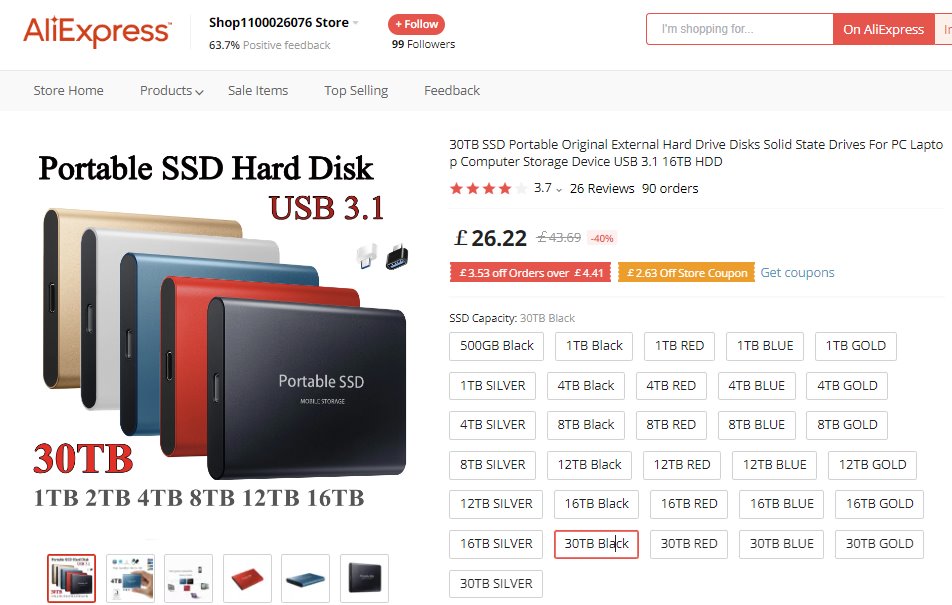 The drive is, of course, configured to read as 30TB when plugged into a system as these 'scam' products often are. This is done via a USB 3.1 cable incidentally which just happens to be hooked up to a USB 2.0 thumb drive. So yeah, not exactly 'high-speed'! You might be wondering though how this actually works. I mean, surely this will get found out as not having 30TB of storage the moment someone goes to actually put data on it, right?…
Well, in this regard, it plays a somewhat clever (but hardly original) trick. Namely, it's designed to continually overwrite itself to give the illusion that data is actually being continually transferred. Which, in fairness, it is. The kicker though is that after 512MB this external SSD (which isn't an SSD either just to mention it) has no alternative but to go back to the start and write over what it just wrote!
As noted earlier though, the existence of products like this certainly isn't new. The fact, however, that a major retailer like Walmart is allowing crap like this to be sold on their website (admittedly, via a third-party partner) is clearly more than a little disturbing. – You can check out the official link here, but all going well, by the time you read this it'll hopefully be gone!
Just in case it needed to be said though, if you see a 30TB external SSD for sale for under $40, save yourself $36 and just pick up a 512MB USB stick instead because, overall, you'll be getting exactly the same thing!
What do you think? – Let us know in the comments!