Make War Not Love 3 Bundle is Now Free on Steam
---
---
---
John Williamson / 7 years ago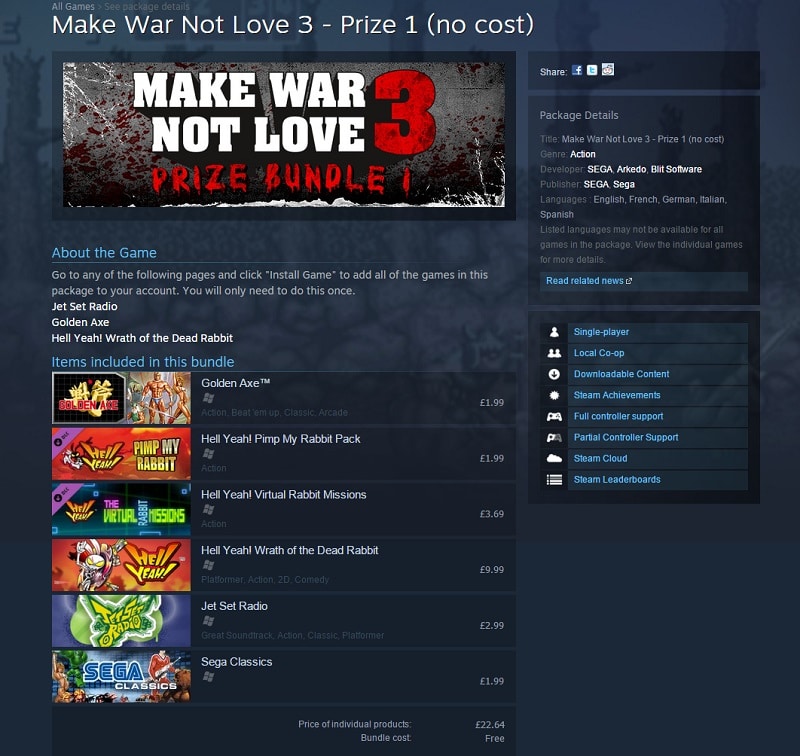 Back in their heyday, SEGA used to release a huge array of unique games including Golden Axe, Shenmue, Panzer Dragoon Saga, and more. Furthermore, they continued to innovate and worked on new IPs instead of relying too much on previously successful titles. Throughout history, SEGA made a profound impact on the industry, and spearheaded new experiences. For example, Shenmue is one of my favourite games of all time, and it's quite difficult to explain. It almost falls into a genre of its own, and feels so special to anyone who played it at the time. Even today, the game's beautiful setting, and endearing story holds up remarkably well.
Sadly, SEGA's floundering attitude towards console hardware confused consumers and made them extremely angry. The company bamboozled gamers with quick-fire releases of the 32X, SEGA Saturn and eventually SEGA Dreamcast. As you can imagine, console players like to invest in a system and feel like it's going to be supported for a considerable amount of time. SEGA didn't understand this notion and alienated early adopters. It's such a crying shame that part of the Dreamcast's failure stemmed from poor business decisions. This meant people distrusted SEGA and couldn't be convinced to purchase their latest product.
This is rather upsetting because the Dreamcast has a phenomenal library, and cancelled well before its time. Thankfully, SEGA still exists as a publisher and releases some games. Although, the quality of these has become suspect in recent years as demonstrated by Sonic Boom. It's unfair to say this is the complete picture though because Sonic Generations really evoked the old school SEGA feel. During this week, the company collaborated with Valve to offer a host of classic titles for free!
The bundle includes Golden Axe, Hell Yeah! Pimp My Rabbit Pack, Hell Yeah! Virtual Rabbit Missions, Hell Yeah! Wrath of the Dead Rabbit, Jet Set Radio and SEGA Classics. This equates to a value of £22.64 and should provide hours of entertainment! To add the bundle to your library all you need to do is navigate to this Steam page, and click Install Game. Once completed all of the games will be permanently added to your library.
What is your favourite retro game of all time?