Man Inspired by 'Forged in Fire' Burns Down 28 Properties
---
---
---
Mike Sanders / 6 years ago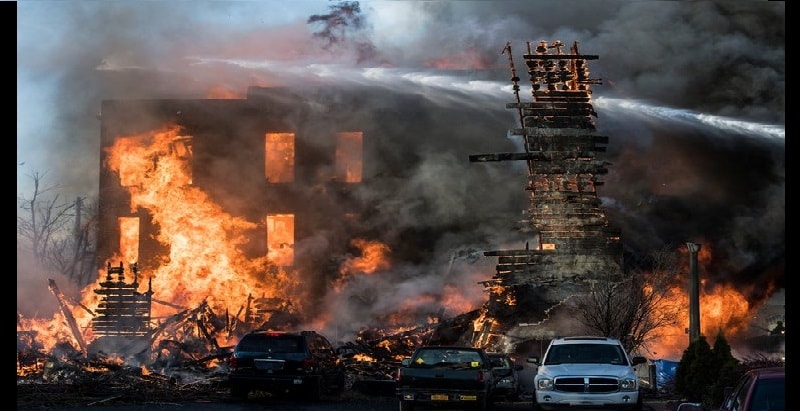 Man attempting to create his own 'Forged in Fire' burns down 20 houses
Most TV shows these days start with the pretty heavy disclaimer 'don't try this at home'. A man in New York, however, clear thought he was above such advise.
Forged in Fire is a major hit History Channel TV program. It pits 3 blacksmiths against one another to create a piece of traditional forged iron or steelworks.
Being inspired by the program, John Gomes decided he would give blacksmithing a try in his backyard. Now, before we get into the aftermath, we have seen our fair share of stupidity here at eTeknix, what came next, however, is perhaps on a new level.
In a report via the NYT, John Gomes' little home furnace went on to engulf 20 houses in flames.

So, what went wrong exactly?
Deciding he would attempt to make a sword (or possibly just bend some metal) John Gomes made his own little homebrew forge. While this, in itself, sounds a bit dodgy, it does get worse. He decided to make this attempt during quite high winds. 30mph to be exact. This saw debris from his 'forge' blow onto adjacent buildings which ended up destroying 28 buildings, including his own apartment.
At eTeknix, we often question the sanity of people who plug in random USB sticks, this, however, is well beyond our usual scope of insanity.
The blaze took the New York Fire Department over 6 hours to extinguish.
Being charged with arson and reckless endangerment, Mr Gomes is currently released on bail.
Fortunately, no one is reported to have been hurt in the blaze. It does, however, put a fresh reminder on the catchphrase we mentioned earlier, 'do not try this at home'.
What do you think? Do you think he was just a bit misguided or a clear idiot? – Let us know in the comments!