Marvo GT-903 Multi-Format Steering Wheel Review
---
---
---
Peter Donnell / 2 years ago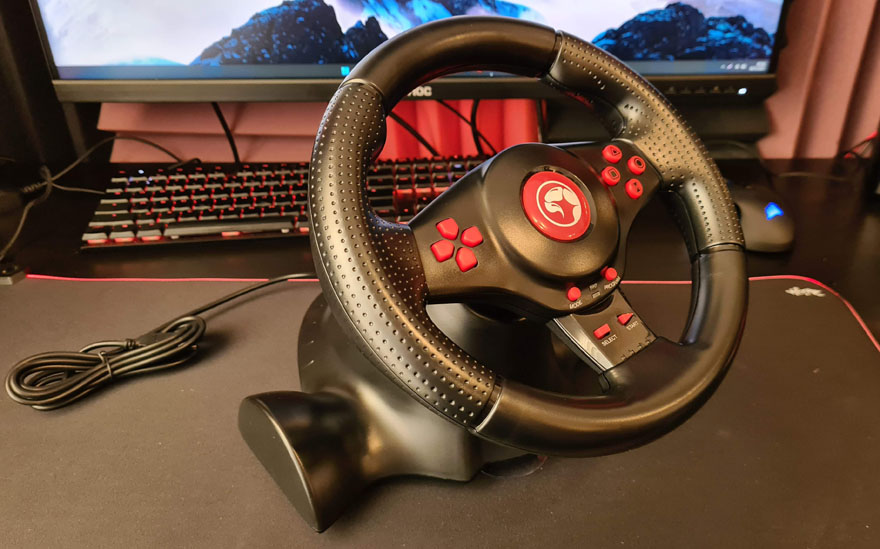 There's a lot of great racing wheels on the market these days, but if you want to invest in one, you're talking big money. Not everyone wants to, needs to, or can go out and drop £200-500 on a racing setup. While Marvo isn't going out to topple Thrustmaster or Logitechs offerings with their new GT-903 Steering Wheel, it does have two distinct advantages that will make it appeal to those on a tighter budget. One, it's only going to be around £50 for a full wheel and pedals setup, and two, it supports seven different systems, when very few other wheels support more than one or two. The Marvo steering wheel will work on PC, PlayStation 3, PlayStation 4, Xbox Series X, Xbox One, Xbox 360 or switch console.
At this price range, I'm not expecting the greatest steering wheel ever. However, it does have some promising features. It's got a 180-degree wheel, which is spring-loaded and comes with dual vibration motors for force feedback. It has a built-in set of controller buttons, making it compatible with pretty much all major consoles and PC. It doesn't use a clamp system, but rather suction cups, so you'll have to take that into consideration on where you place it. However, I am impressed that it has a set of USB pedals included too, making this very appealing to those wanting an old-school gaming/racing setup. Fortunately for Marvo, that's exactly what I want; more on that later!
Features
Precise Movements – The 180° wheel rotation allows you to create precise manoeuvres, giving you optimal performance for all your driving games. Four suction cups on the base stabilise the wheel and keep it fixed in place on any surface.
Dual vibration motor – Thanks to its dual vibration motor, the GT-903 racing wheel will provide you with real driving sensations.
Fully programmable – With programmable functions for gas/brake on the foot pedals and forward/back of gear shift providing optimal performance and a real racing experience.
Conection – USB connector for racing wheel & foot pedals
Specification
Product materials: ABS plastic + suction cups
Buttons: racing wheel 16D, foot pedal 2D
USB Cable: racing wheel 1.9m leather cable, foot pedal 1.4m leather cable
Product Size: racing wheel 22 x 27 x 23 CM, pedal 21*20*13CM
Foot Pedal: brake + throttle
Programmable buttons: brake + throttle
Compatible Platforms: "PS4, PS3, XBOX One, XBOX 360, Switch, Android and PC"
Vibration: Yes
Steering Angle: 180°
Voltage and Current: <100mA
For in-depth features and specifications, check out the official GT-903 product page here.