Mass Effect: Andromeda Story DLC Cancelled?
---
---
---
Ashley Allen / 6 years ago
Following Mass Effect: Andromeda's poor critical reception and lacklustre sales, BioWare put the Mass Effect series "on ice". Fans, though, remained hopeful for some quality story DLC, rumoured to be incoming. As part of BioWare's Mass Effect abandonment, though, BioWare has killed Andromeda's nascent story DLC, a third-party developer claims.
Story DLC Cancelled?
The report comes courtesy of Austrian software company Sinclair Networks. Supposedly, BioWare hired Sinclair Networks to develop Mass Effect: Andromeda story DLC. That DLC, though, won't now see the light of day, the company announced on its Facebook page. Instead, Sinclair says it is developing content for BioWare's new sci-fi IP Anthem. The (now-deleted, via PlayStation Universe) post reads:
"This news saddens us to say, but it was made official after a meeting this week that they will be no story DLC for Mass Effect Andromeda from us. Due to issues in initial production, heavy critique, significant delays in other projects, staff allocation and reductions in Montreal, it was decided to shelve the franchise for the time being and all our resources and outsourcing are being focused on the 2018 release of Anthem. For the moment the Mass Effect series will be on ice until BioWare can decide which direction the franchise will go."
Mass Effect: Andromeda patches and APEX mission updates will continue, the post claims.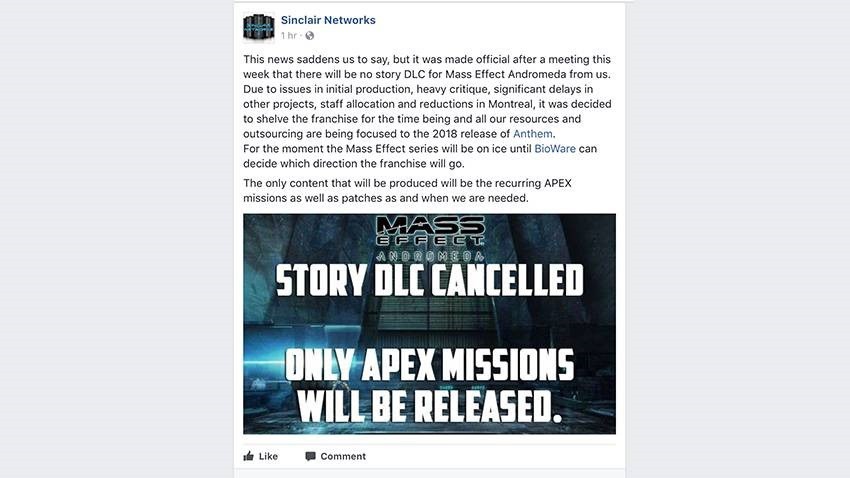 Story DLC Deleted?
Sinclair Networks later posted more details in the comments (also via PSU). The company alleges that BioWare is keeping quiet about the DLC cancellation:
"We would like people to know as BW will not state that DLC has been ceased and will just ignore questions about it and keep on with the simplified Apex template releases. We are outsourced through them and they will not announce it themselves."
In a later comment, Sinclair reveals that it deleted the story content it worked on, as per its BioWare contract:
"Our contract was for DLC creation since the studio was downsizing. We had created 3 DLC packs of which one would have been ready for August. The meeting we had was decided to hold off and focus to APEX and cancel the DLC. If Bioware want to create their own DLC, then you will be waiting for quite a while as the content we made was erased as per contractual obligation on our side for copyright."
Reliability
This is a rumour. We cannot confirm any association between BioWare and Sinclair Networks. Until BioWare speaks about the matter, we cannot corroborate the authenticity of Sinclair's claim.