Metal Gear Survive Launches February 20, 2018
---
---
---
Ron Perillo / 5 years ago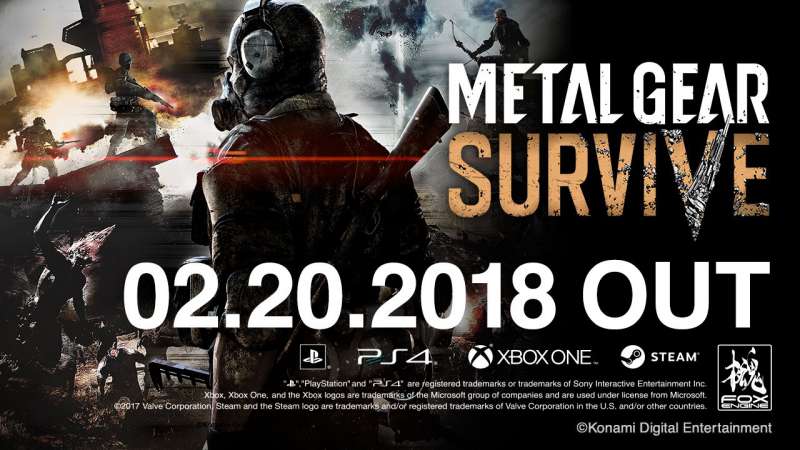 The next installment of Konami's Metal Gear series Metal Gear Survive is coming February 20, 2018. 'Survive' marks the first title from the series after the departure of legendary game designer Hideo Kojima from Konami.  In October 2015, Kojima left Konami a month after Metal Gear Solid V: The Phantom Pain was released. Survive is a co-op survival game, putting players against hordes of zombies. When asked whether he has anything to do with Survive, Kojima said "no", since "political fiction and espionage" is what he believes the Metal Gear series is about.
The news comes directly from Konami's Twitter account and promises a simultaneous Xbox, PS4 and PC Steam release for $39.99 USD. However, gamers from the UK and EU will get it two days later on February 22. The official system requirements or PC-specific graphical features are not yet available.
Metal Gear Survive Pre-Order Details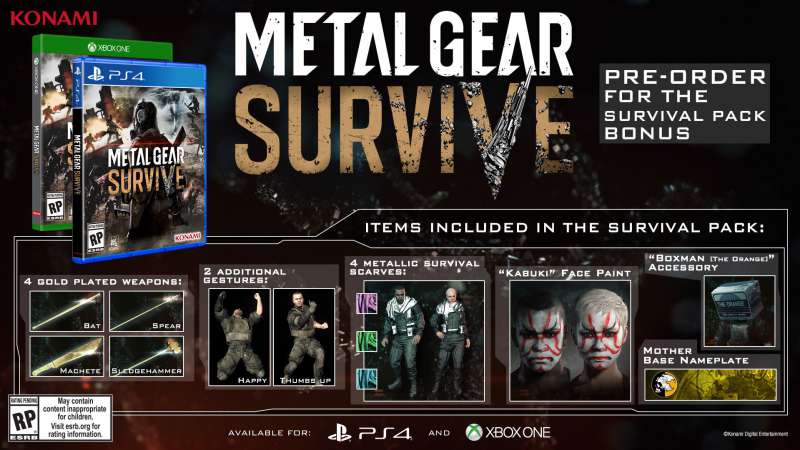 Aside from the release date announcement, Konami is also announcing pre-order bonuses. Which apply to the digital as well as physical copies of the game. This bonus 'survival pack' includes the following add-ons:
4x gold plated weapons: bat, spear, machete and sledgehammer.
2x additional gestures, which include happy, and thumbs up.
4x metallic survival scarves
Kabuki-style face paint.
Nameplate featuring the Mother Base logo from Metal Gear Solid: Peace Walker.
'Boxman' headwear accessory.
Metal Gear Survive Gameplay Video
Watch a video of Survive from Tokyo Game Show 2016 via Konami's YouTube channel to get a preview of the gameplay.