Micron and Intel Unveil New 3D NAND Flash Memory
---
---
---
Bohs Hansen / 7 years ago

Yesterday we could report that Intel was teasing a revolution in the SSD Market and today we're getting another possible hint as they've revealed the availability of their 3D NAND technology in cooperation with Micron. This new 3D NAND technology stacks layers of data storage cells vertically with precision to create storage devices with three times higher capacity. This enables more storage in a smaller space, bringing significant cost savings, low power usage and high performance to a range of mobile consumer devices and also the most demanding enterprise deployments.
Planar NAND memory has reached it practical limits and we haven't really seen any big changes lately, but this is seriously about to change. The new 3D NAND technology from Intel and Micron is built on a floating gate cell and features 32 layers of flash cells to achieve 256Gb MLC and 384Gb TLC dies that fit into standard packages.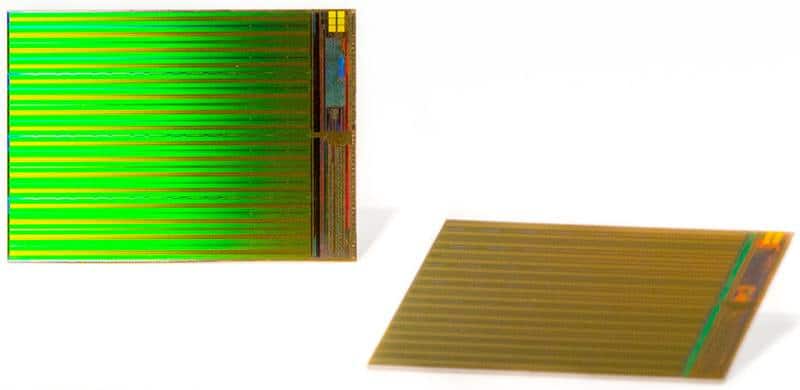 Let me explain what that could mean for those of you who aren't that familiar with the insides of flash cells. Basically, this means that we can see M.2 modules with more than 3.5TB of storage and standard 2.5-inch SSDs with greater than 10TB capacity; if the previous two paragraphs didn't catch your attention, I'm sure this did.
The key product features of this 3D NAND design include:
Large Capacities -Three times the capacity of existing 3D technology1-up to 48GB of NAND per die-enabling three-fourths of a terabyte to fit in a single fingertip-sized package.
Reduced Cost per GB – First-generation 3D NAND is architected to achieve better cost efficiencies than planar NAND.
Fast – High read/write bandwidth, I/O speeds and random read performance.
Green – New sleep modes enable low-power use by cutting power to inactive NAND die (even when other die in the same package are active), dropping power consumption significantly in standby mode.
Smart – Innovative new features improve latency and increase endurance over previous generations, and also make system integration easier.
The big question now is when we'll see those new drives. The 256Gb MLC version of 3D NAND is sampling with partners now and the 384Gb TLC design will be sampling later this spring. The production lines have begun initial runs and both devices will be in full production by the fourth quarter of this year. Both Micron and Intel are already working on SSDs with the new technology, so we can expect them at the end of 2015 to start of 2016. CES 2016 in Vegas is my personal estimate.
Thanks to TechPowerUp for providing us with this information