Micron GDDR5X Enters Mass Production
---
---
---
Samuel Wan / 7 years ago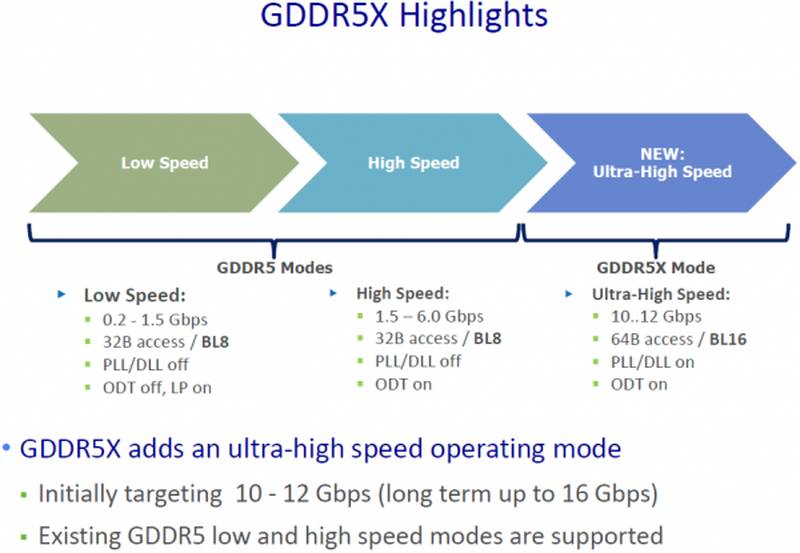 Last year, we first got word of GDD5X, a cheaper alternative than the expensive jump to HBM/HBM2. Using a similar controller to GDDR5, Nvidia and AMD would be able to increase bandwidth while dropping power consumption. The memory standard moved along quickly, getting official standardization, and entering limited production in just 3 months. Now, Micron is announcing that they have already started mass production of GDDR5X.
The first production models will operate at 10 Gbps. This is why the GTX 1080, the first GDDR5X GPU, uses the same speed memory, hitting 320GB/s of bandwidth over a 256bit bus. At 10 Gbps, this is actually a bit slower than earlier samples that ran at 12 Gbps and the eventual 16 Gbps goal. Given that Micron and Nvidia don't want any supply shortages, 10Gbps is probably where enough chips pass certification to ensure a steady supply.
For now, Micron remains the only GDDR5X supplier. This means if AMD wants to use GDDR5X, which they might with the Polaris 10, they would have to share supply with Nvidia. Given the conservative clock speeds both are likely to use, I don't forsee any trouble. Polaris 10 is rumoured to use a 256bit bus so GDDR5X is a possibility for AMD as well.