Micron Launches 5200 64-layer 3D SATA Enterprise SSDs
---
---
---
Bohs Hansen / 3 years ago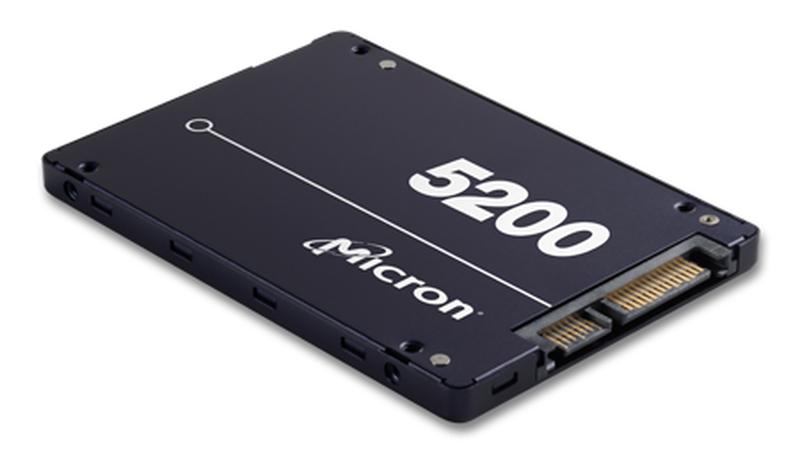 Micron 5200 Enterprise-Class SSD
Micron launches their newest take on an enterprise-class SATA SSD and it's a pretty darn nice drive. SATA3 does set some performance limits due to the protocols age, but it is still the easiest and most cost-effective to deploy.
The 5200-series (product link) is meant to replace the need for 10K RPM HDDs in server environments. With a single Micron 5200, you'll get three times the OLTP workload IOPS performance when compared to a full rack of 24x 10K HDDs.
Micron 5200 Series
The new drive series consists of two drives, the Micron 5200 ECO and the Micron 5200 PRO. The ECO drives offer a higher capacity while the PRO drives offer double the write endurance and an increased random write performance.
Both drives have one thing in common, they are both built on Micron's new industry-leading 64-layer 3D NAND technology. These are also the first SATA enterprise SSDs available with 64-layer 3D NAND technology. Improvements in density, throughput, consistency, and power efficiency are all things that lead to a better value.
ECO or PRO Series?
There are some notable differences between the two Micron 5200 drives. The EVO comes in capacity options up to 7.68TB per drive and they all have a 1 DWPD rating. The PRO is only available with capacities up to 1.92TB per drive, but it has a DWPD rating of 2 complete cycles.
All performance ratings given are from a steady state, which should be noted. Sequentially, they both perform with 540MB/s when reading and 520MB/s when writing. That goes for both the PRO and EVO. The random performance shows another difference. The EVO drive offers 95K IOPS reading and 9.5K writing while the PRO drive offers 95K reading and 32K IOPS writing.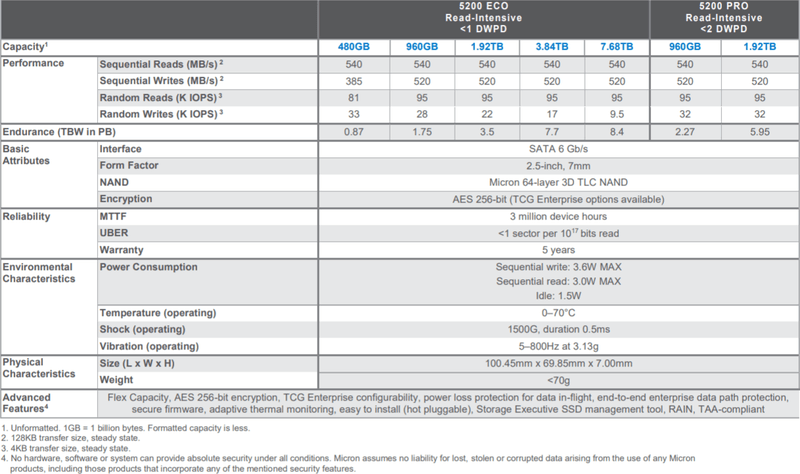 There's another difference in the endurance. The EVO is rated nicely, but the PRO offers almost double the ratings.
Why Should You Use These Drives?
If you require a combination of high-capacity storage, performance, and a low total cost of ownership, then the 5200 drives are an optimal choice. They are meant to replace the now ageing mechanical drives which have their downside. HDDs are slow but offer high-capacity in return. Even 10K RPM drives. They are somewhat faster, but they also draw more power.
Micron 5200 offers the same capacity, but a much better performance at two-thirds of the TCO. That kind of says it all.
Availability
Micron 5200 SSDs are available now for OEM qualification and for purchase through distributors, such as ASI, Avnet, CDW, Ingram, Microland, WPG-Americas, Synnex and others.
Support eTeknix.com
By supporting eTeknix, you help us grow and continue to bring you the latest news, reviews, and competitions. Follow us on Facebook and Twitter to keep up with the latest technology, share your favourite articles, chat with the team and more. Also check out eTeknix YouTube, where you'll find our latest video reviews, event coverage and features in 4K!
Check out our Latest Video