Micron Starts Sampling GDDR5X to Customers
---
---
---
Samuel Wan / 7 years ago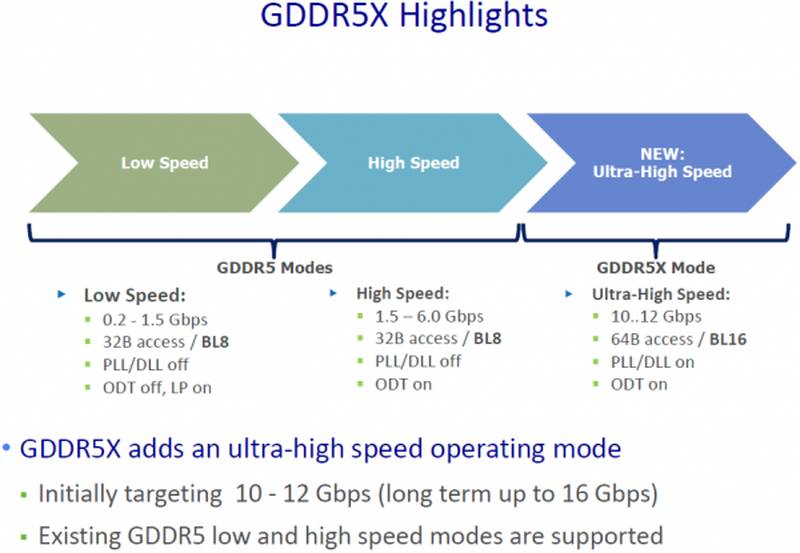 Even when much of the excitement about VRAM is coming from HBM2, that technology isn't quite ready for prime time yet. For now, HBM2 is still a ways away and still a premium product. To hold the line, memory vendors have come up with GDRR5X, a significantly improved version of GDDR5. In what is unquestionably good new, Micron has just started sampling their GDDR5X modules to customers, way ahead of their original summer target.
GDDR5X has been moving along quickly since JEDEC finalized the specifications back in January. It was also only last month that Micron got their first samples back from their fabs to test and validate. This means that GDDR5X was easier to implement than expected and the quality of the initial batch was good enough that there wasn't much to change in the production process.
Micron will be offering GDRR5X in 1GB and 2GB IC's, allowing for 8GB and 16GB VRAM GPUs on as narrow as 256bit memory buses. The biggest advantage of GDDR5X is the doubling of bandwidth from 32byte/access to 64byte/access. Combined with higher clock speeds that allow for up to 16Gbps and improved power efficiency, the new memory will be a good match for Pascal and Polaris while we wait for HBM2.