Microsoft Is Looking To Rebrand Its Web Apps Into 'Office Online' Soon
---
---
---
Gabriel Roşu / 9 years ago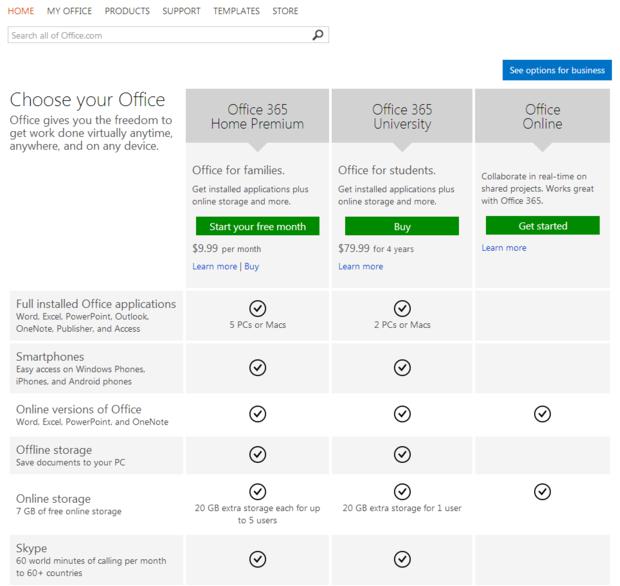 There were rumors about Microsoft rebranding their Office Web Apps suite to Office Online, which does indeed make sense since it is an online service and the name is also not so complicated (for most) as the latter.
According to Ubergizmo, Microsoft has apparently posted the Office Online suite as a comparison product on their "compare" page, which means that the rebraded Office Online suite might be closer to launch. The Office Online suite looks to be next to other Office product offerings from Microsoft, such as Office 365 Home Premium and Office 365 University.
It looks like Microsoft Online could be the answer to its competitors, such as Google Docs, Spreadsheet, and so on, essentially a free Office environment which can help people build their presentations and documents on a web browser. Microsoft's Office Web Apps has been available since 2010 but was not so known as Google's alternative, therefore this might be the way Microsoft attempts to make people more aware of its product and make it easier to work with.
Beside the name change, Microsoft is also changing the name of the apps contained within the suite to make them more Office friendly. Therefore the applications will be rebranded to Word Online, Excel Online, PowerPoint Online, and OneNote Online. Also, Microsoft is said to make available a variety of templates to aid customers in their work.
A launch date has not been revealed yet, though Microsoft is likely to release the product soon based on the comparison availability on its website.
Thank you Ubergizmo for providing us with this information
Image courtesy of Ubergizmo