Microsoft to Take On Chromebook with New Low-Cost Surface Device
---
---
---
Ron Perillo / 6 years ago
Microsoft CEO Satya Nadella is expected to announce the company's new push into the education market at their New York City hardware event on May 2. There will also be talk of Windows 10 and the cloud used for the same market focus. Since the Surface Pro 5 and Surface Pro 2 are off the table for announcement at the event, it is most likely going to be a demonstration of a new low-cost Surface device aimed at the K-12 education sector utilizing cloud-based Windows 10.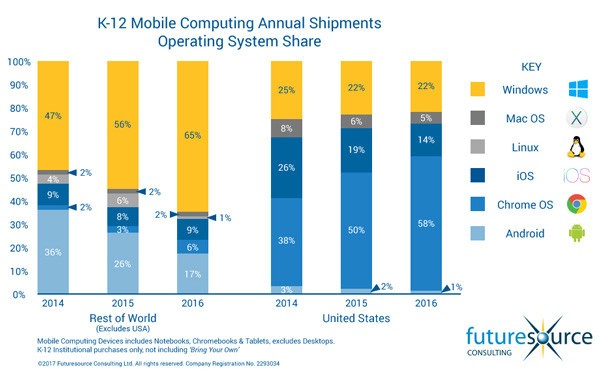 Google has been increasing mobile market share considerably for the K-12 education sector with their Chromebooks in the United States. According to IDC, Chromebooks took 49% of the total market share in 2016. The number is even higher coming from Future Source consulting's papers, which pegs it at 38% in 2014 and increasing to 58% in 2016. This is not surprising considering their very low cost and superior management. Two Chromebooks can be bought for the price of one iPad so naturally, Apple took the brunt of market share loss dropping from 26% in 2014 to only 14% in 2016 according to the same research from Future Source. Microsoft in comparison has taken a smaller hit, dropping from 25% in 2014 to only 22% in 2015 which remained steady until 2016. All these numbers are strictly for the US market and Microsoft is actually dominating the K-12 mobile computing market elsewhere around the world. Windows notebooks and tablets now account for 65% of the total market share, from only 47% in 2014.
The Windows 10 Cloud OS will be Microsoft's greatest weapon to disrupt the Chrome OS' dominance. Chrome management is extremely easy and has a mature app ecosystem, so Microsoft needs to be able to match Google in those fronts, aside from providing competitively priced devices. Unlike Windows RT, Windows 10 Cloud OS includes a more mature store for Windows Universal Platform apps, option to upgrade to a Home or Pro license, and ability to run Win32 app via bridge apps. Having a Cloud OS also solves one of the most frequent risk-management problems with a Windows based system: viruses.
A leaked document under NDA obtained by Windows Central reveals what kind of hardware Microsoft is aiming for with the new "Cloudbook" device. There is heavy focus on battery life since it will be mostly students that are going to be using it. To help with this, Microsoft recently introduced a new power throttling feature in Windows 10 which could push the battery life even further for their upcoming mobile devices.