Mikes Rant – Can AMD Truly Compete Again With Intel/Nvidia?
---
---
---
Mike Sanders / 3 years ago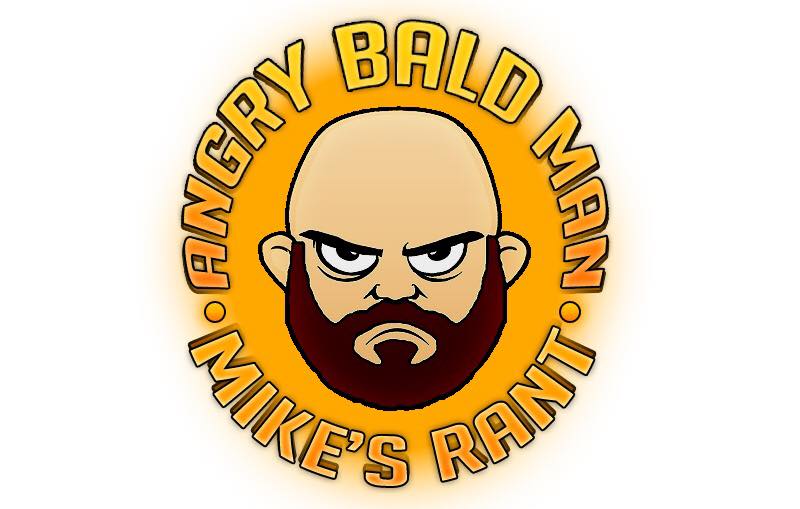 Mikes Rant 12 – A Disclaimer!
Firstly, and I feel very strongly that I should quantify this sooner rather than later, eTeknix has and always will be impartial when it comes to products and components. We do, however, all have our opinions and likes/dislikes. What you will read after this though is my own personal opinion. As such, no matter how wrong, incorrect or blasphemous you feel the following might be, it is solely my opinion and (just for early clarity) doesn't necessarily reflect eTeknix's as a whole.
I only say this now as I can already envision a number of people foaming at the mouth with that title!
Right, now that that unpleasantness is out of the way, I can start ruffling some feathers!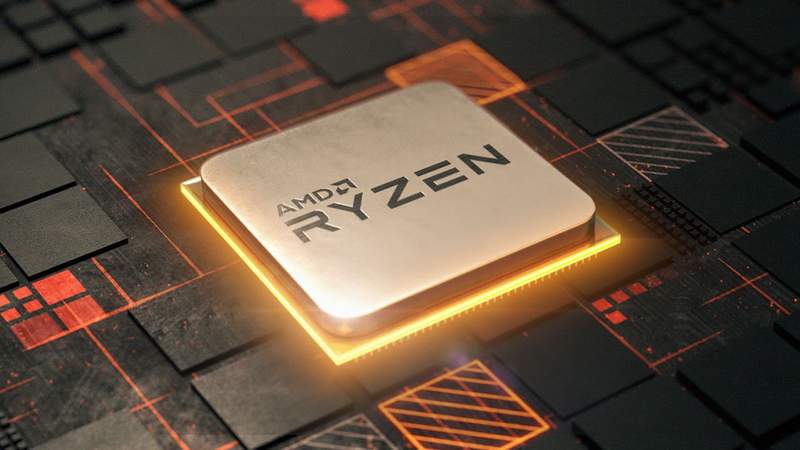 Home Processors
It's no secret that over the last 10 years, Intel has left AMD trailing behind in the dust in terms of processor market share. That isn't to say that AMD processors were not good. In fact, the 8350 was a beast that many still use today. At stages though, Intel's market dominance was as high as around an 85% market share.
It was a long way from the near 50/50 CPU market share Intel and AMD had in 2006. It was a simpler time of duel, quad and hex-cores – that was, however, part of the problem!
While AMD wasn't necessarily struggling, it was definitely failing to keep pace with Intel and over the years a small gap has turned into a huge chasm. We should, of course, add some caveats here. For example, AMD has never had a good market share in laptops. Even today their share is less than 5% in that market. In addition, AMD also failed to secure deals with the 'high street' PC manufacturers. A failure which still exists now if you were to take a look online at the pre-built systems.
Perhaps the biggest mistake AMD made was that while they were offering more cores, Intel was simply making their processors faster. Given that few games have ever truly utilised multiple core systems it was a mistake that AMD took many years to learn from.
In terms of CPU's though, while things have been bad for AMD, recent news shows that there is light at the end of the tunnel!
AMD Match Sales With Intel
In July, following the release of the 2nd-generation of Ryzen processors, AMD claimed a 50/50 split of shares with Intel. While this doesn't necessarily show AMD on the grow, it does show that consumer confidence has taken a big shift towards team red. Particularly their Ryzen range of processors.
I must confess that while I believed the launch of the 1st generation of Ryzen processors did appear to have had an effect on the market, the statistics would clearly say otherwise. As can be seen in the chart below, while AMD did claw back some business, the gap has only reduced by 2-3%. It's likely that the biggest problem in this regard that the people who make the switch to Ryzen were people who already owned older AMD processors. In fairness, that's exactly what I did.
The 2nd-generation of Ryzen processors has, however, been received equally as well as the first. We particularly took a liking to the 2400G (and others) in which AMD made a long-overdue return to the APU style of design. A market which is prime based on the current high prices of graphics cards.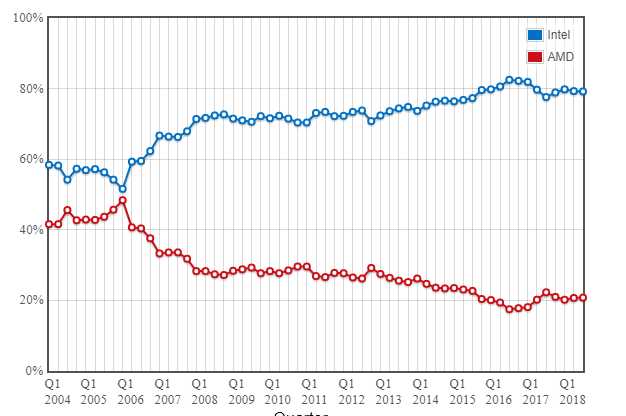 Mikes Rant – Can AMD Close The Gap On Intel?
It's a big question and one we won't know the answer to until the end of the year. Q2 and Q3 results might give us an indication, but if people are truly making the switch from Intel to AMD we will not have a clear vision of this until the end of 2018.
It's a no-brainer that even despite the recent release of the 2nd generation Ryzen processors, Intel (with their Coffee-Lake) still has the dominance. In addition, it looks likely that Intel will continue to release new versions of this before the end of the year. As such, while things again appear to be good for AMD, time will ultimately tell.
There is, however, a new contender soon to enter the market. One that could change things quite significantly for those who place a higher remit on performance rather than brand loyalty.
2nd-Generation Threadripper Enters The Scene
When the first generation of Threadripper processors landed, we were impressed with their performance, but we were not blown away. Despite their massive power, Intel still (and by a fairly comfortable margin) had the best performing processors around.
Although we have yet to confirm them ourselves, AMD recently released a video indicating that their 2nd-generation Ryzen Threadripper 2990WX outperformed Intels i9 flagship. In addition, they also claim to have beaten several world records in terms of benchmarking. While they did not release any specific benchmark information on the X-series (which is specifically a gaming variant) this is big news for AMD.
While it may not necessarily affect the sales, if the figures are true, it might indicate that AMD could, at least for a little while, have the official top spot. It's bragging rights if nothing else and could potentially look to steal away those who covet performance above all other factors.

What About Graphics Cards?
This, unfortunately, is quite a simple and brief question to answer.
When prices of graphics cards started getting a bit insane last year, I expected that AMD (who are traditionally less expensive) might have clawed some back. Put simply though, it hasn't. The AMD 480/580 range offered some great performance for those on a budget, they were, however, both pipped in performance by the Nvidia 1060. Admittedly, not a lot, but enough for people to go team green in their choice. You really did get a lot more for spending that little extra.
Even when AMD launched the Vega range of GPU's, while they were again good, they were not even really on par with the standard 1080, let alone the 1080ti. We had all hoped that the Vega 64 might have been a damp towel on Nvidia's party and it simply wasn't.
Nvidia is still, very much, the top dog in nearly every respect of graphics cards. Even the release of the 1050 has given them some clout in the budget market. An area that traditionally AMD monopolised.
With AMD not planning on releasing a new GPU until at least Summer 2019 and Nvidia primed for the 11XX series release, the near-future of GPU's is still very firmly green!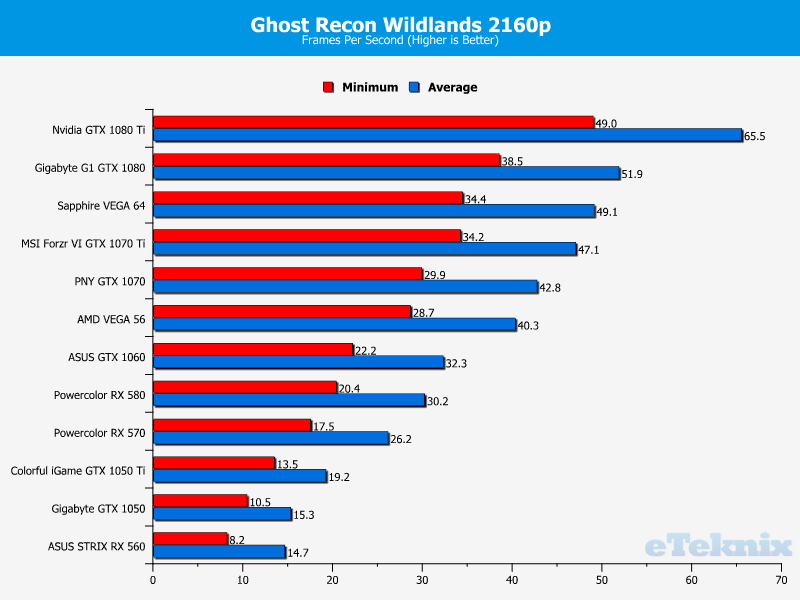 Mikes Rant – Concluding Thoughts…
Over my years of PC ownership (and they are many) I have largely always tended to err towards AMD for Processor and Nvidia for GPU. It's no surprise to me that my current system has that specification. Despite that, while I might have a soft place in my heart for AMD, my head knows that Intel and Nvidia have been and even now are the best in terms of performance.
Despite that fact, I still love the Ryzen series though and would still thoroughly recommend anyone on an older Intel or AMD processor considering an upgrade. If you did continue to choose Intel though, I'd entirely understand your decision.
For graphics cards though, unfortunately, it's a bit simpler. If you can afford it, go for the Nvidia 1060 or better. If you can't get the recently upgraded 1050ti. Better still, wait to see what the Nvidia 11XX series has to offer.
It isn't, however, all doom and gloom for AMD. Based on the recent Threadripper announcement and success of the 2nd generation of Ryzen processors (building on the first) the future is looking quite bright for AMD at least in terms of processor market share, albeit, rather bleak for their GPU's.
Whether this will be good enough to claw some ground back of Intel though remains to be seen.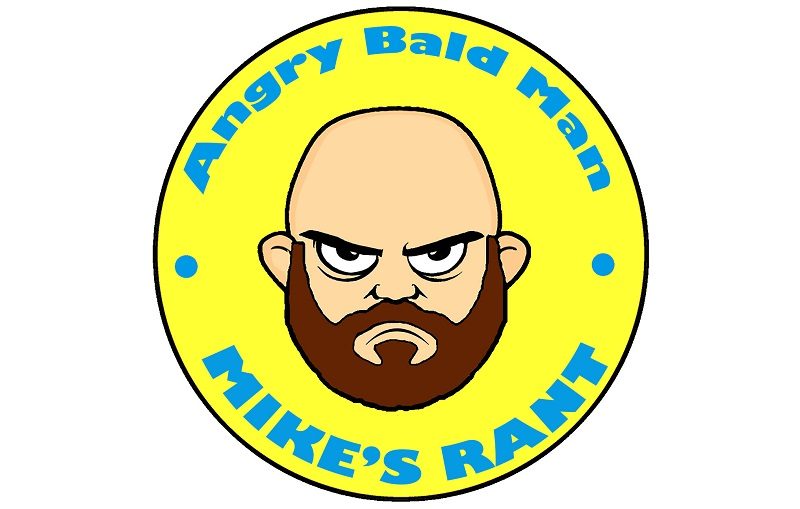 Mikes Rant – What do you think?
Can AMD reduce the gap on Intel? Have you recently made a switch in your processor or GPU loyalty? If so, which way did you go and what influenced your decision? – Let us know in the comments!
Disclaimer
For such a contentious subject, we would like to reiterate Mike's starting view that this may not necessarily reflect the opinion of eTeknix as a whole. This is purely an opinion piece and Mike is full of them!
More of Mikes Rant
Did you enjoy Mikes Rant and want to check out more? – Well, for all of his rants you can check out the link here!
Which one is your favourite? – Let us know in the comments!