MMO Gaming Mouse Roundup
---
---
---
Peter Donnell / 10 years ago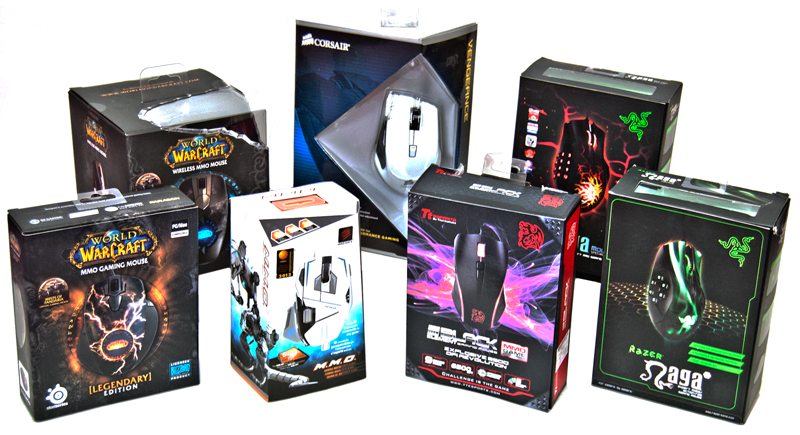 Over the last few weeks I've been lucky enough to use many of the best gaming mice on the market, putting them through their paces in many of today's leading MMO games, trying to find out which offers the best performance, value for money and feature sets, in the hope that I can guide you to making a better purchase.
Like knights of the round table I am surrounded by awesome examples of what a gaming mouse can be, as you can see in the image above I have a fair few to choose from and those of you who keep a close eye on our reviews will realise that we've reviewed every single on of these mice in the past, some of the quite recently too. All of these products have proved themselves to be award winning, premium products that are worth your cash, but that doesn't help you decide which one is best for you or your game.
In the collection today I have:
Steelseries World of Warcraft Wireless MMO
Steelseries World of Warcraft Legendary Edition
Corsair Vengeance M95 MMO
Mad Catz M.M.0.7
Razer Naga Molten
Razer Naga Hex
TteSports Black Element
A fine selection indeed, a solid mixture of low, mid and high-end solutions with the appropriate budgets to match, in a wide range of style choices, button configurations and specifications, so lets not hang around and we'll get stuck into the good stuff.
Full details of each mouse and more extensive testing can be found in their full reviews, links provided at the bottom of each page that will open a new tab.