Monitor Home Vitals and More With the SpotCam Sense
---
---
---
Peter Donnell / 4 years ago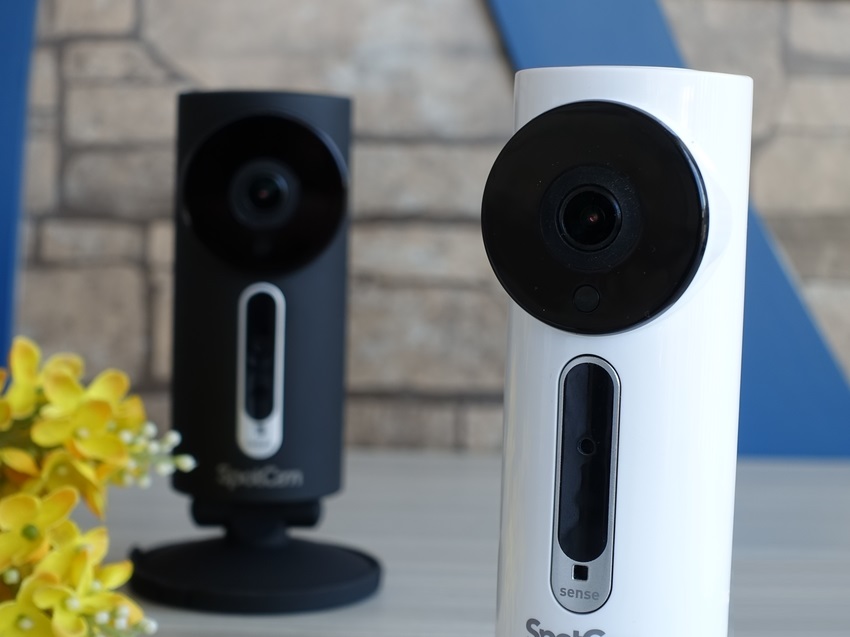 SpotCam has just revealed their latest smart camera, and while it's just as handy as a typical webcam-style device, this one is so much more. It can shoot video at 1080p and record up to 30FPS, while using its ultra-wide viewing angle 155-degree lens to help you capture what goes on in or around your home or office. With two-way audio recording, time-lapse functions, and even a built-in siren for intruder deterrence, it's easy to see how you could improve your home security with SpotCam. Even more so when you see that it comes with free 24/7 cloud recording!
So what else does the Sense offer? Keeping an eye out for burglars is one thing, but there are other important things to monitor in your home. With temperature, humidity and lux level sensors, the Sense will keep you updated about the climate indoor,  or even outdoor thanks to the Sense Pro, which comes with an IP65 weatherproof rating.
High-Quality Video Recording
SpotCam records Full HD 1080P video, covering an entire room with its 155-degree ultra-wide angle lens. It sees well in the dark with twelve high-power IR LEDs. The camera uses the same Sony Exmor image sensor found in top-end Sony cameras, for high dynamic range and outstanding low light performance.
Don't Just See – Sense the Home's Surroundings
SpotCam Sense is more than just a regular IP camera – it includes built-in humidity, temperature, and lux sensors to monitor home vitals. Users can set their SpotCam to notify them if the temperature drops below or rises above a certain level, or if lights are turned on when no one should be home. Together with advanced motion and sound detection alerts, these options provide families more information than ever for monitoring their home – perfect for those with sensitive plants, pets, furniture, or loved ones requiring carefully controlled conditions.
Scare Off Intruders with SpotCam's Built-in Siren
SpotCam Sense's included siren can be configured to alert users at home even when their phones are off or unavailable, e.g. if the baby wakes up, or the temperature suddenly drops. The siren can also be set to ward off possible intruders when no one is home.
The Only Free 24/7 Cloud Video Storage
SpotCam is the only company offering full 24/7 cloud video recording. Most other companies only store short clips triggered by motion detection. SpotCam Sense allows users to review their last 24 hours of recorded video without requiring any subscription fee. Plus, each device includes built-in memory, so in the event of connection loss the device continues to store video without interruption. After internet is restored, SpotCam Sense automatically uploads that footage to the cloud so no moment is lost.
Free Timelapse Function and Two-way Audio Recording
SpotCam Sense includes a built-in speaker and microphone for two-way audio to communicate with pets and loved ones. It supports up to 8x digital zoom. Users can also use the SpotCam website to easily make timelapse videos from recorded video – convenient for reviewing hours of footage in a short period of time, or just for sharing with friends!
Keep Watch Outside the Home with SpotCam Sense Pro
Those who would prefer to have SpotCam keep watch of their backyard, garage, or other outdoor properties can opt for SpotCam Sense Pro – it includes all of the Sense's features, but in a resilient, IP65-rated weatherproof enclosure.
Key Features of the SpotCam Sense
Full HD 1080P video streaming and recording up to 30FPS
155-degree ultra-wide viewing angle
Monitors temperature, humidity, and lux levels
Free 24/7 continuous cloud recording
Two-way audio recording
Free timelapse function
Configurable temperature, humidity, light level, motion, audio, disconnection alerts
Built-in siren for intruder deterrence
Also available as IP65-rated weatherproof SpotCam Sense Pro
Price and Availability
SpotCam Sense and SpotCam Sense Pro available now for £159 and £199 respectively at Amazon UK: SpotCam Sense and SpotCam Sense Pro.
Find out more about SpotCam here at www.myspotcam.com