More i7 7700K Kaby Lake Benchmarks Show No IPC Gains
---
---
---
Samuel Wan / 4 years ago
With just about a month to go until the launch of desktop Kaby Lake, we've gotten more than the usual share of leaked benchmarks. From earlier leaks, we learned a few things about the new i7 7700K CPU. Clocked at 4.2 GHz base and 4.5 GHz boost, the new i7 flagship has been a bit disappointing in terms of performance. Now a new series of leaked benchmarks have come out and struck the final nail in the coffin.
Of course with every review, there is always the usual stock vs stock comparison with current and past generation products. The real interesting parts though come in the IPC clock for clock test which shows off the underlying architecture performance. As expected, the i7 7700K does well in the stock test but unfortunately for CPU aficionados, the clock for clock test results are disappointing.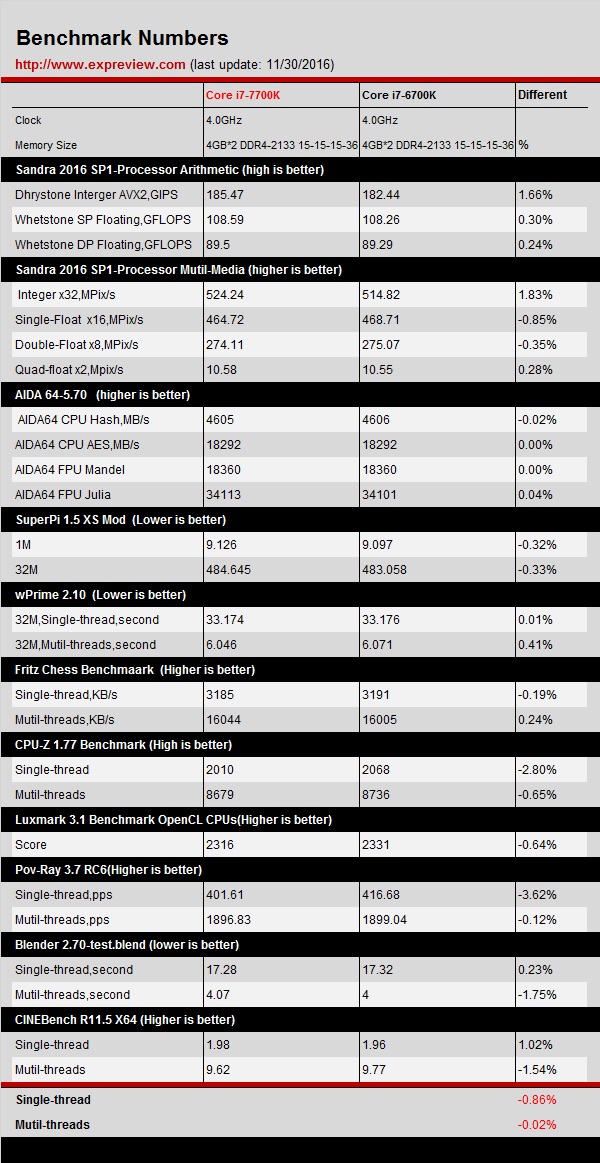 Across a wide range of standard applications, the Kaby Lake i7 770K actually falls behind the Skylake i7 6700K, averaging about 0.86% slower in single thread and more or less on par for multithreaded tests. The trend holds true for gaming as well, with what is essentially a wash in terms of performance differences. While part of this might be due to immature driver and BIOS support, it does line up with what we've been expecting.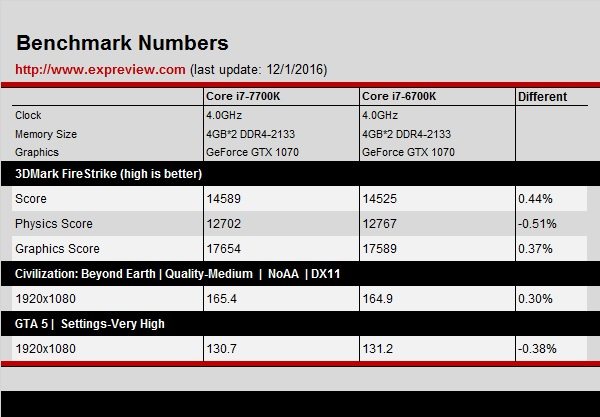 With the demise of Tick Tock, PAO has moved us to a three-year cycle between architecture updates. While we've seen some IPC improvements in the off years under Tick Tock, it looks like Intel is saving everything for the Architecture node. With the increasing difficulties in improving IPC, it's understandable I suppose to save as much as possible and prolong their research to save on costs. Unfortunately for us, this means single threaded performance will advance even more slowly.