Moshi Vortex 2 Noise-Isolating In-ear Headphones Review
---
---
---
Peter Donnell / 3 years ago
---
Moshi Vortex 2
There's no shortage of great headphones on the market these days. However, the latest pair from Moshi caught our attention, as they tick all the boxes for a set of premium headphones, yet come in at a pretty reasonable £55-60 from most retailers. They're obviously a little more expensive than some off the shelf brands, but still far more affordable than many premium sets. Offering powerful XR8 full-range 8mm neodymium drivers in a steel alloy housing. They're capable of rocking out from 10 to 20kHz with 16 Ohm impedance. Furthermore, they promise up to 23dB of passive noise isolation thanks to a closer fitting in-ear design.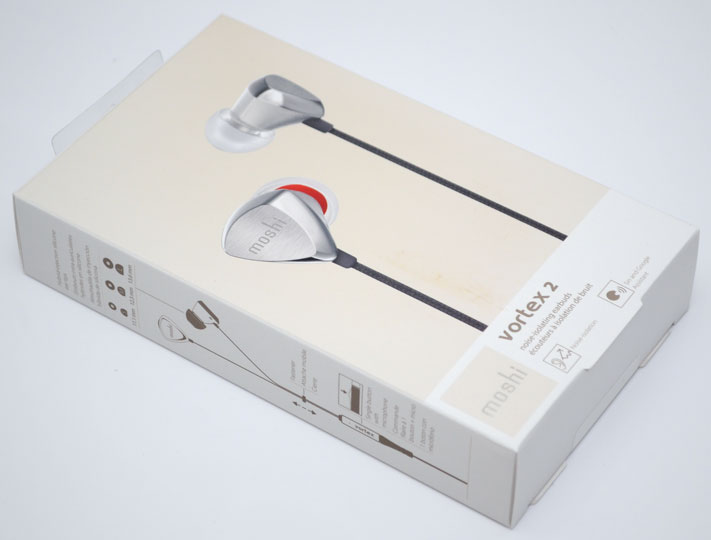 With a standard 4-pole jack they're perfect for your mobile devices, including Apple iPhones that lacked the courage to leave the jack in place. We'll be testing them on our Samsung S9+ today though. What's really cool is that they have an iOS and Android app for burning the drivers in.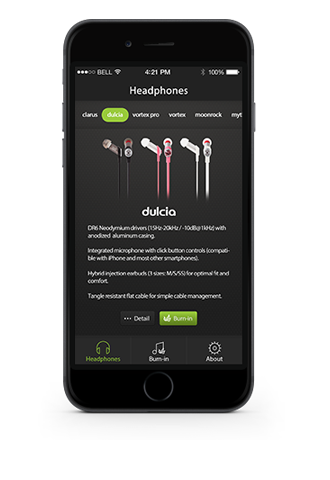 Burning in?
"Like breaking in a new pair of leather shoes, high-quality headphones perform better once they've been used over time. This process can take several weeks or even months, so Moshi Audio has developed a helpful iOS application to expedite the burn-in process. By playing back a curated list of tones/frequencies, the Moshi Audio Burn-In Tool allows the headphone diaphragms to relax and reach their optimal level of sonic performance. Simply install the burn-in tool on any iOS device and select the headphone and desired burn-in period. The burn-in tool is customized for all Moshi Audio headphones, but also includes support for any third-party audio headsets as well." – Moshi
Features
High-density RigidBody housings built with medical-grade steel alloy 316L.
XR8 neodymium drivers with extended range (10 Hz 20 kHz/-10 dB@1 kHz).
Excellent noise-isolation to prevent outside audio interference.
Integra™ cable with Kevlar spine and an integrated microphone.
Push-button support for Siri and Google Assistant.
Includes 3 sets of silicone ear tips, 1 set of memory foam tips and a custom silicone carrying case.
Reach optimum sonic performance with the Moshi Audio Burn-In Tool.
Specifications
For in-depth specifications, please visit the official product page here.
What Moshi Had to Say
"Delivering crisp highs and deep, full-bodied bass, Moshi's next-generation Vortex 2 headphones are designed for all types of music aficionados. The RigidBody™ housings (medical-grade steel alloy 316L) are metal injection moulded for high-density, creating a vibration-free chamber that minimizes cavity-induced colouration." – Moshi
Product Trailer
What's in the Box?
The headphones are bundled at the top section of the box, with three more sets of earbuds included for adjusting the fit.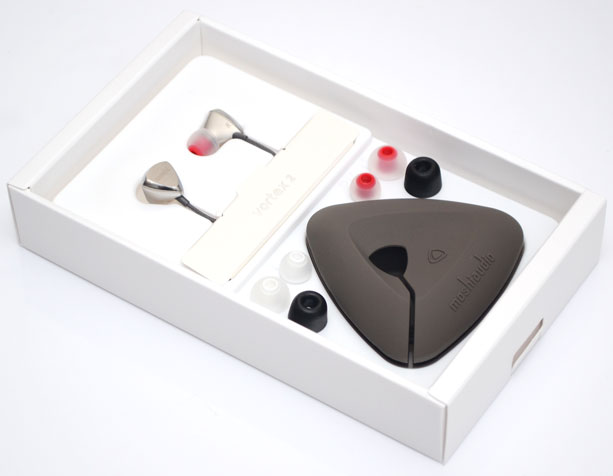 There's also this lovely silicone carrying case with a cable routing channel. This is perfect, as it'll stop the cable-tangling pixes from making a mess of things.