Mountain Everest 60 Compact Gaming Keyboard Review
---
---
---
Peter Donnell / 1 month ago
Mountain is a fairly new player when it comes to peripherals, but they're one of the most advanced and enthusiastic brands out there, pushing for real innovation, not just market hype. It's been around two years now since they launched their first keyboard. While it may have been one of the most expensive keyboards I've ever reviewed, there's no doubt it was one of the absolute best I've ever seen, overflowing with unique and innovative features that raised the bar for high-end gaming keyboards. That's a tough act to follow though, and rather than trying to go bigger and more complicated, Mountain are scaling things down. The new Mountain Everest 60 is a 60% keyboard, slimming things down for those who want something more compact, nimble and portable.
Mountain Everest 60
No stranger to innovation, Mountain has designed a unique 60% keyboard layout, which still offers arrow keys. However, even if you did want to add a numberpad, there are expansion ports built in that will allow you to add one on to either the left or the right side of the keyboard. However, it's the quality of the switches that really put Mountain on top. It's available with Linear 45, Tactile 55 or Linear 45 Speed switches, which are rated for a staggering 100 million actuations. They've been clipped and lubricated by Mountain to ensure a smooth and more stable action, as well as remaining quieter too. Mountain says they've performed "Manual lubrication of all stabilizers with acclaimed Krytox GPL 205 Grade 0 lubricant for greatly reduced rattle sounds."
Furthermore, the keyboard has been packed with layers of foam and silicon to reduce reverberations in the body of the keyboard. This is all topped with a set of premium PBT keycaps, per-key RGB lighting, it's all Cherry MX style compatible, and really, we're just getting started with what this keyboard has to offer!
Features
A 60% design that includes arrow keys
MOUNTAIN's own factory-lubed Linear 45, Tactile 55 and Linear 45 Speed switches rated at 100 million actuations
Several additional foam and silicon layers to reduce reverberations
Hot swap switch support for both 3-pin plate mounted as well as 5-pin PCB mounted Cherry MX style switches
Durable PBT keycaps
Clipped and lubricated stabilizers as used in the original Everest keyboard series
Per key RGB lighting
MOUNTAIN's patented magnetic riser feet
Expansion ports for the optional numpad that can connected on both the left and right side of the keyboard
A Cherry MX-style switch that can also be paired with MOUNTAIN's new Mineral PBT keycap sets
What Mountain Had to Say
"MOUNTAIN creates innovative, premium hardware and software with a user-centric design that
enables gamers and content creators to achieve peak performance. Our vision is for gamers and
content creators to have what they need to excel through uncompromising innovation, pioneering
design, supreme quality, and customization. "Reach Your Summit" is the mantra of MOUNTAIN." – Mountain
———————–
Mountain Switches & Keycap Sets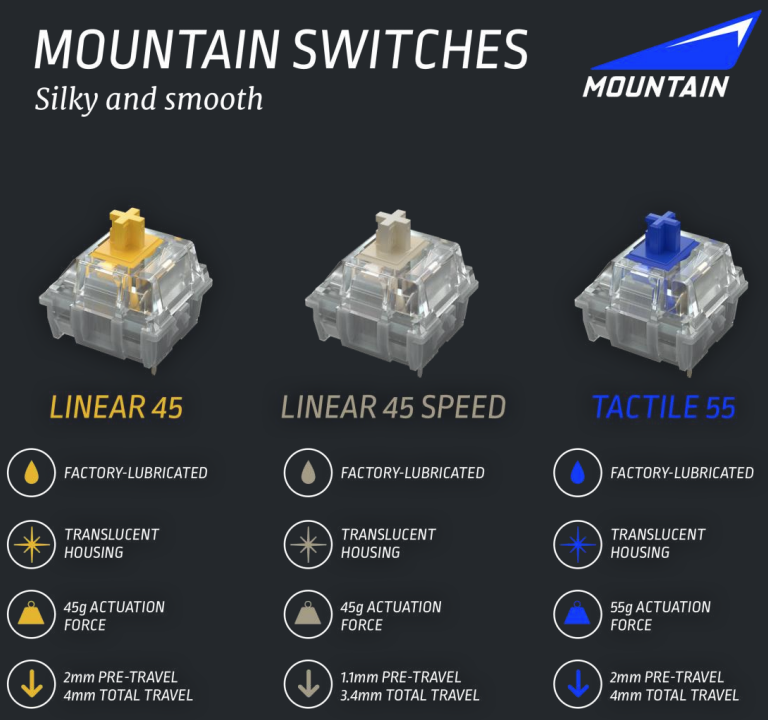 MOUNTAIN Linear 45, Linear 45 Speed and Tactile 55 switches come pre-lubed and offer smooth tactility at pleasant, muted sound levels and are rated for 100M actuations. Their stainless steel springs go easy on your fingers and ears. Featuring translucent housings, MOUNTAIN switches happily cater to all
your RGB cravings. They come as 3-pin plate-mount design.
Materials
Stem: polyoxymethylene (POM)
Top housing: polycarbonate (PC)
Bottom housing: nylon (PA66)
Hot-Swappable
Everest 60 comes with Hot-Swappable Mechanical Switches, allowing you to mix and match switches to suit your style and/or gaming needs. The modular approach makes it quick and easy for you to replace the switches with no need for soldering, be that 3-pin plate mount or 5-pin PCB mount switches
Available Keycap Sets
Make Everest 60 truly your own with MOUNTAIN's custom keycap sets to have it stand out. Made out of ultra-durable PBT and with translucent double-shot legends, MOUNTAIN Mineral PBT keycap sets* are built to last multiple keyboard lifetimes. Elegant and classic, colourful and popping, or something else entirely? With a plethora of options, inspired by the world's most beautiful minerals, there's a set for
everyone.
Aquamarine
Dolomite
Obsidian
Quartz
Wulfenite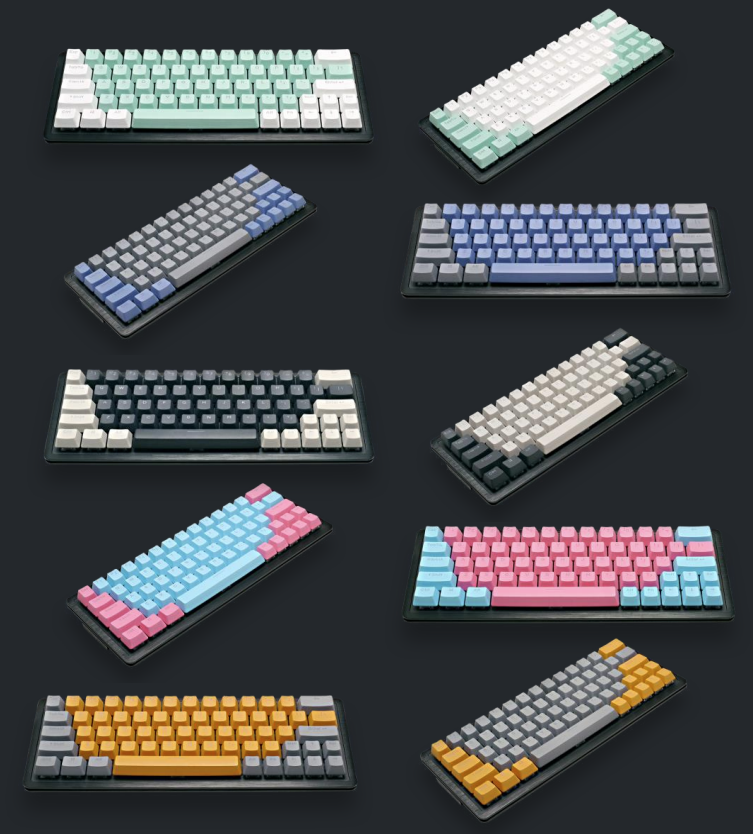 ———————–
Packaging & Accessories
The boxes look great, if a little minimal from the front, with "reach your summit" on them, and little else.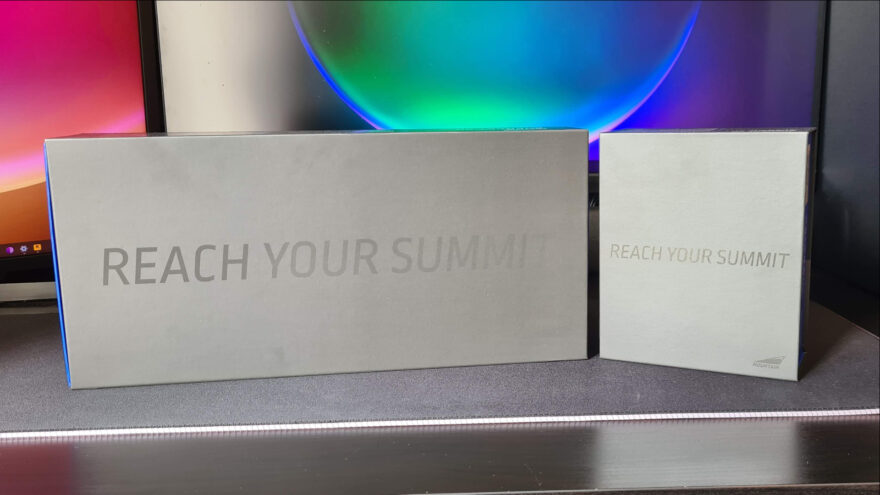 Around the back, however, they're packed with images, all the features are detailed, and you can see all the accessories laid out too.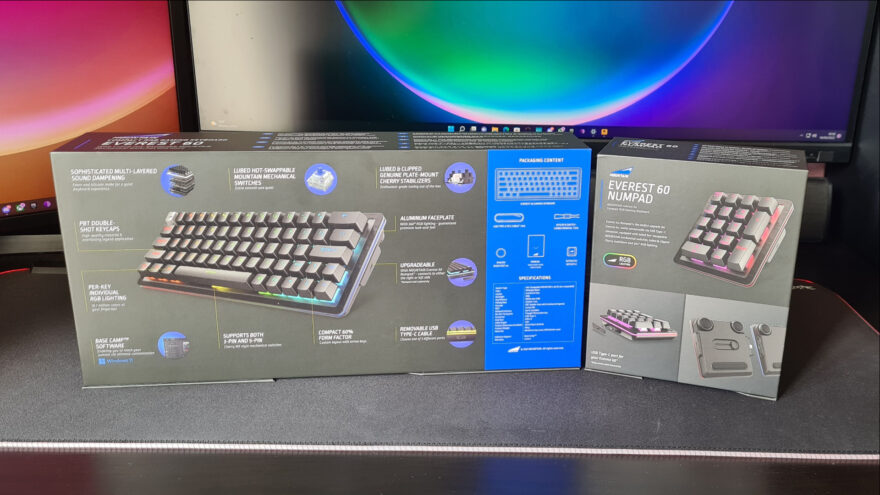 The boxes have magnetic lids, so just flip it up, and you can get a closer look at the keyboard and numberpad themselves.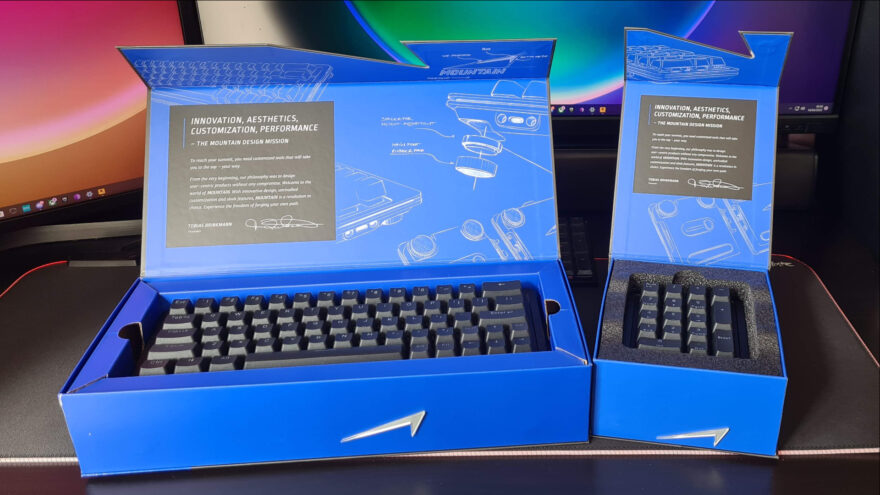 The box is made from durable cardboard, with lots of air gapping ensuring everything is well protected.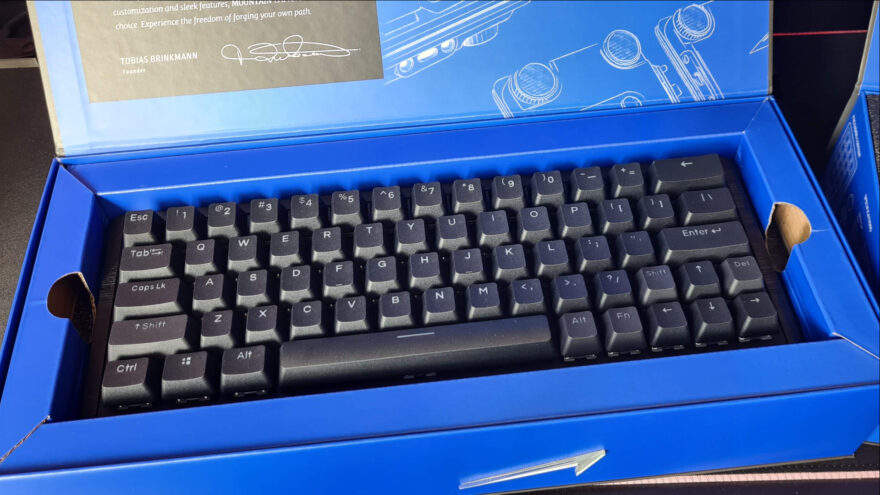 Plus, all the extra bits are nicely laid out in compressable foam.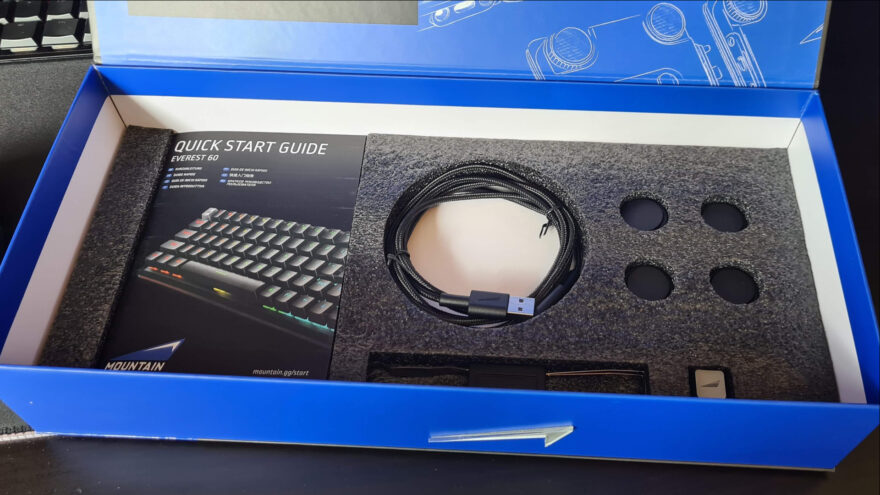 You get a lovely braided USB Type-C cable, a mountain key cap, a key cap and switch pulling tool, and some additional magnetic feet.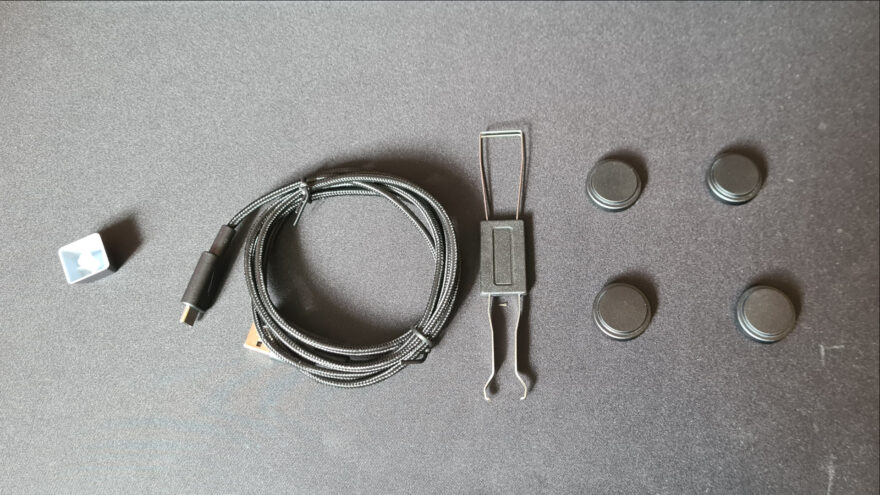 ———————–
Mountain Everest 60 Keyboard
The Mountain Everest 60 looks awesome, and frankly, I wouldn't have expected anything less! It's fantastically compact, with a 60% that's obviously a lot smaller than a full-size or even a TKL keyboard design.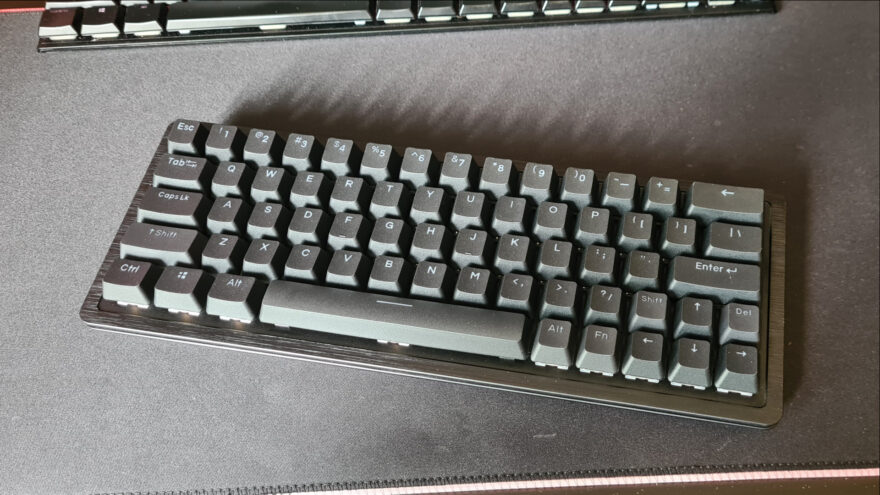 Here you can see the lack of a numberpad.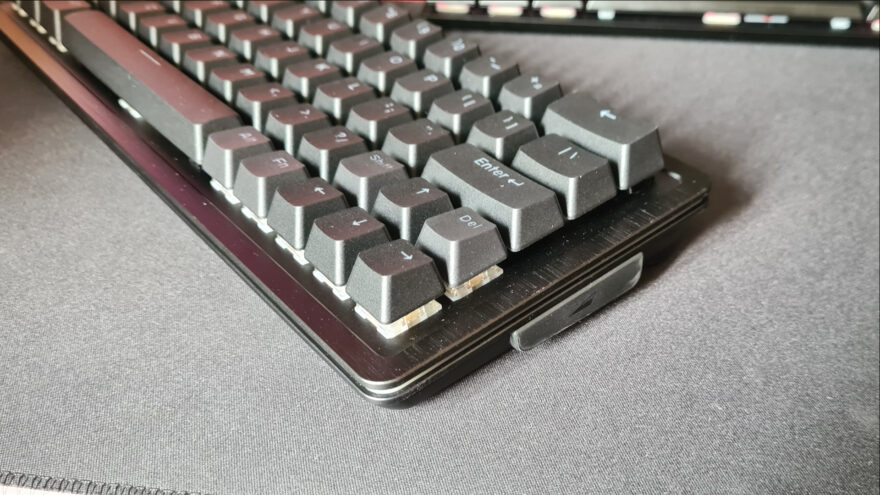 And just to the left of that, the navigation keys are gone. No, they're not invisible, I'm just being a smart arse. What's interesting, is that Mountain has managed to squeeze in a set of arrow keys here. It's a cool design and not all that dissimilar to a laptop layout. However, it maintains a traditional full-size keyboard spacing and key size, so it doesn't feel squashed when typing or gaming.
As you can see, the keyboard maintains a traditional enter and backspace key too, they haven't been compressed into a weird form factor, as some 60% keyboards tend to do. However, the right shift is smaller, but interestingly, I haven't found this affected my typing at all, but I guess I'm used to only striking the left side of a shift key.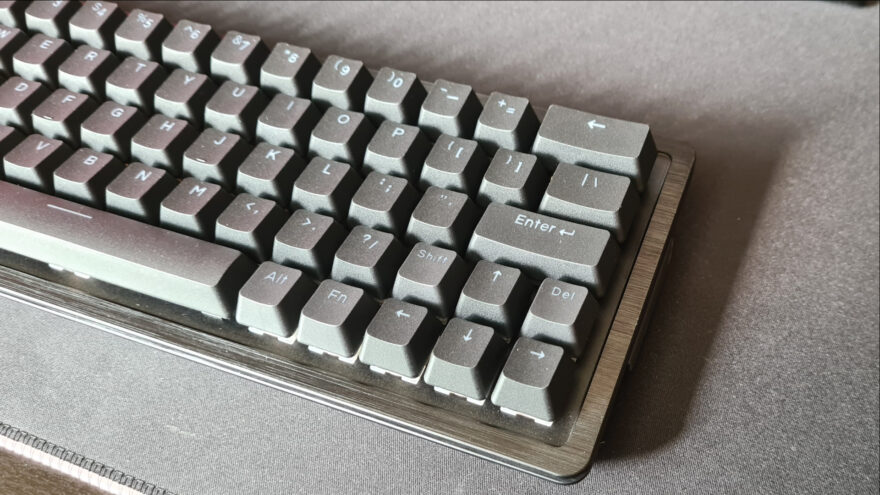 The top plate of the keyboard is aluminium, giving it a stunning premium-quality look. Of course, the build quality is off the charts here too, with everything feeling sublime to the touch, and nothing rattles or clunks unexpectedly.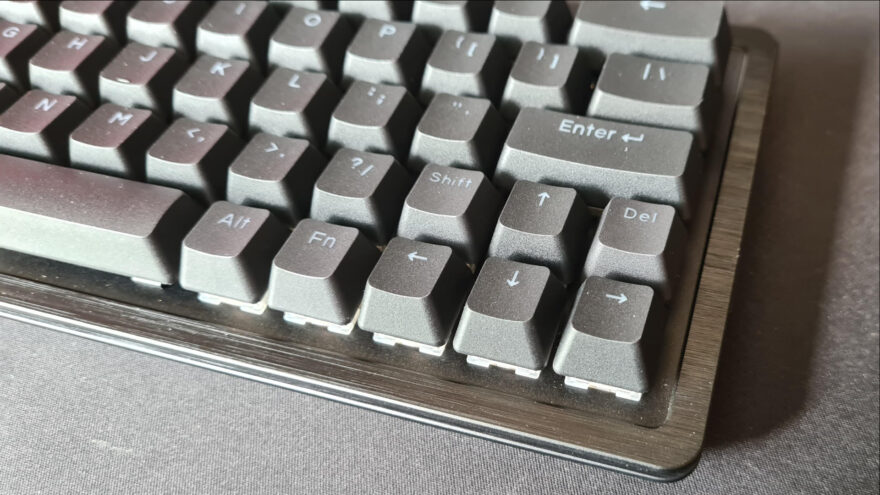 Actually, the keyboard is pretty heavy for its size. Mountain has packed it with foam and silicone layers, which reduce vibrations and echos inside the body and just make everything feel more stable and planted. Then you have those gorgeous double-shot PBT keycaps, which as Mountain say are their "everlasting legends" and I don't doubt that.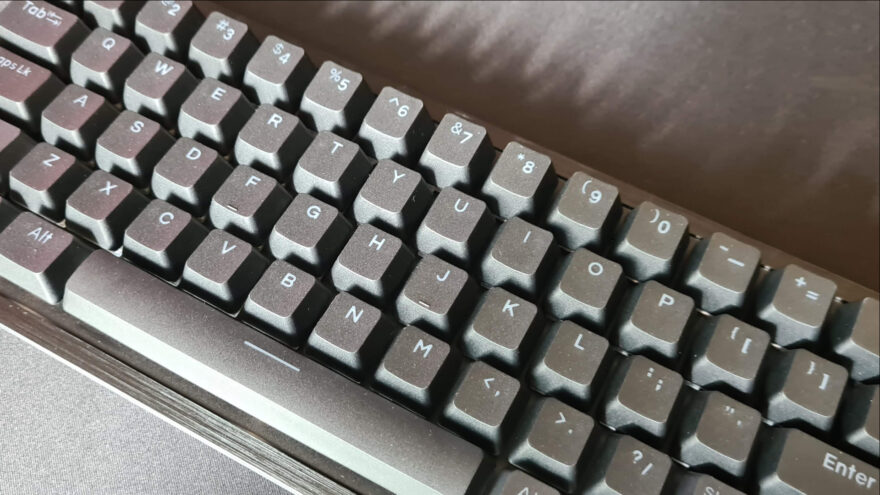 The Moutain Switches are a Cherry MX compatible switch design. However, they've been pre-lubricated to ensure a smoother and more reliable level of performance. The enthusiast keyboard builders have been doing this for a while, so it's great to see it already done from the factory here. What's crazy is you wouldn't think of Cherry MX Red (for example) are "rough", but compared to just how damn smooth these feel to press… my god, it's beyond next level smooth.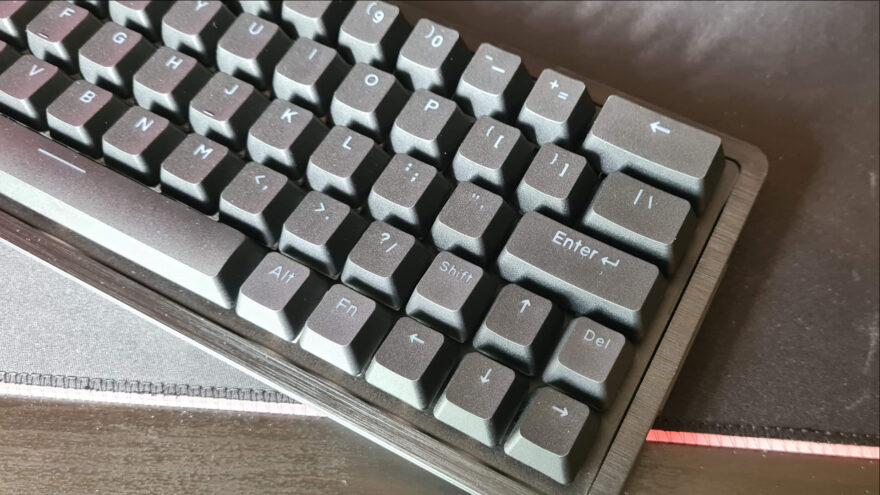 There's per-key RGB lighting, offering you seemingly endless customisation, not that this sort of thing is anything new in the market.
However, there's a full band of RGB lighting running around the entire keyboard, giving you a 360-degree stripe to customise too, which is awesome.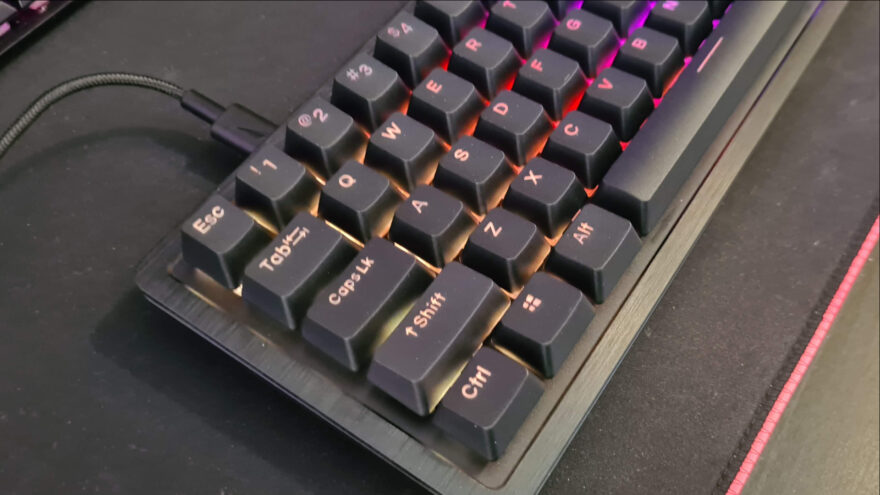 There are three USB Type-C ports on this keyboard. And amazingly, you can use any of them to plug the keyboard into your PC. No more cables going in the wrong direction, so you can really make this feel at home with whatever else occupies your desktop.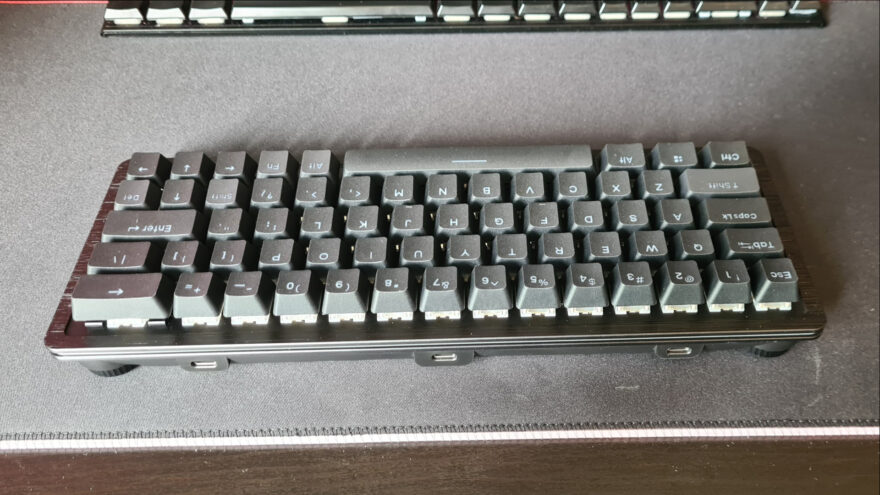 On the underside, you'll find the Everest 60 comes with some durable grips to ensure it stays firmly in place. Furthermore, rather than flip-up feet, which can be easily broken, you get these rock-solid feet. They're made from aluminium and mounted using strong magnets. These suckers won't break, that's for sure, just snap on the ones you want to get the desired angle, and you're set.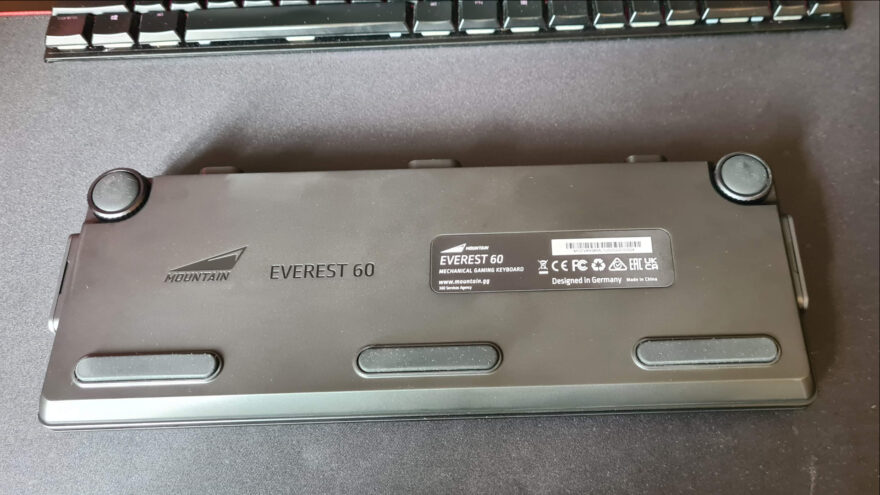 ———————–
Mountain Everest 60 Numberpad
This is an optional extra, but it's an extra we've certainly opted for. Sure, it almost defeats the purpose of a 60% keyboard being more compact, but at the same time, it just makes it possible to have the best of both worlds to suit your changing circumstances and needs.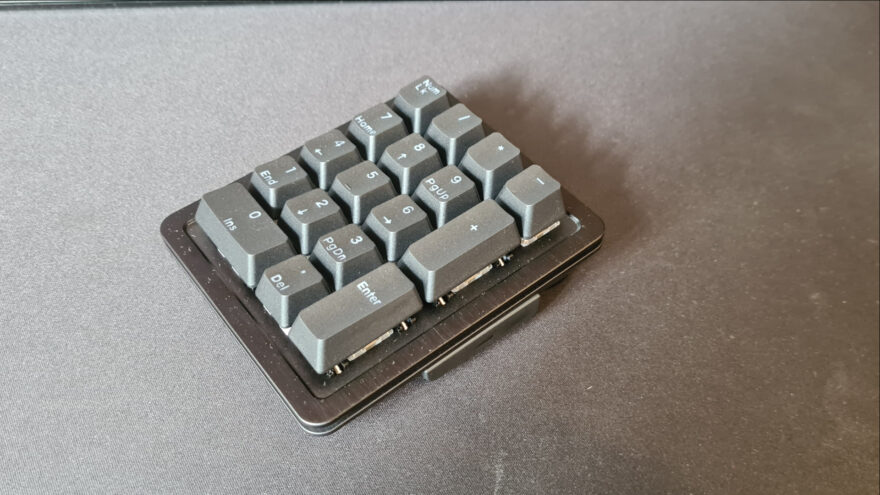 It's built to the exact same high standards as the keyboard. That means the same lubricated and hot-swappable Mountain switches. The body of this thing may be smaller, but again, it has the same multi-layer design of foam and silicone dampening too, ensuring great performance and low noise.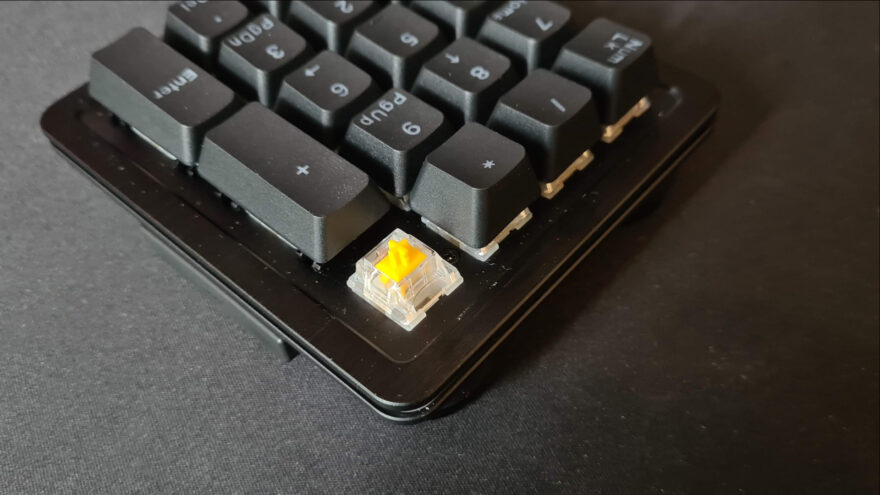 The keycaps are the same double-shot PBT, so again, everything matches up there. You get the same design aluminium faceplate too, and really, this thing just oozed premium quality much like the main keyboard does.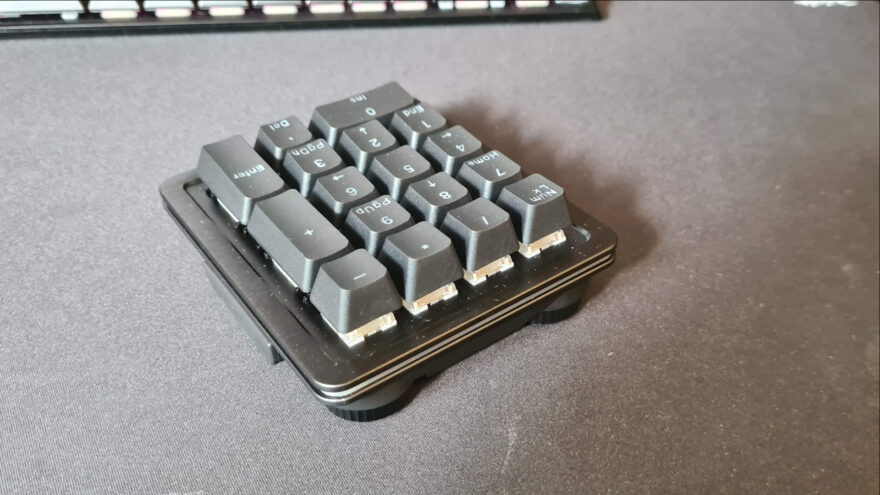 There are magnetic protective side covers here too, which conceal the unused connections. Since you can place this numberpad on the left or right side of the keyboard, or even have it free-standing, it's nice that this has been taken into consideration.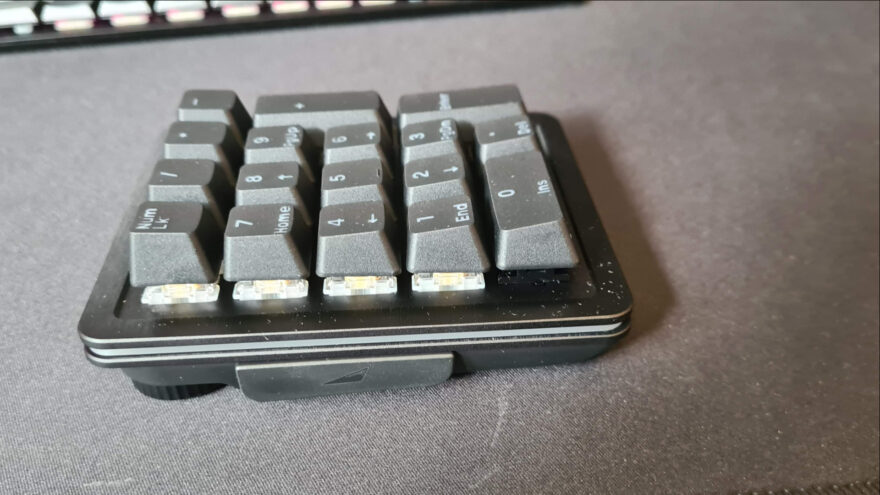 It uses metal rods and magnets to mount with the keyboard, ensuring it firmly locks into place when mounted to the keyboard.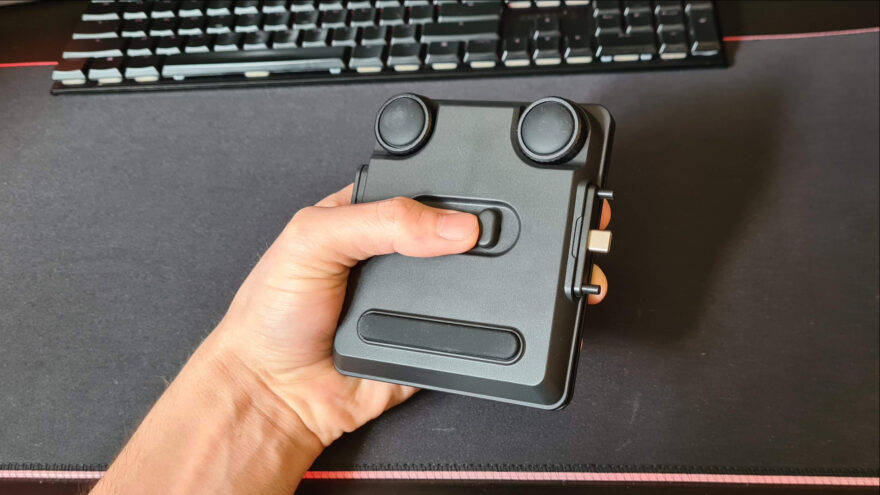 Here you can see it on the left. I quite like the idea of having it on the left for gaming and setting it up as a macro pad.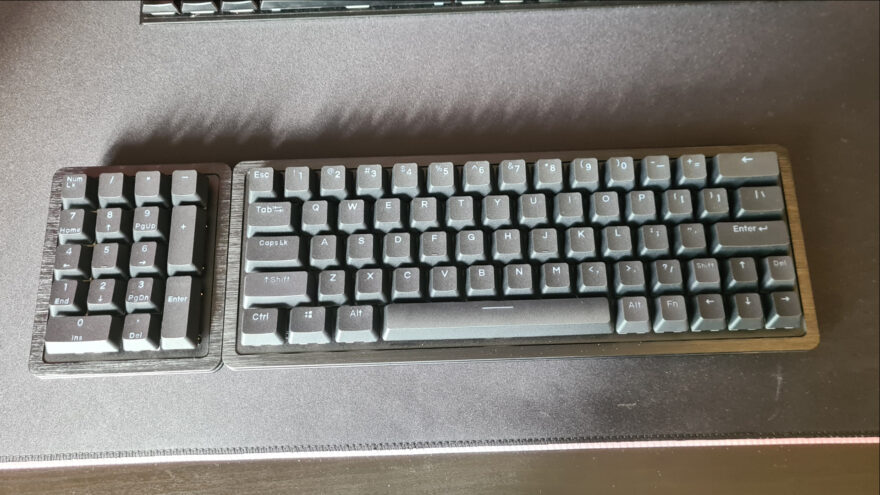 Or on the right of the Mountain Everest 60!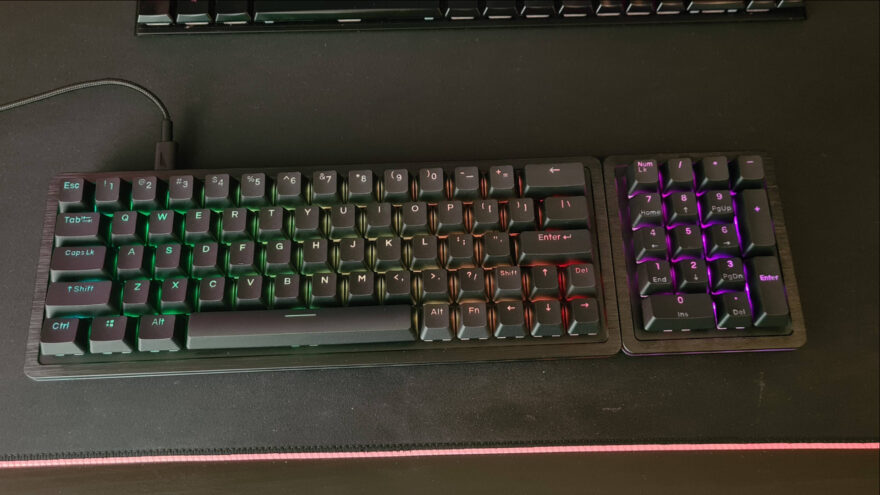 ———————–
Base Camp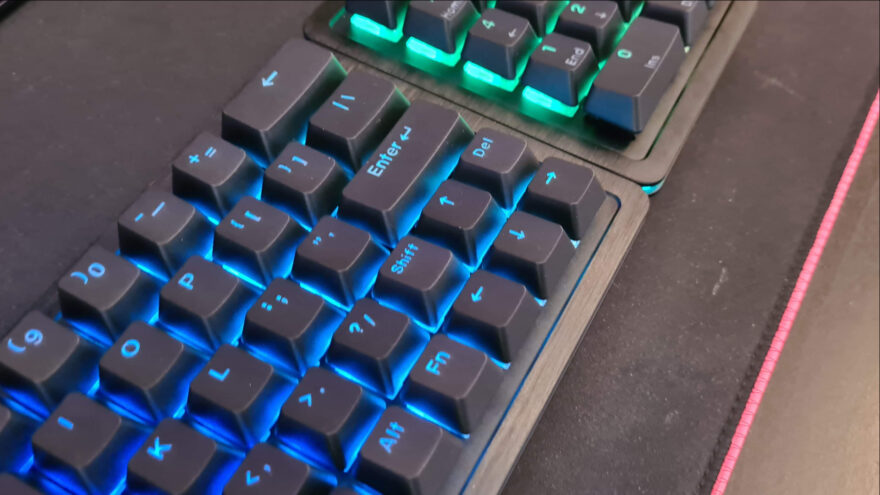 Mountain excels when it comes to keyboard design, and I'm happy to say they've nailed it with their software too. You can use the same suite to control all your Moutain hardware, so if you have other keyboards, mice, etc, it's all going to be in one piece of software.
The first thing you'll want to do is ensure everything is on the latest firmware, and the software will help you get all that taken care of. Updating only took 30 seconds or so anyway.
The Mountain 60 has onboard memory with five different profiles. Of course, they're all basically the same out of the box, so you'll want to jump in here and set things up. FIVE PROFILES!? What do you do with that many? How about your MMO configuration, FPS gaming mode, photoshop mode, writing mode, night mode, etc. You can turn keys on/off, customise their lighting, the configuration of macros and more for each profile.
The whole keyboard can be customised, so you can create custom key bindings, or go one step further and give them macros too.
The lighting profiles are awesome, loads to play around with here. I doubt many will need more than these profiles, but you can make your own too.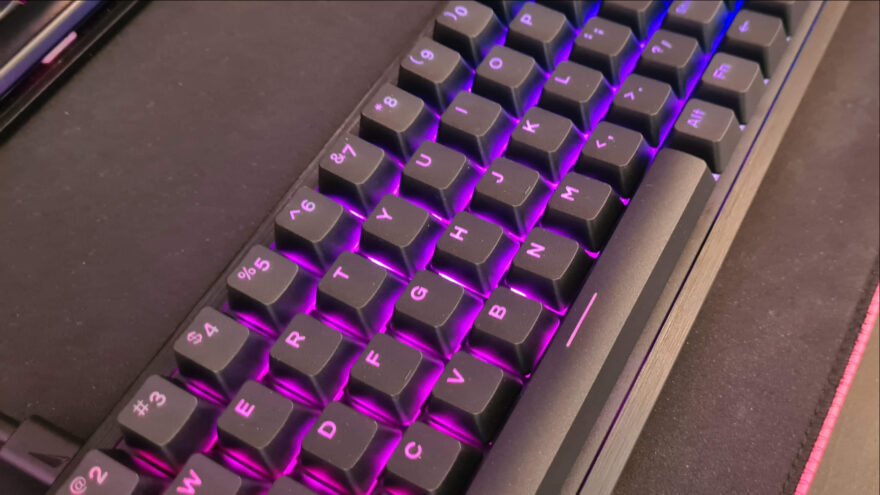 ———————–
How Much Does it Cost?
The Mountain Everest 60 Compact Gaming Keyboard is available from today with an MSRP of £109.99, or £144.99 with the additional numberpad included. However, you can also purchase it with a Mineral PBT keycap set for £119.99 or £154.99 with the numberpad. Price up your own bundle on their website here.
Overview
Mountain makes the best keyboards, there I said it. Sure, they've only done two so far, but frankly, there is nothing else quite like them in the market right now. Short of building one yourself, you're not going to get this level of quality from any of the big-name brands. I'm pretty confident in this too, since I review all the major releases from all the major brands and have done so for over ten years now, and nothing types as smooth and clean as this keyboard. Its typing action is quite literally number 1 out of hundreds.
Counterpoint though, I personally wouldn't buy this keyboard. It's a little tall for my liking, or at least this is something I could negate with a wrist rest, but there isn't one included in the box. Admittedly, I use a low-profile keyboard these days, it's not that Mountains is any thicker than their rivals, it's pretty standard actually, but my wrists are trash, and I need a good rest for my keyboards. I also heavily rely on the numberpad, which is an optional extra on this model. That's fine, but I'm more inclined to use their full-size keyboard, which is also about the most feature-packed keyboard I've ever seen. Check that one out here!
Who's it For?
Back to this though, I can certainly see the appeal of the Mountain Everest 60, it's just I'm not the intended customer. If you want something a little more compact, the 60% design is a winner. Perhaps you're tight on desktop space, this will certainly save space. Also, it frees up desktop space in general, allowing more space for you to move your mouse if you're a low-DPI user. It's also a lot more portable, still heavy, but at least it will fit in a backpack easily enough.
Exceptional Switches
Of course, if you're a gamer, and you're more interested in WASD than managing an Excel sheet all day, then the Mountain 60 is perfect. It's a surgical weapon of a keyboard, it's the Formula 1 car to the usual Supercars, it's just next level. The switches themselves are unlike anything else. Mountain didn't just trim down their big keyboard and put it to market. This whole keyboard has been gone through from the casing, the connectors, the switches, the caps, everything is purposely designed and engineered, and you can really feel it. Nothing else out there feels as slick to type or game on. If you want effortless and reliable switch performance no matter how much you're reigning seven shades of hell down from your fingertips, get this keyboard.
Feature Packed
Of course, it's ticking a lot of other boxes too. It's a good size, it has Cherry compatible keycaps, and you can hot-swap in 3-pin or 5-pin switches should you ever feel the need. It has three, THREE USB Type-C ports to pick from for your cable. It can have a snap-on numberpad on the left or right side, it's got built-in profiles, a powerful macro engine, is fully programmable, and the list just goes on and on. There's not a single feature I can find fault with, it's all the best of the best.
Customisable
However, if you do want to go even further. Mountain has a range of Artisan MOUNTAIN keycaps, x Space Cables, MOOY Cable Orgnizers, Nunatak Mousepads, and custom keycap packs for you to choose from. Plus, they have some truly excellent gaming mice too.
Mountain set out to make the best of the best, and which this is only their second keyboard, they've managed to deliver the best of the best twice now. A wrist rest in the box would be even better, but frankly, I can't give the keyboard or those truly class-leading mechanical switches enough praise.