MS-DOS Classic 'Whacky Wheels' Gets HD Release!
---
---
---
Peter Donnell / 6 years ago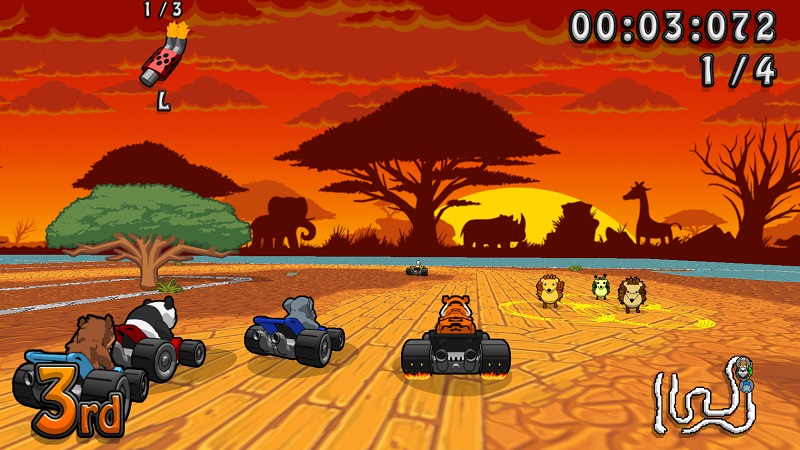 Ready for an epic blast from the past? The classic, and by classic, I mean freaking old, Wacky Wheels from the MS-DOS era of gaming has made a bit of a comeback. The 22-year old game from the time of floppy discs, when we were gaming on our underpowered family accounting machines isn't just back through emulation, it has also been giving an HD makeover!
"The road is a dangerous place, especially when overrun with wild animals in go-karts! This is the official reboot of Apogee's classic racing game Wacky Wheels. It features the ferocious critters, cramped tracks, and wicked powerups that fans of the original love!"
Wacky Wheels was never really a classic, not like Mario Kart, but it was still a fun game at the time regardless. No need to reach for the floppy drive just yet though, as if you have one of those anyway, as the game is now available on Steam and Itch.io. Resurrected from the dead by the developers at Ferocity 2D, the game originally came from Apogee Software, a developer that later became 3D realms, the creators of Duke Nukem and Wolfenstein.
The new version is in early access, and will feature four-player split-screen co-op, and will have up to eight-player online multiplayer. You'll also find 20 new tracks inspired by the original.
16 race tracks each with a unique theme
Up to 8 players online multiplayer
Up to 4 players local split-screen games
Cross-platform gameplay: Mac and PC users can challenge each other online
Grand prix and time trial modes
Combat and duck hunt modes
Mirror mode Grand Prix
The original soundtrack remastered
HD cartoon "mode 7" art style
Ample opportunities to pickup and chuck hedgehogs
What are you waiting for, check it out here! Let us know in the comments if you remember the original… or am I the only one?