MSI Gaming X Trio GTX 1080 Ti Graphics Card Review
---
---
---
Peter Donnell / 3 years ago
MSI Gaming X Trio GTX 1080 Ti
There are a growing number of extreme performance Nvidia GTX 1080 Ti graphics cards hitting the market, but the high-performance arms race is far from over. MSI has already released some extremely powerful dual-fan GTX 1080 Ti graphics cards, but they think they can do even better than that.
The new Gaming Trio graphics card is the first triple fan gaming card from MSI. It utilizes three of their award-winning TORX 2.0 fans, which promise to deliver the extreme cooling performance that their flagship graphics card demands.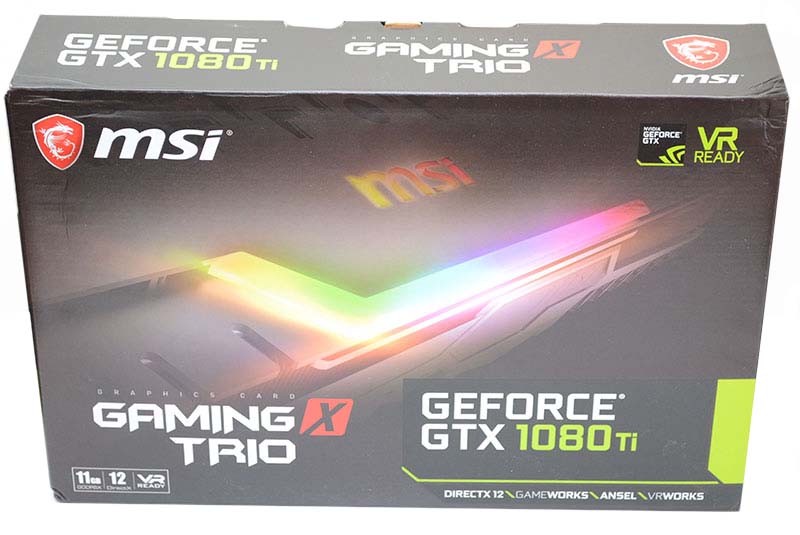 Two is Greater Than Three?
MSI's move to a triple fan design is an interesting one, as they've long been proud that their dual fan designs have been as good or better than rivals 3 fan Solutions. Now that they've released a three fan model, MSI simply explained that they're trying to beat their competitors at their own game. They know their graphics cards are great with two fans, so who knows, perhaps it'll be 50% better with one more fan.
Extreme Performance
The graphics card is certainly equipped to dominate, with a 1683 MHz boost clock in OC mode, 1657 MHz in gaming mode, and 1582 MHz in silent mode. For gaming mode and silent mode, the memory frequency is fixed at 11016 MHz, however, in OC mode the card takes the memory to 11124 MHz for an added performance boost.
Of course, you'll find a lot of extra added features for this card. There is full RGB lighting, with MSI Mystic Light, TORX Fan 2.0, Tri-FROZR, and their one-click overclocking Gaming App.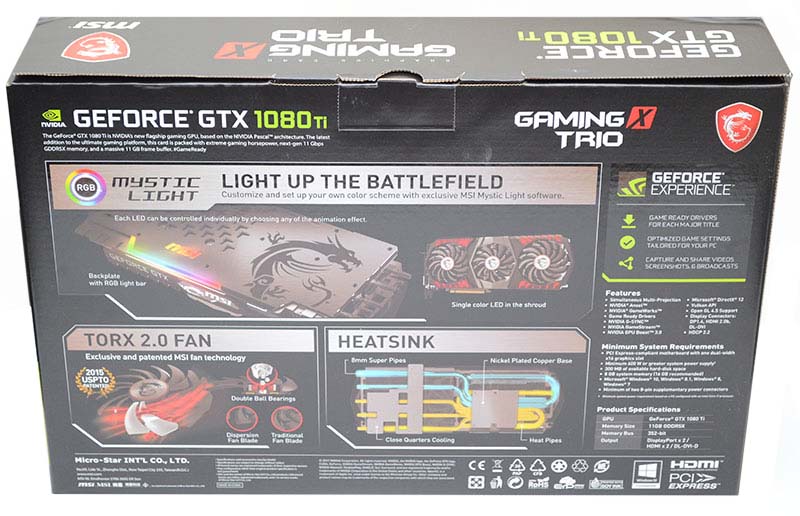 Features and Specifications
Core/Memory
Boost Clock / Base Clock / Memory Frequency
1683 MHz / 1569 MHz / 11124 MHz (OC Mode)
1657 MHz / 1544 MHz / 11016 MHz (Gaming Mode)
1582 MHz / 1480 MHz / 11016 MHz (Silent Mode)
11GB GDDR5X
RGB Mystic Light
Customize colors and LED effects with exclusive MSI software and synchronize the look & feel with other components.
TORX FAN 2.0: Supremely silent
Dispersion fan blade: Steeper curved blade accelerating the airflow.
Traditional fan blade: Provides steady airflow to massive heat sink below.
Double ball bearing: Strong and lasting core for years of smooth gaming.
TRI-FROZR Thermal Design
Using three of the award-winning TORX 2.0 Fans with Double Ball Bearings.
Gaming App
Instant Performance Gain: Unlock extra performance or keep your card silent during light use in one click.
LED control: Full control on your RGB GAMING LEDs to set the mood.
Mystic Light
"The latest iteration of Mystic Light RGB offers even more choices than before, with the astonishing L-shaped light bar, symmetrical red dragon claw lights. The LED lights are divided into three zones, each of which can be individually controlled." – MSI
What's in the Box
Aside from the graphics card, you'll also find a few extra goodies in the box. There is a package containing all the usual documentation, as well as a driver disc, and all the usual warranty information. However, you will also find an internal power adaptor cable, as well as a cool metal brace which can be screwed into your chassis to help give the graphics card some added stabilization.