MSI GE72VR 6RF Apache Pro GTX 1060 Laptop Review
---
---
---
John Williamson / 5 years ago
Gaming Performance
---
Grand Theft Auto 5
While running the Grand Theft Auto V on the Very High preset, the laptop performed admirably and easily surpassed the 60 frames-per-second mark at 1920×1080. Even when the unit was paired with a 1440p display, the frame-rate remained solid and didn't drop below an average of 60. Of course, major frame dips between 30-45 are more prevalent so I'd recommend using the default resolution or scaling back the settings.
As expected, the GPU doesn't have the capability to uphold a fluid frame-rate alongside a 4K monitor. However, the performance is solid given the demanding preset and even managed to defeat the desktop GTX 1060. This is a surprising result and probably stems from both graphics solutions encountering major difficulties.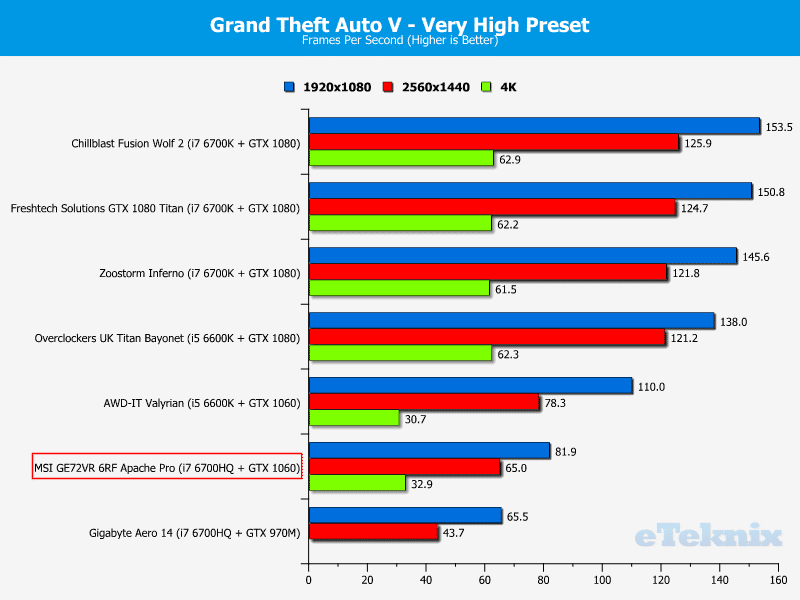 Rise of the Tomb Raider
In Rise of the Tomb Raider, the MSI GE72VR 6RF Apache Pro attains a superb frame-rate during 1080p testing and contends with the strenuous graphics settings rather well. This time, I wouldn't retain the Very High preset even though the average frame-rate just edges past 60. This is because the frame-rate drops are substantial when heavy rain effects scatter all over the screen. Thankfully, the frame-rate is much more consistent when employing the High preset.
Once the resolution is increased to 2560×1440, the system maintains a good showing and the experience remains playable. Evidently, very few graphics cards can run the game at extreme details on a 4K display, and the laptop is no different.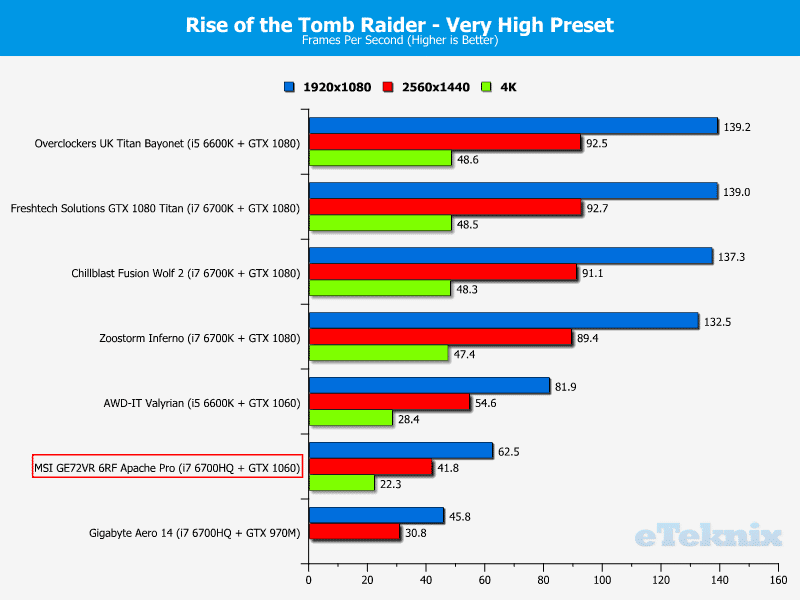 Hitman
Hitman provides a great insight into DirectX 12 performance and many levels are awash with a huge number of NPCs. During 1920×1080 benchmarking, the laptop wasn't too far away from a 60 frames-per-second average and enjoyed a large lead over the Aero 14. While the experience lacks a certain level of smoothness, it's easily resolved by changing the odd setting. After the system was teamed up with a 1440p monitor, the performance remained extremely close to a factory overclock GTX 1060. This is nothing short of outstanding and easily surpassed my initial expectations. Sadly, 4K is a stretch and as shown by the sub-30 frames-per-second result.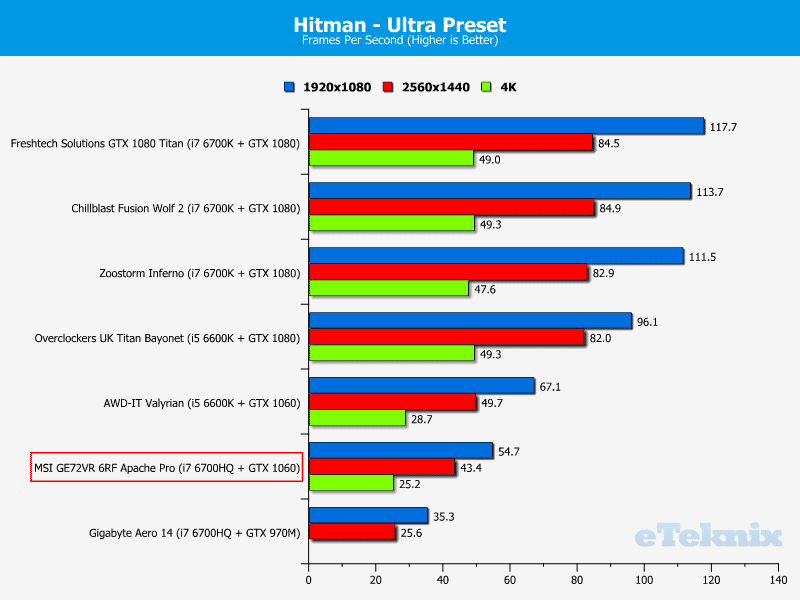 Far Cry Primal
Here we can see the MSI GE72VR 6RF Apache Pro continues to excel throughout 1080p testing and almost reached the magical average figure of 60 frames-per-second. When you consider, this is possible using the HD texture pack and Ultra preset, you cannot help but be impressed. After the resolution was set to 2560×1440, the performance was good but you're likely to witness frame drops and some minor stuttering. Thankfully, it's easily fixed by selecting the Medium or High preset. As expected, the laptop cannot cope with the extreme settings when using a 4K display.