MSI GeForce GTX 1080 Gaming Pictured
---
---
---
Samuel Wan / 7 years ago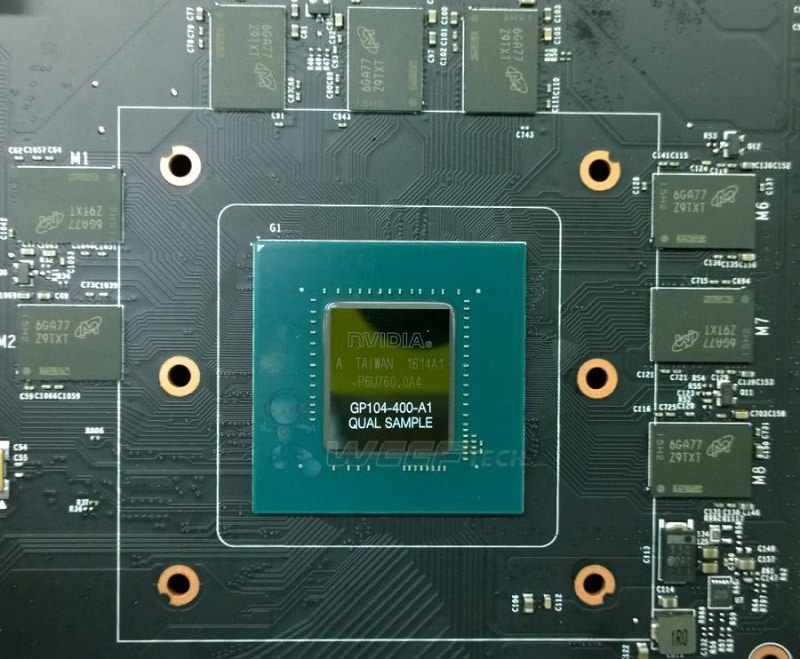 Pascal is almost upon us with Computex coming in a month. After getting out first looks at GP104 two days ago, more pictures have come out purporting to show the GTX 1080. The first GP104 we first got a look at was the GP104-200, the SKU reportedly used for the GTX 1070. The latest pictures we've seen are the GP104-400, the SKU that will be used for the GTX 1080.
With the GP104-400 labelling, it pretty confirms earlier rumours about how GP104 would be split up into different SKUs. It also lends support to the fact that GP104 will come in 3 SKUs as well, with a GTX 1060Ti to follow a month or so after the 1070 and 1080. The other major confirmation comes from the memory side. While it was expected for the GTX 1070 to come with GDDR5, the GTX 1080 uses GDDR5X as I suspected. The die shot shows Micron 6GA77 79TXT modules alongside the GP104 die as rumours have suggested.
By using different memory, Nvidia will be able to position the GTX 1080 with a more flagship feel and likely a more flagship like price. It also suggests that either Nvidia is willing to tolerate slow supply for launch, or GDDR5X has been coming along faster than we have expected. Finally, after some snooping, it seems that based on the layout and labelling for the die, the card in question is likely the MSI GTX 1080 Gaming 8GB. This is due to the board layout which is reference GTX 980 except for some MSI specific changes. Perhaps, Nvidia will launch partner cards alongside the reference models as some rumours have suggested.