MSI GS72 6QE Stealth Pro Gaming Laptop Review
---
---
---
John Williamson / 8 years ago
Introduction
---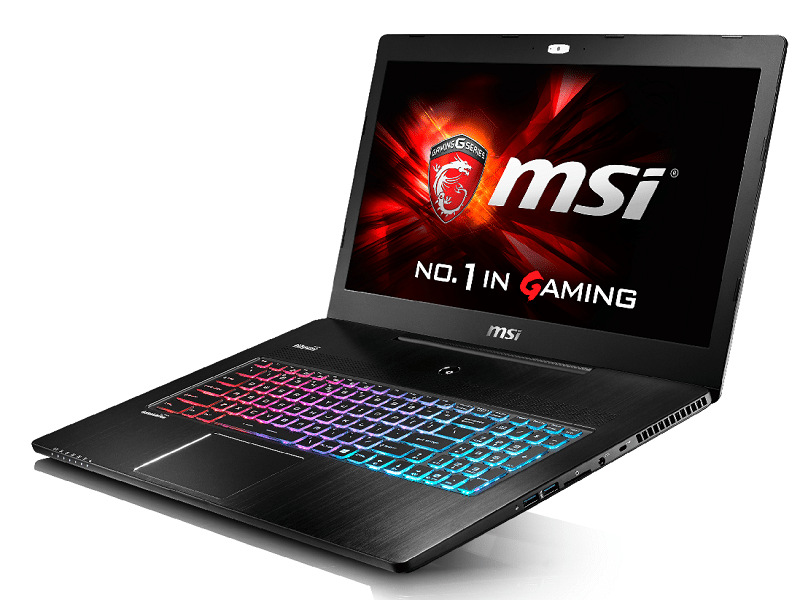 MSI has already forged an exceptional gaming laptop range characterised by impressive build quality and a stunning aesthetic design. This makes each model a very enticing proposition for consumers wanting a sleek, premium laptop with enough graphical power to play the latest titles on demanding settings. Some time ago, MSI sent over the GT72S 6QE Dominator Pro for review purposes and we were thoroughly impressed with the proficient cooling hardware, robust construction and excellent speakers featuring a good dynamic range. As a result, expectations are extremely high whenever MSI unveils a brand new gaming laptop and it's quite challenging to innovate when the current line-up is so strong.
The GS72 6QE Stealth Pro utilises an Intel Core i7-6700HQ based on the HM170 chipset and includes 16GB 2133MHz DDR4 memory. In terms of storage, there's a ridiculously fast 256GB NVMe boot drive and 1TB mechanical disk to install plenty of enthralling games. The NVIDIA GeForce GTX 970M is the larger 6GB variant and a superb choice for users requiring a fluid frame-rate. MSI has incorporated their Cooler Boost 3 technology to maintain respectable temperatures and restrict thermal throttling. Another major highlight is the unit's ESS Sabre HiFi Audio DAC which supports a 24bit/192kbps sampling rate and 122dBA DNR. This is only a brief snippet of the device's remarkable specification which is packed full of unique features and has the potential to offer one of the best portable experiences available today. Therefore, I'm interested to see if the GS72 6QE Stealth Pro is a pioneering or evolutionary model in MSI' gaming laptop range.
Specifications
Name: MSI GS72 6QE Stealth Pro
Processor: Intel Core i7-6700HQ 2.6GHz Base, 3.5GHz Turbo
System Memory: 16GB (2x8GB) Dual Channel DDR4 2133MHz
Main Boot Drive: 256GB Samsung SM951 NVMe SSD
Additional Storage Drive(s): 1TB HGST 7200RPM HDD
Graphics card: NVIDIA GeForce GTX 970M 6GB
Display: 17.3-inch 1920×1080 IPS
Battery: 6 Cell 5000mAh
Dimensions: 418.5(W) x 287(D) x 19.9(H)mm
Weight: 2.6Kg
Optical Drive: N/A 
Wireless: Killer Wireless-AC 1535
OS: Windows 10 Pro 64-Bit
Warranty: 2 Year Global Warranty
Price: £1499.99
Packing and Accessories
The laptop arrives in a relatively large cardboard box which protects the item rather well during shipping. Furthermore, the cardboard is quite durable and should withstand a sudden impact just in case the courier adopts a haphazard approach.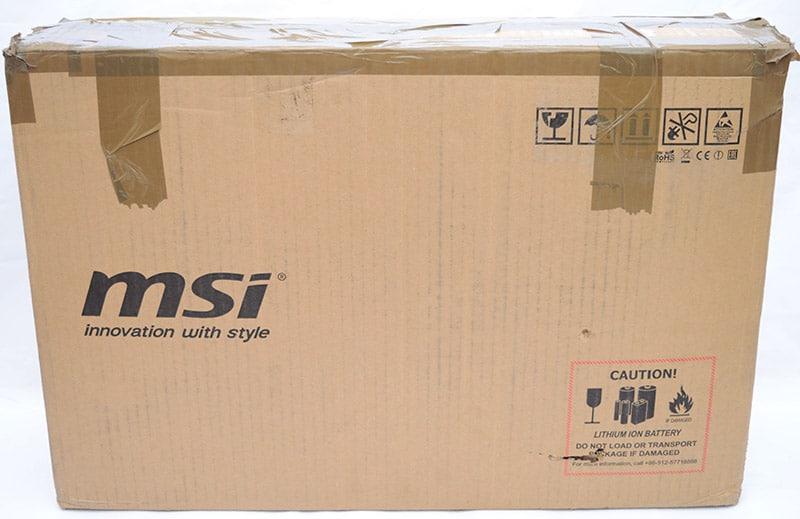 Once the top cover has been removed, we can see the wonderful foam padding which holds the main laptop box firmly in position. This showcases MSI's commitment to providing a premium experience and upholding the best possible standards when it comes to packaging materials.

The Dragon Fever Spring promotion is currently valid in certain territories and includes a number of fantastic extras for free with a qualifying purchase of the laptop. Here we can see the adorable MSI Dragon Army is keeping a close eye on the neighbours to make sure the laptop remains in my safe hands.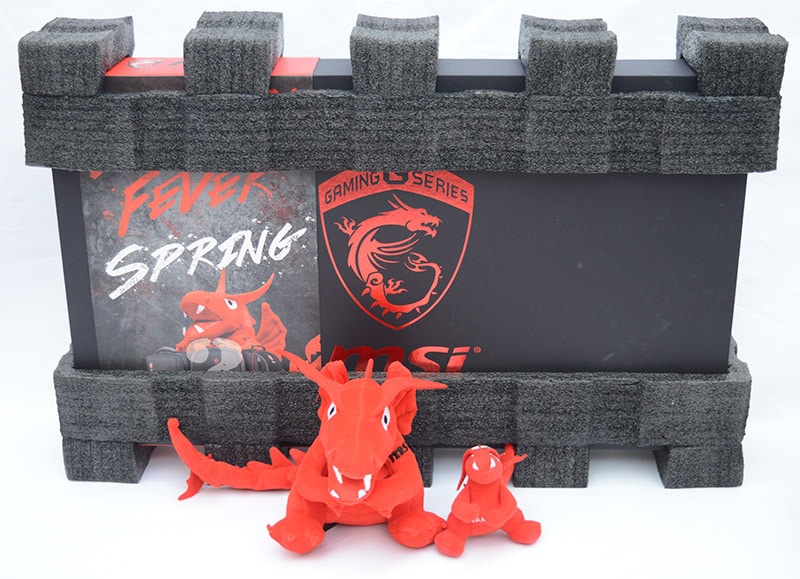 I instantly fell in love with the dragons' cute faces and decided to proudly display them on my desk. Numerous people have already commented on their appearance and wanted to buy an army of them to take over the world!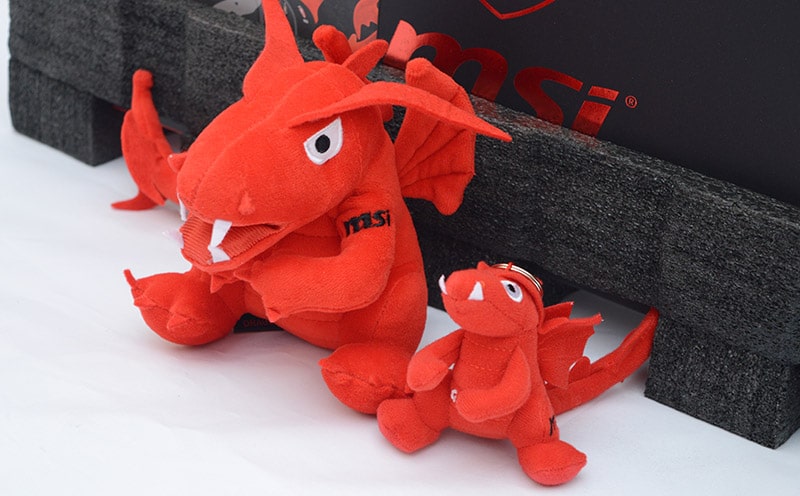 After turning my back for a brief moment, I noticed the dragons started playing Skyrim and tried to delete my save file. I couldn't help but forgive them though and need to conjure up some names for the dastardly duo.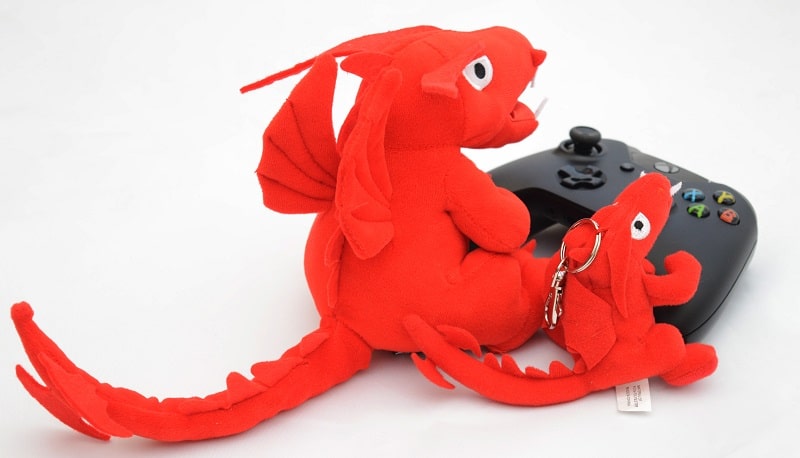 The laptop is housed in a gorgeous box sporting an embossed MSI Gaming Dragon logo. This creates a premium feel and makes the product stand out from other options with a similar specification.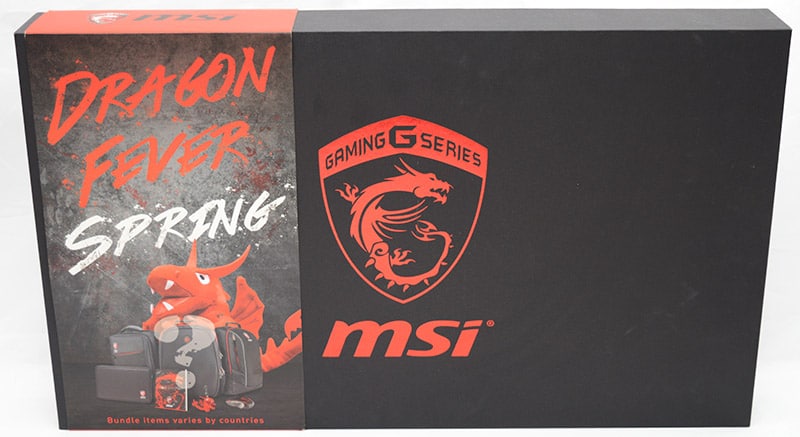 Inside the top cover is a soft foam insert which cushions the laptop and reduces the chance of cosmetic marks occurring. Also, it manages to evoke a sense of luxury and made me feel quite special when unboxing the item for the first time.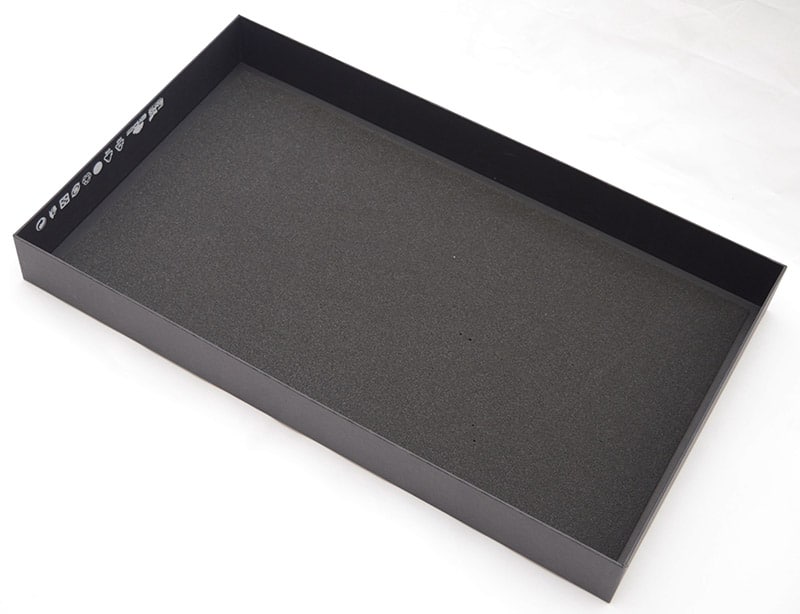 The packaging incorporates various segments to hold the laptop, documentation and power cables in position. This level of presentation is sublime and a significant improvement when compared to gaming laptops from other manufacturers.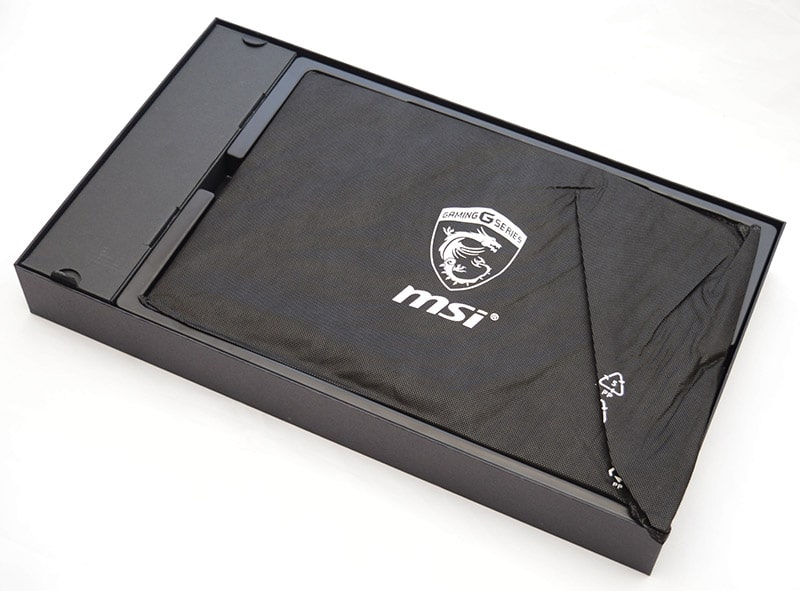 As you can see, the documentation is neatly hidden in a cardboard box to eliminate clutter. This is another example of the company's attention-to-detail which almost defies belief.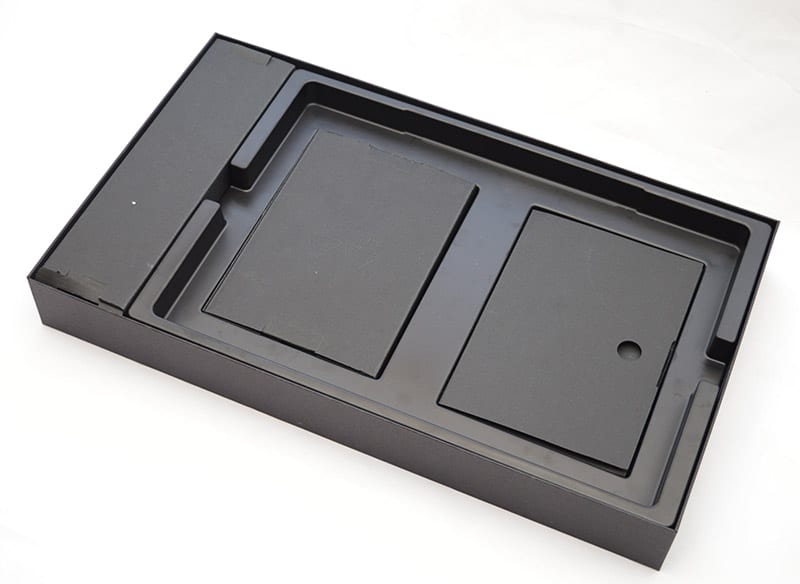 The GS72 6QE Stealth Pro is bundled with a user's guide, warranty service book, promotional materials, power brick and AC adapter. Rather surprisingly, the power brick is fairly compact for a gaming laptop utilising such a potent specification.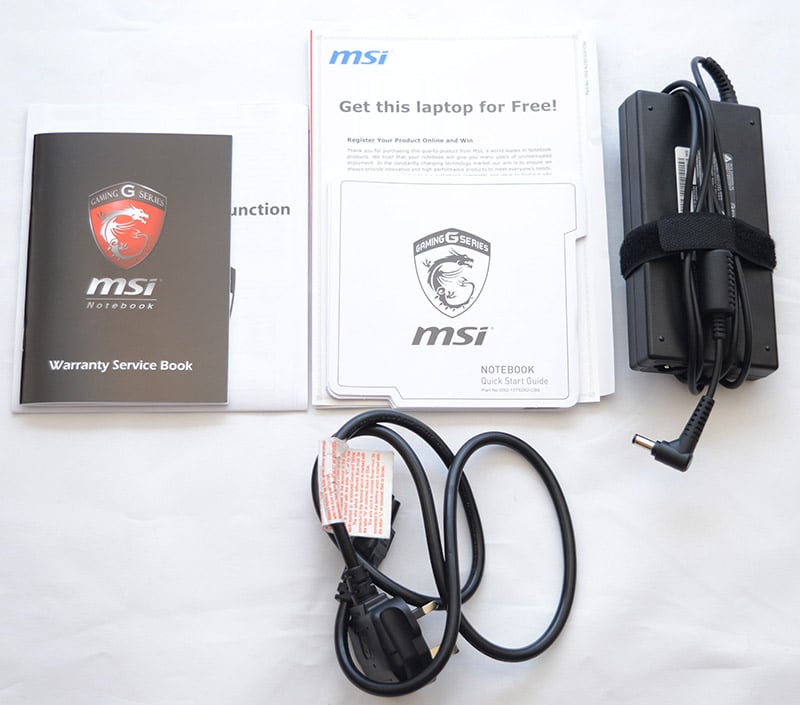 Included in the Dragon Fever Spring package is a notebook with graph paper, laptop bag, and protective sleeve. I was astounded by the luxurious, soft materials used on the bag and slip cover which surpasses many third-party products I've tried retailing above the £75 mark. Honestly, these two additions exude build quality and feel like extras you would be prepared a lot of money for. This is why I'll be sad to see them go once the review unit is returned.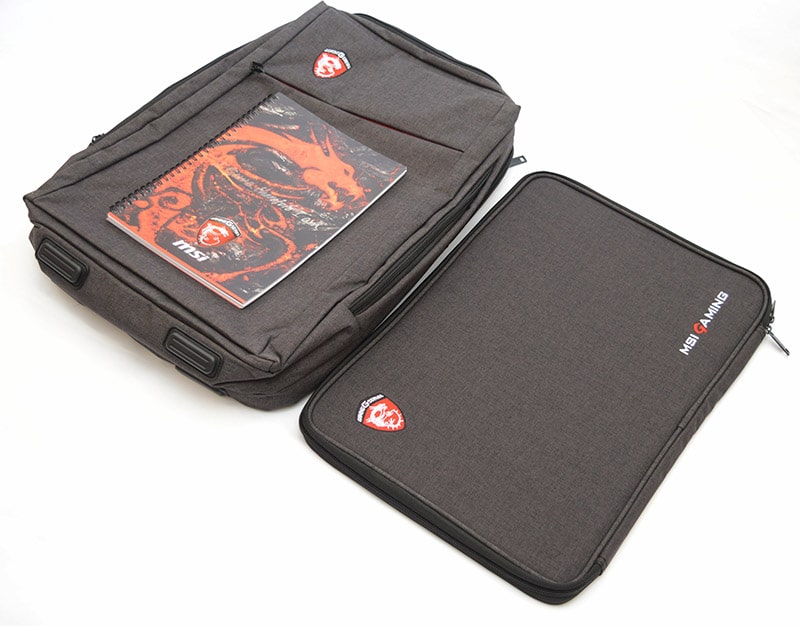 The MSI Gaming Dragon logo is stitched onto the bag and contrasts with the grey material superbly. This exemplifies the premium focus and showcases MSI's no-compromise approach. In theory, MSI could have easily employed a metal badge and stuck it into place with adhesive. However, this wouldn't have upheld the luxury feel which spans across the product's packaging and bundled accessories.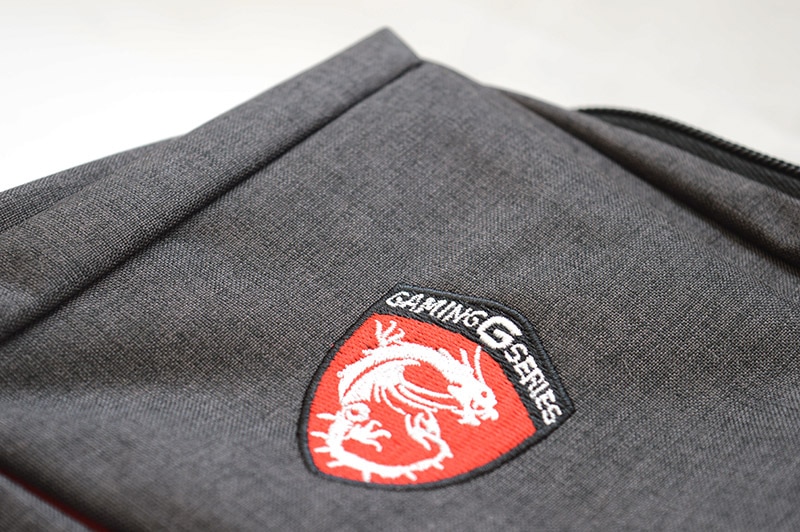 CPU-Z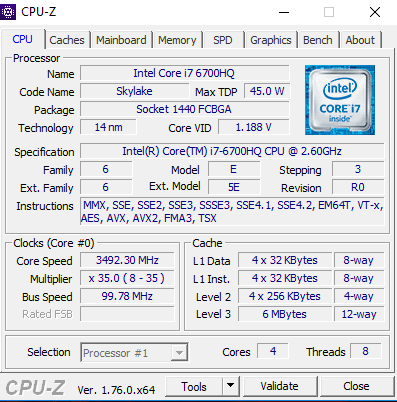 GPU-Z