MSI GT70-2PE 'Dominator Pro' Gaming Notebook Review
---
---
---
Chris Hadley / 8 years ago
Introduction
---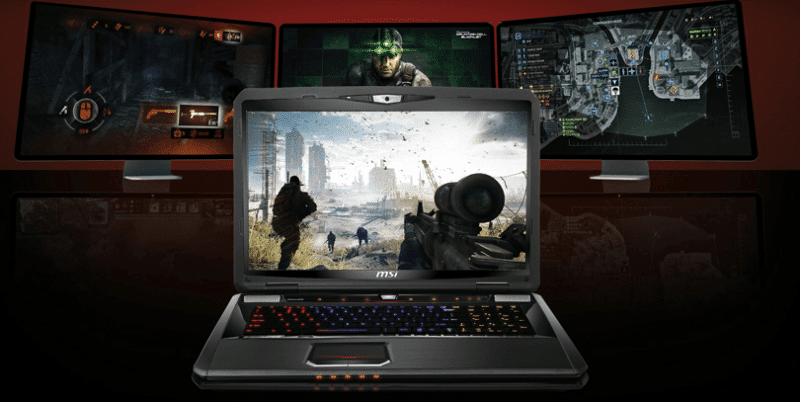 Over the last few weeks I've been looking at a few of MSI's latest gaming notebooks, each featuring NVIDIA's brand new 800 series GPUs. As we look back at the two units that we've seen already, the first of these being the GS60-2PE 'Ghost Pro' – which, as a mid range system, wows me with the amount of power that I has tucked away inside its slim and lightweight frame, giving it some credentials that could almost give it the right to be known as a Ultrabook. On the other hand, the GP70-2PE 'Leopard' that we looked at more recently brought some fresher and more up to date components over its older brother the straight up GP70. Although it featured a full solid state boot drive and the latest run of 800 series graphics from NVIDIA, the balance between some of the components such as the high-end processor and entry-level graphics card, along with a couple of note around the chassis such as the track pad left me a little disappointed as it has the right foundation to be a cracking budget option for the rapidly changing market.
The third and last system from MSI's gaming series range that we've picked out for review today is targeted right at the top end of the gaming notebook market. Compared to the Ghost Pro which looks for the balance in performance and cost, along with functionality and the Leopard which is aimed more at the budget conscious gamer, the GT70-2PE 'Dominator Pro' is a no holds barred out-and-out performance system. Featuring a top end 880m GPU from NVIDIA, an i7 CPU from Intel, SuperRAID SSD and the capacity to upgrade its performance even further, the GT70 is set to be their flagship gaming notebook.
As we will see as we work through our tour of the GT70, like the Leopard we will see that its design and basic framework has been brought forward from a previous generation, meaning that even though it may looked like an older system on the outside, on the inside it is full of young blood that is waiting to get to work pushing pixels about like there is no tomorrow. Naturally, like many other things in life, top end performance does inherently bring with it a strong price tag and at £1,799.00 (inc VAT), this notebook is not for the faint hearted. Ultimately though, the most important question that we must ask as we look around this system is "does spending this much really pay itself off?" After all, you've not to feel that pleased if you've bought a Ferrari only to find that its got the gut of a typical four-door saloon.
Name: MSI GT70-2PE 'Dominator Pro'
CPU: Intel Core i7-4800MQ @ 2.4GHz

RAM: 16GB 1600MHz Kingston MSI16D3LS1KFG/8G (8GB*2)

SSD: 256GB SuperRAID RAID0 – 2x SanDisk SD6SF1M-128G mSATA SSD
HDD: HGST 1TB 7200RPM

GPU: NVIDIA GeForce GTX 880M 4GB
LAN: Killer E2200
WLAN: Killer Wireless-N1202 (802.11ac)
Monitor: 17.3″1920 x 1080 Anti-glare LED backlit
Keyboard: Steelseries chiclet RGB blacklit
I/O: 3x USB3.0, 2x USB2.0, 1x HDMI, 1x VGA, 1x mDP, SD Reader, Mic-in, Headphone-out, line-in, line-out, 1x 1Gb LAN, FHD Webcam
ODD: DVD-RW DL
Battery: 9-Cell 7800mAh 87Wh

OS: Windows 8.1
Dimensions: 42.8 x 28.8 x 5.5 cm
Weight: 3.9kg with battery (8.6lb)
Warranty: 2 year RTB
Price: £1799.00 Inc VAT
Looking down the crib sheet for this system, there's no mistaking that MSI have got a ton of power behind the scenes, especially in the processing and graphics department. I'll also note at this point that the SSD array and the stock memory has the potential to be pushed further and in some regions may come as a slightly different default configuration to what what I've got here today.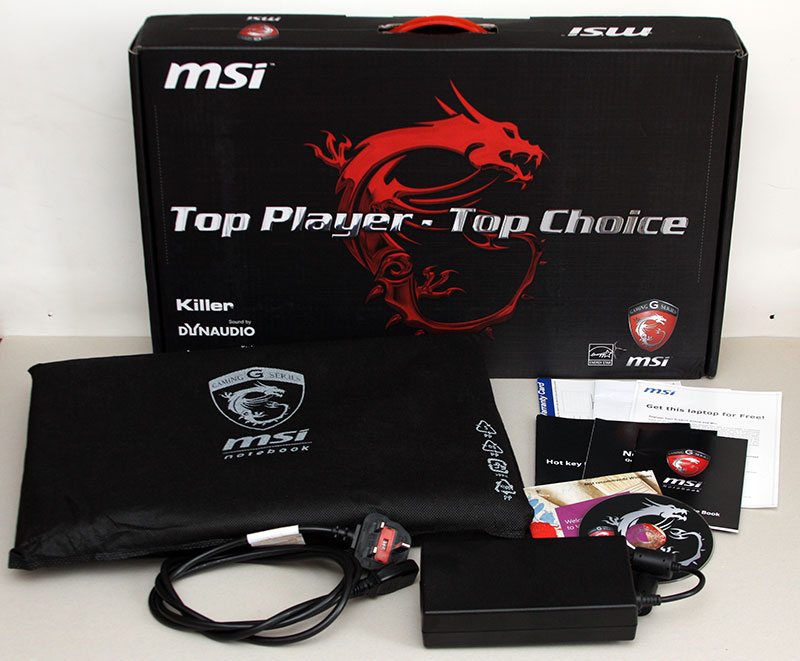 The package that comes alongside the notebook is strikingly similar to that of the Leopard, with a bundle of manuals and setup guides, a regional kettle lead and a 180W power adapter – this alone carries a bit of weight to it and considering the spec, it#s no wonder why.