MSI GT72S 6QE Dominator Pro Gaming Laptop Review
---
---
---
John Williamson / 8 years ago
Introduction
---
MSI is an established player in the gaming laptop scene and produces a huge range of products to suit various usage scenarios. Whether you're prioritizing portability or simply require raw horsepower, MSI has a laptop to suit your specific needs. The company's quintessential styling and robust construction beautifully balances performance with unique features and includes a comprehensive software package. This magical combination has proved to be incredibly popular among the gaming audience. Previously, we reviewed the budget-orientated MSI GE62 6QD Apache Pro which performed remarkably well in 3D benchmarks despite its relatively affordable price point.
While the gaming prowess of laptops around the £1000 mark are good, some users have higher demands to reach 60 frames-per-second at extreme graphical presets. The type of laptop which caters to this demographic is the GT72S 6QE Dominator Pro and comes in a number of top-tier configurations. The review unit we're looking at today features an Intel i7-6820HK, 16GB DDR4 2133MHz RAM, GTX 980M and 128GB NVMe PCIe SSD boot drive. Furthermore, the system opts for a 17.3″ 1920×1080 display, 9-cell battery, and 1TB data drive. As you can see, this is a stunning specification and more than capable of competing with high-powered desktops. On another note, the pioneering MXM graphics module offers an upgrade path for the future and makes the investment seem more worthwhile. Overall, I expect the system to shine in gaming tests at extreme graphical settings.
https://www.youtube.com/watch?v=w4rx5Ru5-_g
Specifications
Name: MSI GT72S 6QE Dominator Pro
Case: Brushed Aluminum Laptop Chassis
Processor: 6th Gen. Intel Core Skylake i7-6820HK @ 3.6GHz
System Memory: 16GB (2x8GB) DDR4 2133MHz
Main Boot Drive: Toshiba 128GB NVMe PCIe SSD
Additional Storage Drive(s): HGST 1TB 7200RPM  
Graphics card: NVIDIA® GeForce® GTX 980M 8GB GDDR5
Battery: 9 Cell Li-Polymer
Optical Drive: Blu-ray Writer
Wireless: 802.11 b/g/n/ac Killer Double Shot Pro AC
OS: Windows 10 64 Bit
Display: 17.3″ 1920 x 1080 FHD Anti Glare Wide View Angle with NVIDIA G-SYNC™
Weight: 3.78Kg (With Battery)
Dimensions: 428(W) x 294(D) x 48(H)mm
Warranty: 2-Year Collect and Return (1 year global)
Price: £1962.20 as configured delivered.
Packing and Accessories
Given the laptop's hefty construction, MSI decided to employ a thick cardboard box to adequately protect the sample during transit and reduce the impact of any small knocks.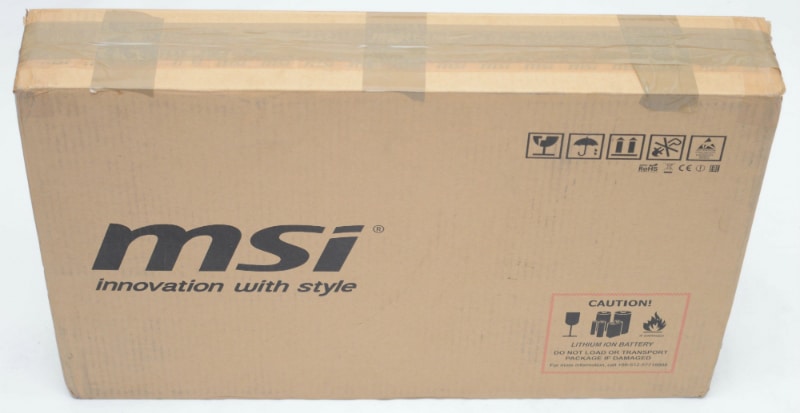 The inner packaging adopts MSI's iconic gaming dragon logo and outlines the system's key specification.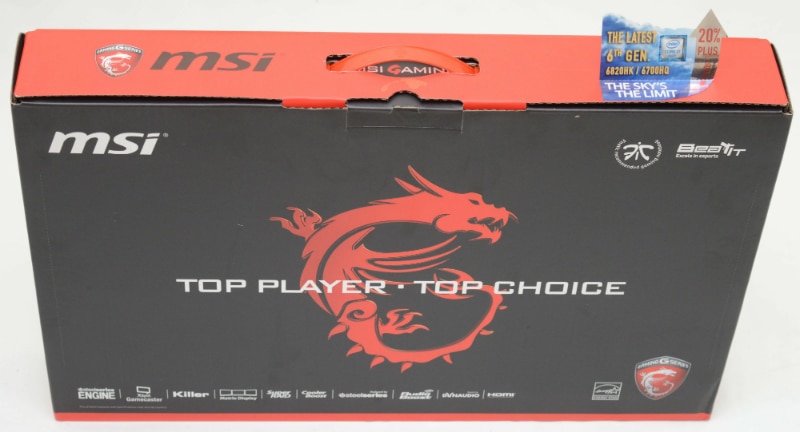 Once opened, we can see the laptop's accessories are divided into segments which makes the unboxing process a more pleasant experience. Furthermore, MSI opted for a durable plastic cover, and luxurious protective cloth which reduces the likelihood of damage occurring during shipping.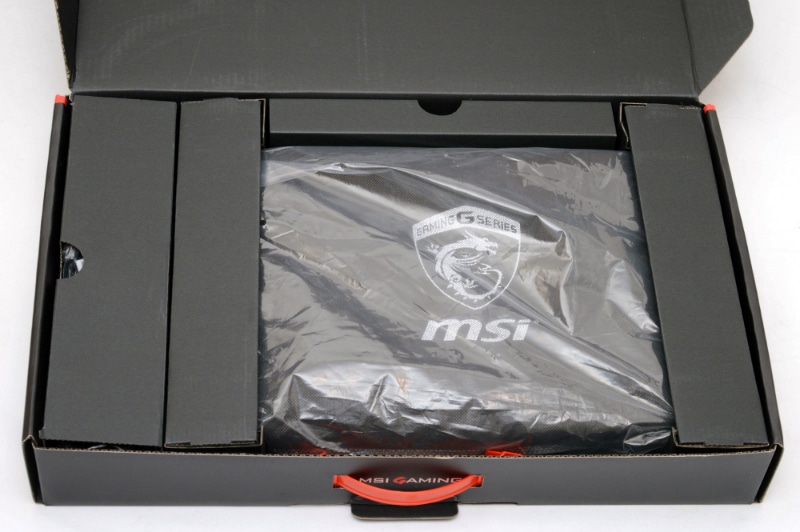 In terms of accessories, the laptop is bundled with a soft cleaning cloth, documentation, driver disk and power supply. The felt cloth feels beautiful in the hand and evokes a sense of luxury. While the power supply is on the larger side, this is expected given the laptop's immense specification.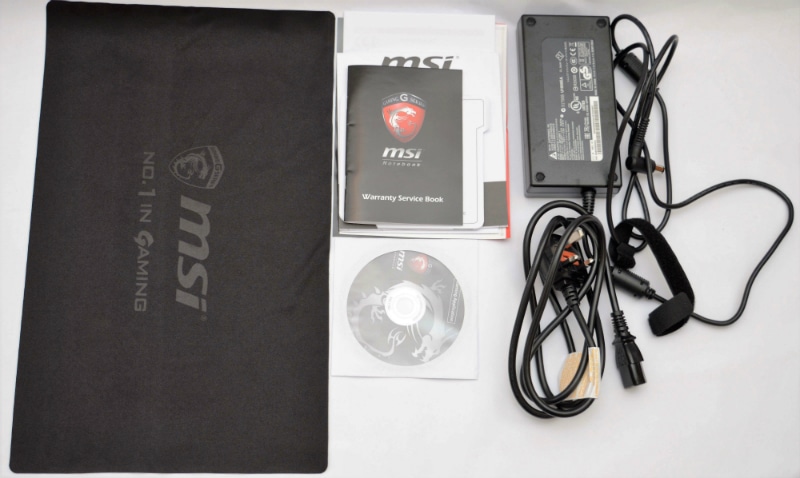 CPU-Z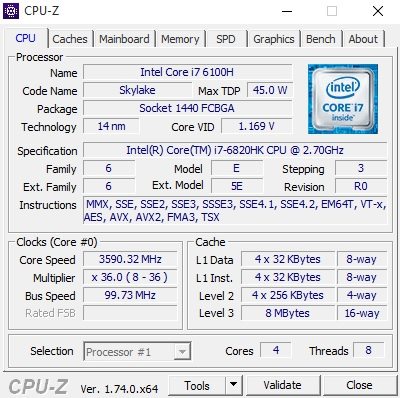 GPU-Z