MSI GTX 670 Twin Frozr Power Edition OC 2GB Review
---
---
---
Chris Hadley / 8 years ago

Many graphics card vendors have different ranges through which they group cards based on different levels of tweaked performance and for MSI this has mainly resided around the top level Lightning series cards, much like the GTX 680 Lightning that we looked at mid last year in June and the lower entry level HAWK range that offered up value options for the budget user. MSI however have noted that there is a gap to be filled in between these two card ranges and this is where the Power Edition range of cards come into play.
The Power Edition is MSI's way of offering up a balance between overclocked performance off the shelf and great value for that performance at the same time. This is not to mean that cut backs have been in other areas however. With these cards we still see the same high level of quality that we would with any other card including the feature of MSI's Twin Frozr cooler and Military Class III components.
The 670 Power Edition comes in a blight blue box with minimal detailing of the card's features on the front. We do see though that this is an overclocked card and features the Twin Frozr IV cooler as well as an enhanced PWM design and triple overvoltage. Under the front flap we find a whole host of information on the cards features including a dust removal system that spins the two fans in reverse for thirty seconds to expel any dust that may have built up.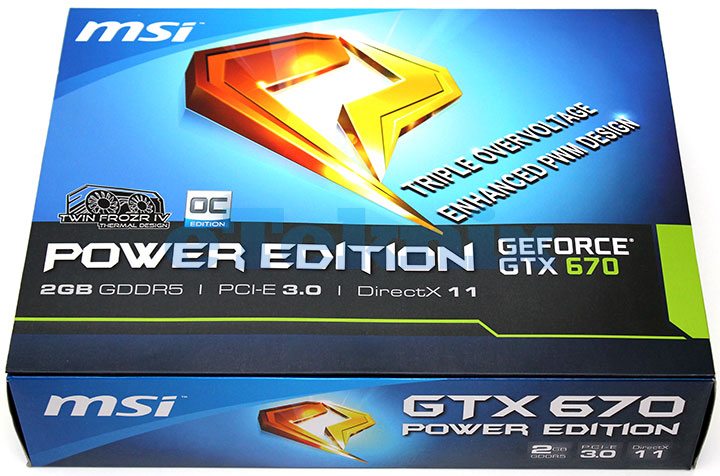 Alongside the card we find a pair of molex to 6-pin power adaptors and the obligatory DVI to VGA adaptor as well.