MSI H370 and B360 Chipset Motherboards Pictures Leaked
---
---
---
Ron Perillo / 5 years ago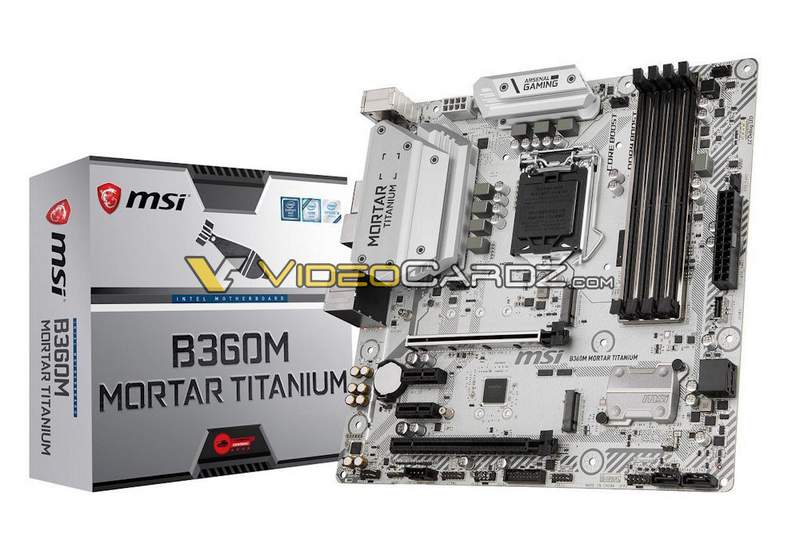 More Affordable MSI Motherboards for Intel Coffee Lake
Photos of MSI's upcoming Coffee Lake motherboards featuring the H370, H310 and B360 chipset have leaked courtesy of VideoCardz.com. These are of course, for Coffee Lake and Coffee Lake-S CPUs. When Coffee Lake launched, only the top of the line fully unlocked Z370 chipset was available. This in turn resulted in a huge lack of motherboard options, especially the affordable variety for Coffee Lake CPUs. It also does not help that Coffee Lake processors are incompatible with the Z270 and Z170 chipset, despite using the same socket.
What Features Do The MSI B360 Chipset Motherboards Have?
Now that the refresh launch is almost here, the leaks are starting to flood in. The first is MSI with several new designs which keep their lineup interesting. One of the most notable is a Titanium version of their micro-ATX Mortar motherboard with a B360 chipset pictured above. It has a fully silver look, including a matching PCB and heatsink color.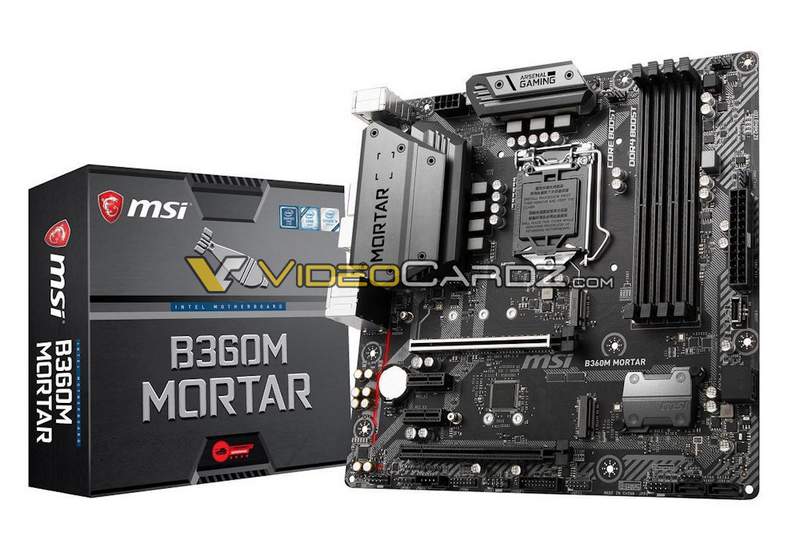 MSI also has a regular black B360M Mortar. Despite the color change, both appear to have the exact same layout and features. Both have a pair of M.2 slots, one supporting up to 22110 form factors, while the other supports up to 2280 form factors. In terms of SATA storage, there are four SATA3 ports available, two of which are angled, while two are located at the lower right hand corner. Both also feature USB 3.1 Type-C on-board and specialized audio capacitors. Despite the substantial VRM heatsink size, don't expect it to be an overclocking powerhouse though like previous MSI Titanium motherboards, as the VRM design is for mainstream level use.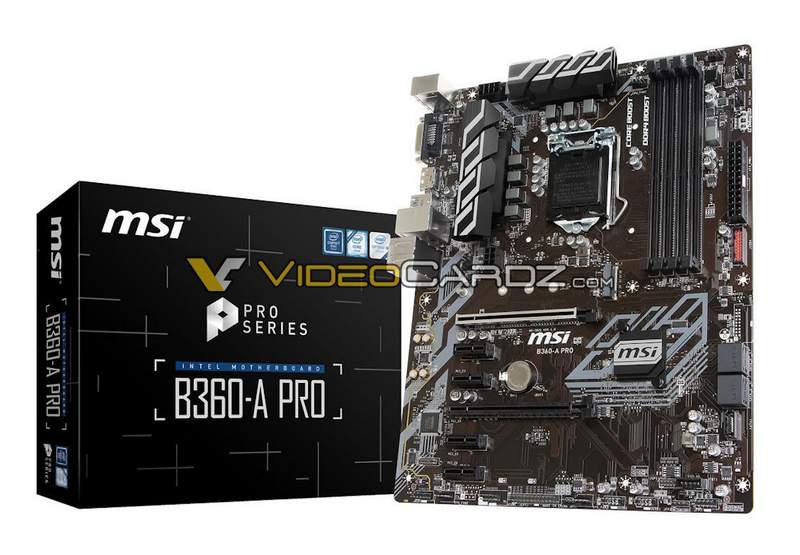 Although not quite as flashy as the B360M Mortar, the B360-A Pro takes a more straightforward purely functional approach. There are barely any aesthetic flares in this one other than some patterns on the PCB board. It even has that brown color which turns off some builders. This one also audio capacitors but the rest of the features are for entry-level budget boards. It lacks the DIMM slot reinforcement and only has room for a single M.2 slot. However, the extra room in the ATX size allows for more PCIe x1 slots available. It lacks the USB 3.1 Type-C front panel header, but has a 19-pin USB 3.1 header instead.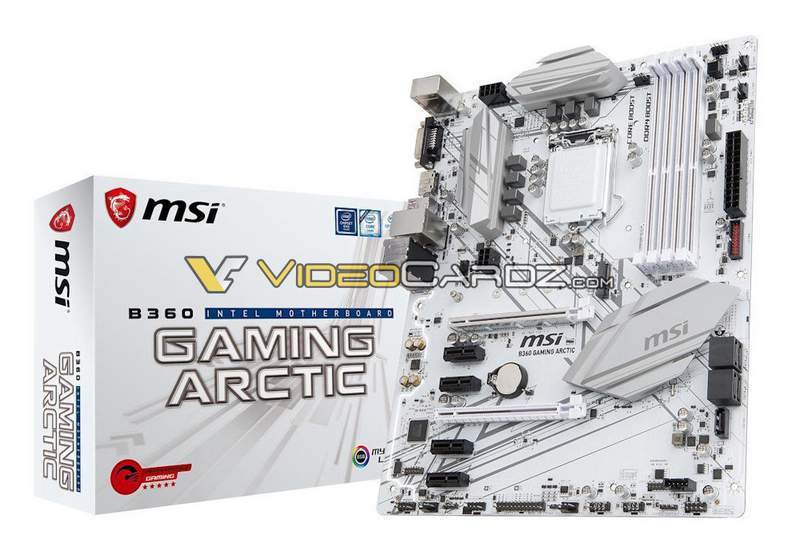 If you prefer the same feature set as as the B360-A Pro but with better aesthetics, then there is the B360 Gaming Arctic. It is identical in layout and features as the B360-A Pro but it is using a white PCB with white DIMM slots and PCIe x16 slots. Even the processor cover is white. The SATA ports and PCIe x1 slots however, remain black. Unlike the B360-A Pro, the B360 Gaming Arctic features Mystic Light RGB LED support via on-board headers.
What Features Do The MSI H370 Chipset Motherboards Have?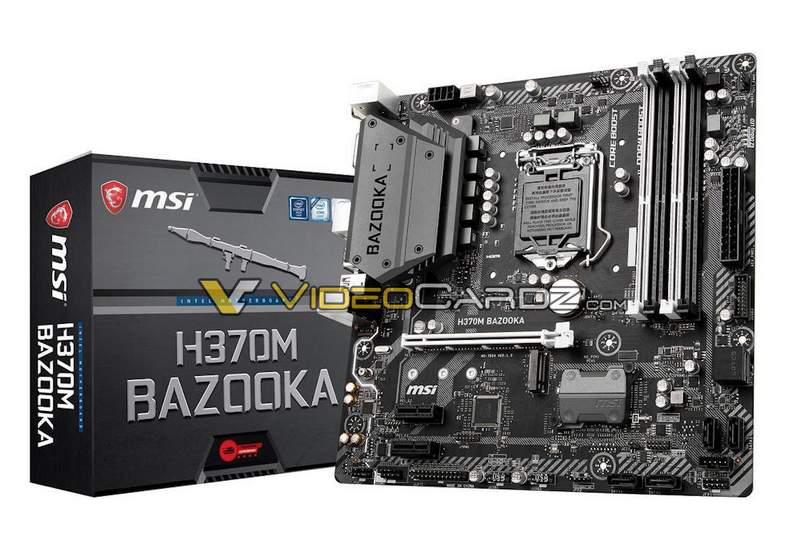 In terms of the H370 chipset, MSI has the H370M Bazooka. This is micro-ATX like the B360M-Mortar, but it appears to have even less features. It lacks the front panel USB 3.1 Type-C header (has a 19-pin USB 3.1 instead) and only has one M.2 slot available. One advantage it has over the B360M Mortar is that it has six SATA3 ports, two of which are angled. It also lacks the B360M-Mortar's reinforcements on the DIMM slots. Otherwise, it also uses specialized audio capacitors on the audio subsystem area. The expansion slot has a single PCIe x16 3.0 slot and two PCIe x1 slots. The VRM is also more basic than the B360M-Mortar.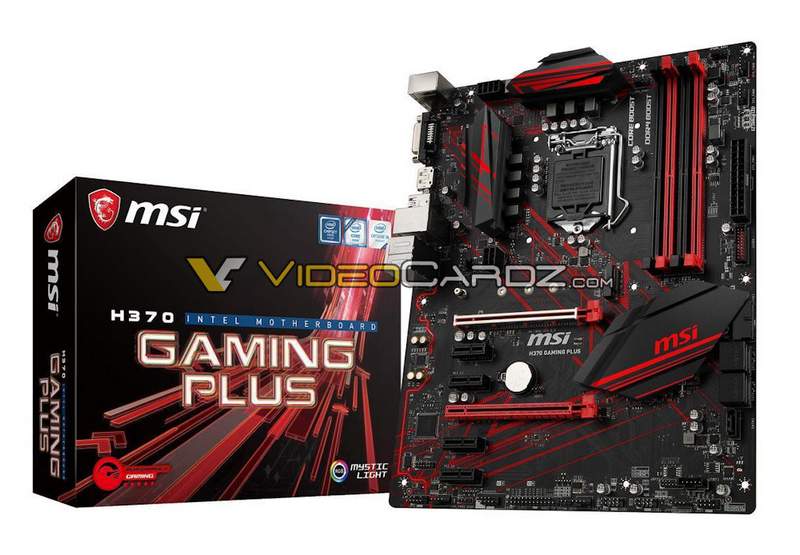 The H370 Gaming Plus on the other hand is a full-size ATX motherboard. It has the black and red color scheme typical of gaming products. It does not appear to have an USB 3.1 Type-C onboard headers, but it does have two USB 3.1 19-pin headers available. One of which is angled like the four SATA ports along the side edge. There are actually five SATA3 ports available in total, as one more is available facing front. This board also has RGB LED headers supporting MSI Mystic Light. It shares a lot of similarities with the B360 Gaming Arctic minus the color-scheme and the extra USB 3.1 header.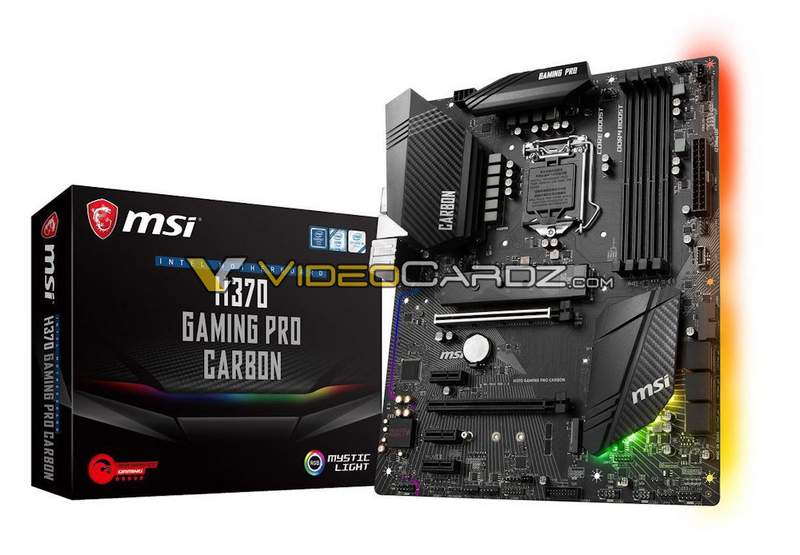 Perhaps the fanciest budget board in this line so far is the H370 Gaming Pro Carbon. Not only does it have RGB LED headers supporting MSI Mystic Light, it actually has RGB LEDs embedded along the right edge as well as behind the chipset. The RGB LED also extends to the audio separation area which uses specialized audio capacitors and has a shielded codec. It comes fully decked out in carbon black, with carbon fibre patterns on the heatsinks. It has a USB 3.1 Type-C front panel header, as well as a USB 3.1 19-pin front panel header. There are also two M.2 slots available, one of which comes with a black heatshield. Plus, there are six SATA ports in total so users are not lacking in storage options. The H370 Gaming Pro Carbon also features the most robust VRM out of this pack yet.
There are also even cheaper budget models under the Pro-VD and H310 chipset series from MSI. To see photos of these other boards out, visit VideoCardz.com.
Support eTeknix.com
By supporting eTeknix, you help us grow and continue to bring you the latest news, reviews, and competitions. Follow us on Facebook and Twitter to keep up with the latest technology, share your favourite articles, chat with the team and more. Also check out eTeknix YouTube, where you'll find our latest video reviews, event coverage and features in 4K!
Check out our Latest Video