MSI HD 7970 Lightning breaks 3DMark 11 World Record 8 times
---
---
---
Ryan Martin / 10 years ago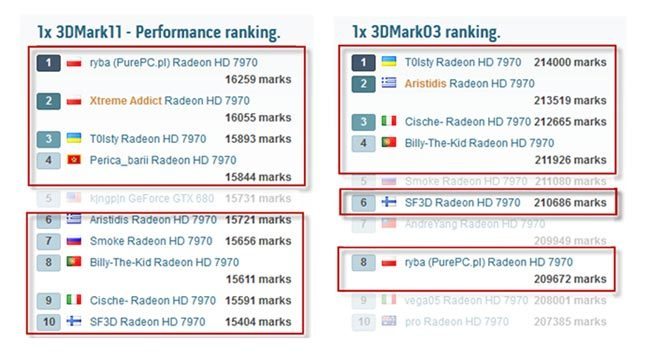 The MSI MOA (Master Overclocking Arena) 2012 EMEA Qualifier competition has ended successfully on June 14; European overclocking experts from a total of 16 countries competed in the event and have broken world records for 3DMark11 and 3DMark03 eight consecutive times. The top five scores of the winners of EMEA Qualifier competition are Xtreme Addict (Poland), T0lsty (Ukraine), ryba (PurePC.pl) (Poland), Aristidis (Greece) and Smoke (Russian Federation); the winners will team up and advance to the MOA 2012 World Overclocking Finals, and head to Taiwan to compete in the world-class "Steel World" competition.
During this skirmish, the competitors' first choice MSI HD 7970 Lightning graphics card ranked number 1 for both 3DMark11 and 3DMark03; the Polish contestant Xtreme Addict's 3DMark11 P score: 16055 marks and the Ukraine contestant T0lsty's 3DMark03 score: 214000 marks won the competition's first place for each single graphics card event respectively,. Which just goes to show that the contestants are completely fired up to march towards the worldwide Grand Final. After the EMEA Qualifier, another shot at 3DMark11 P score of 16259 marks resulted in a new WR by Polish overclocker: ryba (PurePC.pl).
As the king of graphics cards, the MSI R7970 Lightning is not only equipped with Military Class III components certified to MIL-STD-810G military standards and features many innovative technologies such as Unlocked Digital Power, GPU Reactor, Twin Frozr IV Thermal Design and 3X3 OC Kits. Learn more about the R7970 Lightning, please visit this page.
The annual overclocking competition MOA (Master Overclocking Arena) 2012 ,held by MSI, is holding APAC qualifier competitions from June 15 to July 12 for Overclocking experts of the Asia-Pacific region.
Source:PR