MSI MAG Z590 TORPEDO Motherboard Review
---
---
---
Ben Enos / 2 weeks ago
A Closer Look
It might just be me, but I quite like the colour scheme found on the Z590 TORPEDO. I, for one, am sick of the plain black motherboard and while I know why companies do it, it's still just boring, we need more colours! The RGB lighting is currently taking over the PC market meaning that there isn't as much of a need for single colour products, companies are trying to go with just neutral colours and add RGB to it.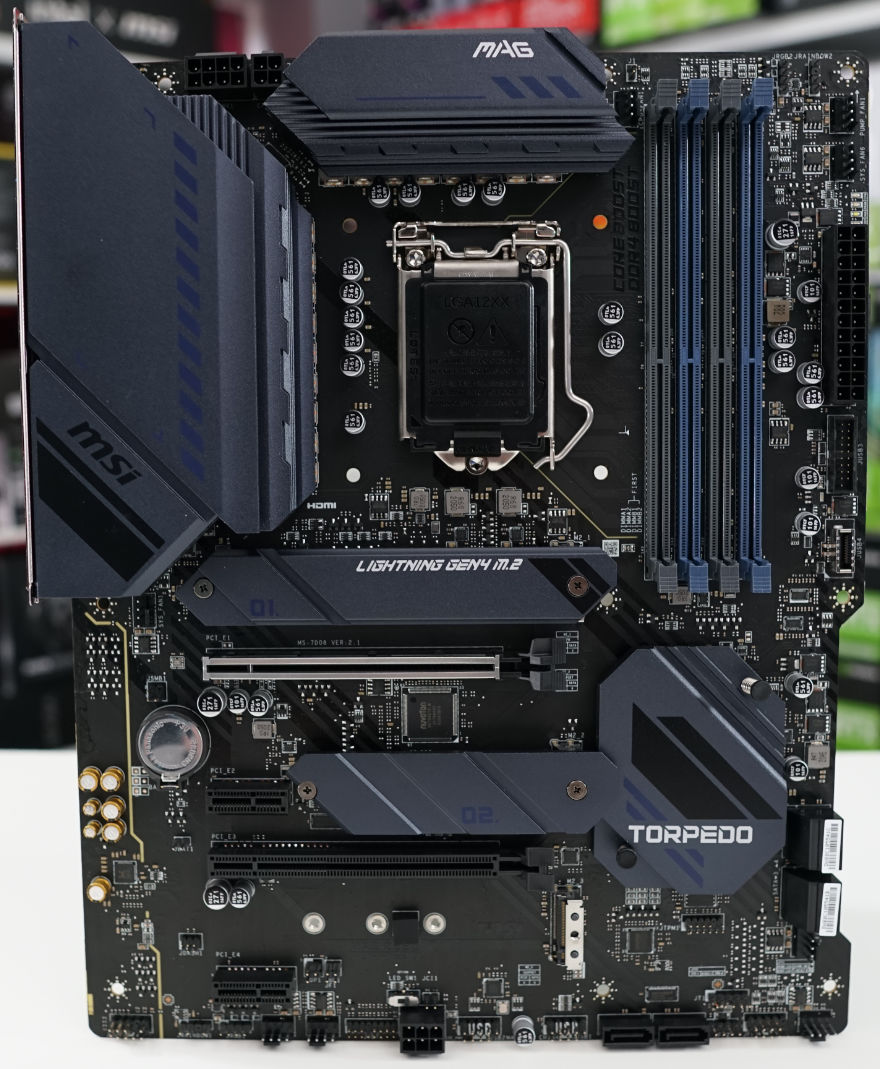 MSI has gone with 8-pin and 4-pin EPS power connectors to get power to the CPU. It seems a single 8-pin is becoming outdated and more ranges of motherboards are now coming with extra EPS connectors whether 4 or 8 pins.

To the top right of the board and we have out 5v aRGB and 12v RGB connectors and a trio of fan headers. The fan headers are designed for one of each, CPU fan, system fan and AIO pump. This will give users multiple options when it comes to CPU Cooling.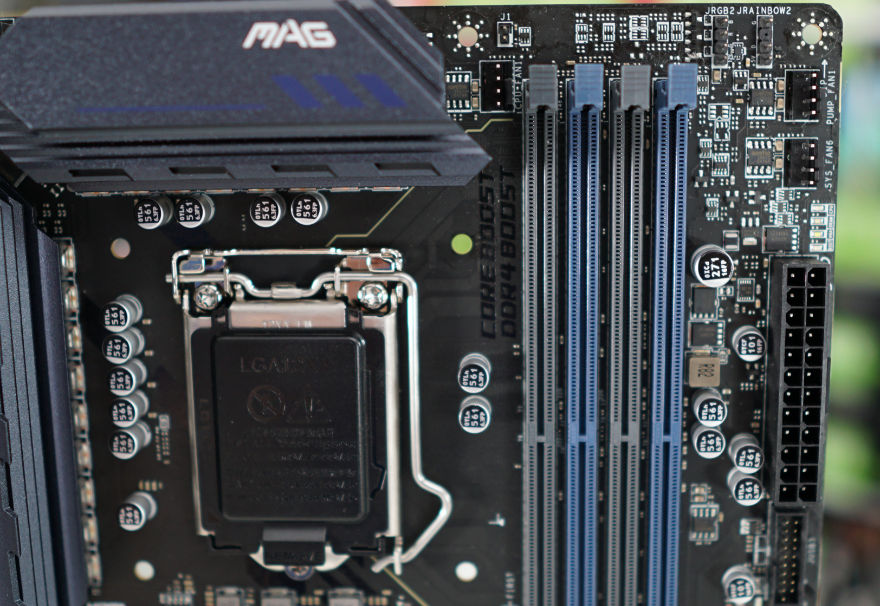 MSI has gone with a 14+2+1 Power design on their Z590 Torpedo. One thing I noticed was the 14 Phases for the CPU are only at 60A, whereas we have seen competitors offer their Phases at 90A. Now, this may not mean a lot to most, but ultimately it does mean that phases can handle less and may not offer the extra power the CPU needs when overclocking or gaming at higher loads. However, in all our testing, we noticed no need for concern so maybe the others are just overdoing it?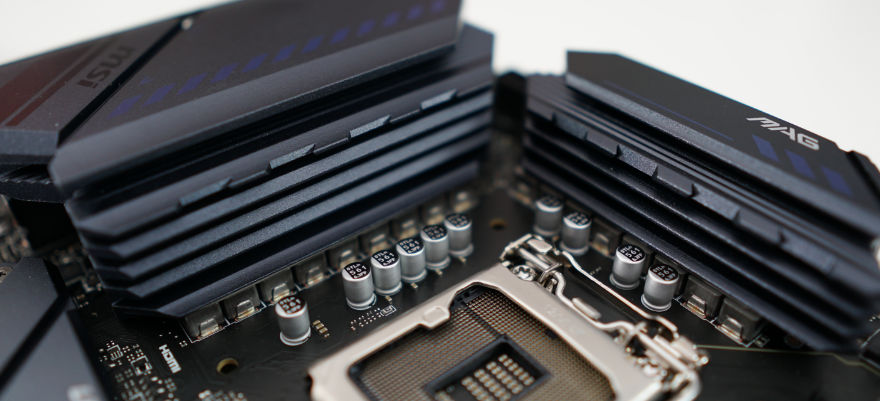 MSI has opted to save a bit of money by not going with full shielding on the bottom have of the motherboard and that is fine! Two of the three M.2 slots still have their own shields which are more than ample for this type of motherboard.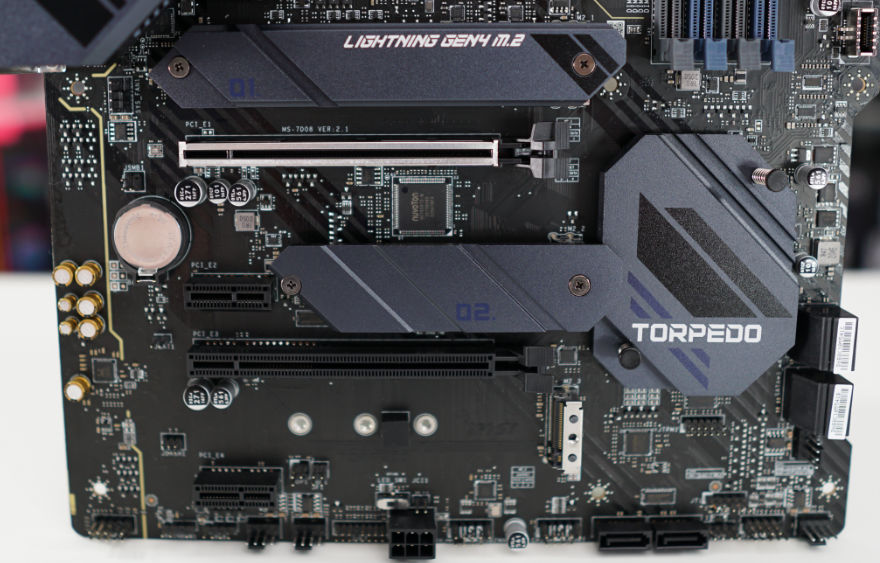 There are a total of six SATA 6GB/s ports on this motherboard but only four of them are on the side, the other two are actually on their own on the bottom of the board. We also have another system fan header here just next to the four SATA ports.

Our third M.2 slot is out on the bare board all on its own. While the other two have covers, this one is easily accessible. Using this slot will disable the SATA 5 & 6 ports so make sure you don't have anything plugged in them should you want to use this.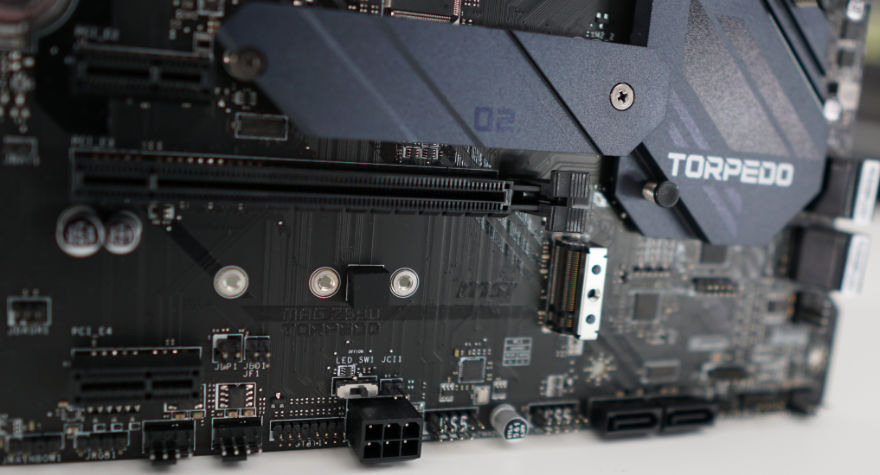 Even though this is a more budget-friendly board, we still have quite a bit going on across the bottom of the board, more so than we have seen from other boards that cost £100 more! We have the HD audio input, another set of 5v and 12v RGB connectors, two more PWM fan connectors, a 6-pin PCIe power connector which when used will give more power to the PCIe lanes for better efficiency and more stability for the GPU.

Moving along and we have a pair of USB 2.0 front panel headers, our other two SATA ports our front panel connectors and one more fan header just for good measure. This should be more than ample connectors for people to make the most out of the Z590 TORPEDO.

We have a fairly normal rear IO on the Z590 TORPEDO. Seven standard USB ports and one USB-C, dual Lan ports, HDMI/DP and our standard audio ports. The interesting this is that the all-mighty flash BIOS button will allow you to flash the BIOS on the Z590 TORPEDO without the need for a CPU.
DisplayPort
USB 2.0
Gigabit LAN Port
2.5G LAN Port
HD Audio Connectors
HDMI
Flash BIOS Button
USB 3.2 Gen 1 5Gbps Type-A
USB 3.2 Gen 1 5Gbps Type-A
USB 3.2 Gen 2 10Gbps Type-A
USB 3.2 Gen 2×2 20Gbps Type-C
Optical S/PDIF OUT

As always, a quick image of the back side of the motherboard just to show that there is nothing going on.