MSI MEG CoreLiquid S-Series AIO CPU Coolers Revealed
---
---
---
Peter Donnell / 2 years ago
MSI is one of the biggest and best when it comes to high-end PC hardware! The great news is that now the MEG CORELIQUID S Series has infiltrated the MSI liquid cooler lineup! This is what MSI is calling "the ultimate in cooling that can't be heard".
Designed for the enthusiast PC builder, it comes available in two sizes. There's a 360mm and 280mm to suit your requirements, but both are obviously quite large and tailored towards the higher-end of the PC gaming/cooling market. It's a sealed AIO system, so it's basically just plug and play. However, with it being a high-end solution, it's designed to be a bit more special and performance-focused than your typical AIO, without moving into the much more expensive custom loop market.
MEG CoreLiquid S-Series
Equipped with MSI's innovative MEG SILENT GALE Series silent gaming fans, it's also designed to be extremely quiet. With Aketek adding their knowledge to the design process of the pump and radiator, ensuring everything is as good as it can be. MSI has leveraged the 7th Generation Asetek design in this cooler; This premium liquid cooler puts emphasis on silent and low-noise cooling performance while offering an enriched user experience. Both the fans and the pump offer a 0 RPM mode for absolute silence, well, until the CPU hits 80 degrees Celcius!
Built-in Display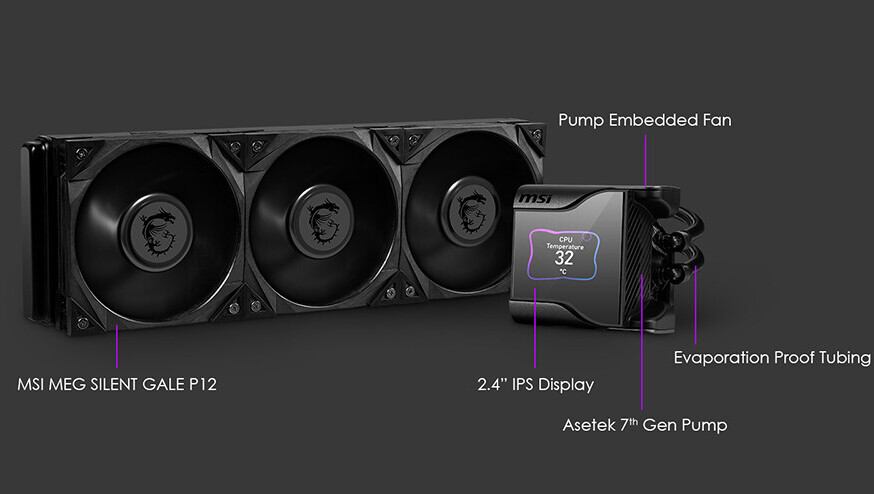 For those who like a little more data and customisation, there's also a built-in 2.4″ IPS display that can be configured to monitor hardware information and impress onlookers. It can be configured to show a variety of hardware information or customizable graphics. With MSI Center, users can choose to have the MEG CORELIQUID S Series display hardware information related to the CPU, GPU, PSU, fans, and even the liquid coolant. If users are feeling playful and adventurous, GIF and MP4 files can be imported for display.
Silent Gale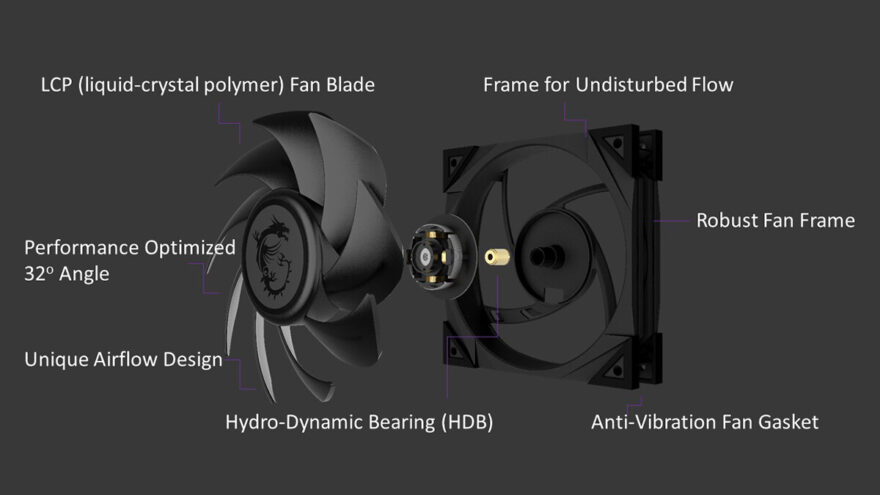 The MEG SILENT GALE Series' fan blades are constructed from liquid crystal polymer (LCP), a dense plastic that can withstand thermal expansion and resist harmonics to produce less vibration. The fan blades are also carefully shaped to maximize airflow performance, optimized at a 32-degree angle to retain 58% of the airflow. An HDB (hydro-dynamic bearing) reduces frictional noise and increases the fan's life expectancy. Anti-vibration gaskets located on the four corners of the fan dampen rattling caused by any remaining vibration..
Price and Availability
MSI hasn't released any pricing information just yet. However, for more information, visit the product pages of the MEG CORELIQUID S360 and MEG CORELIQUID S280.