MSI MPG ARTYMIS 343CQR Ultra-Wide Gaming Monitor Review
---
---
---
Peter Donnell / 9 months ago
A Closer Look
This truly is one stunning looking monitor, and at 34-inch wide, it's quite a sizeable beast too. While it's not too big, it's certainly going to need serious placement consideration if you have a slim or narrow desk. Furthermore, if your desk is near a wall on either side (like mine is), that could limit your placement also. The build quality looks and feels excellent, which doesn't always come across in photos. However, this is a £900 monitor, so you would expect it to feel like a quality product while you're handling it; thankfully, it absolutely does.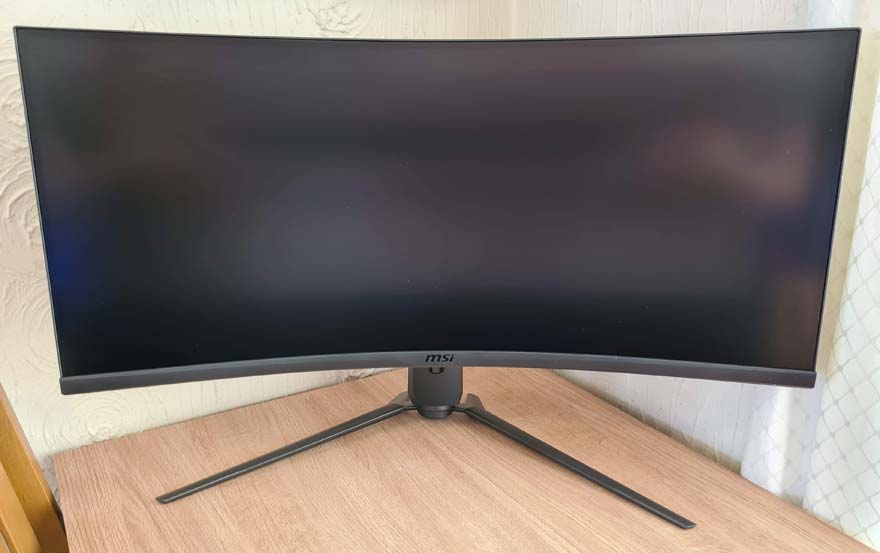 The bezel is nice and slim, and even the overall depth of the panel is modest at the outer edges, but overall the unit is quite deep in the mid-section. There's a 1000R curve, which is actually pretty ideal for a panel this size. Personally, I wouldn't say I like the more extreme curves, especially on 16:9 panels; I find them horrible for day-to-day work. However, 1000R is softened by the overall size of the panel, and it feels very natural.

The stand has a really cool finish to it, and while it's quite a large stand, its wider design doesn't stick out too far. This means you shouldn't have any serious issues with it blocking keyboard/mouse placement. It's also all-metal, keeping that premium quality vibe throughout.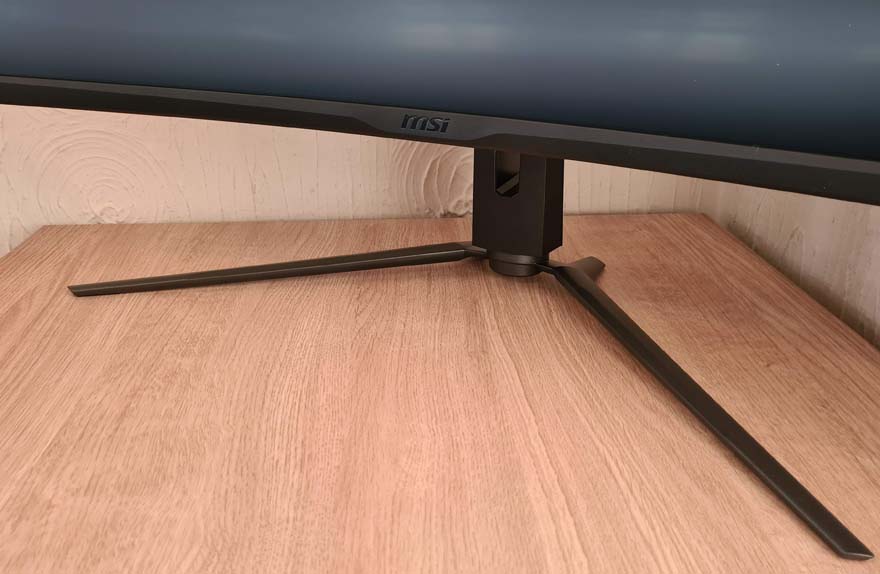 At the rear, the monitor looks seriously cool! If you have this monitor against a wall, it'll all be a little wasted. However, if you have a more open desk layout, then you'll be glad they put in the extra effort here.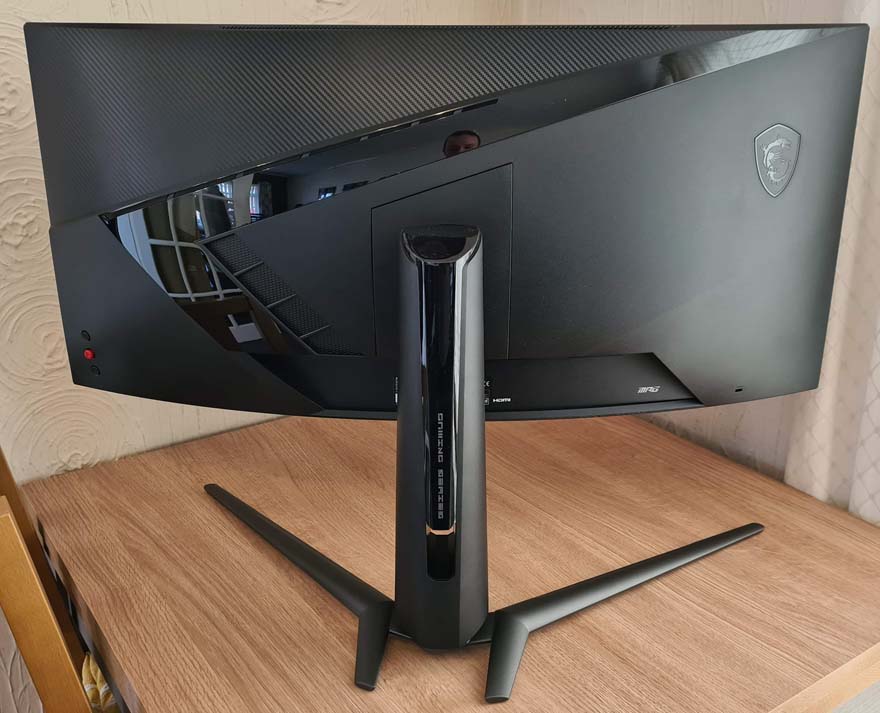 There's an MSI logo here, which is RGB lit.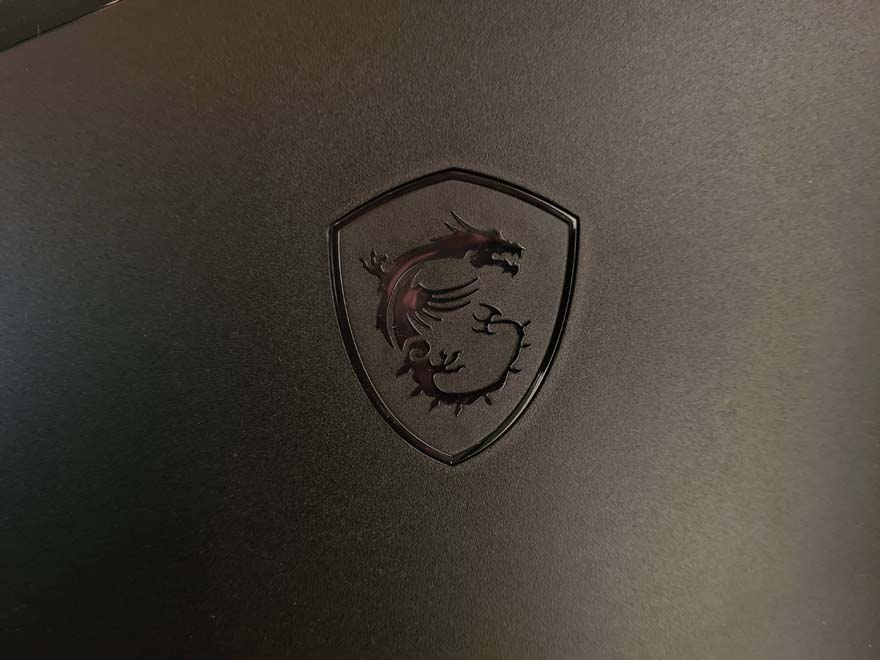 Here it is powered up!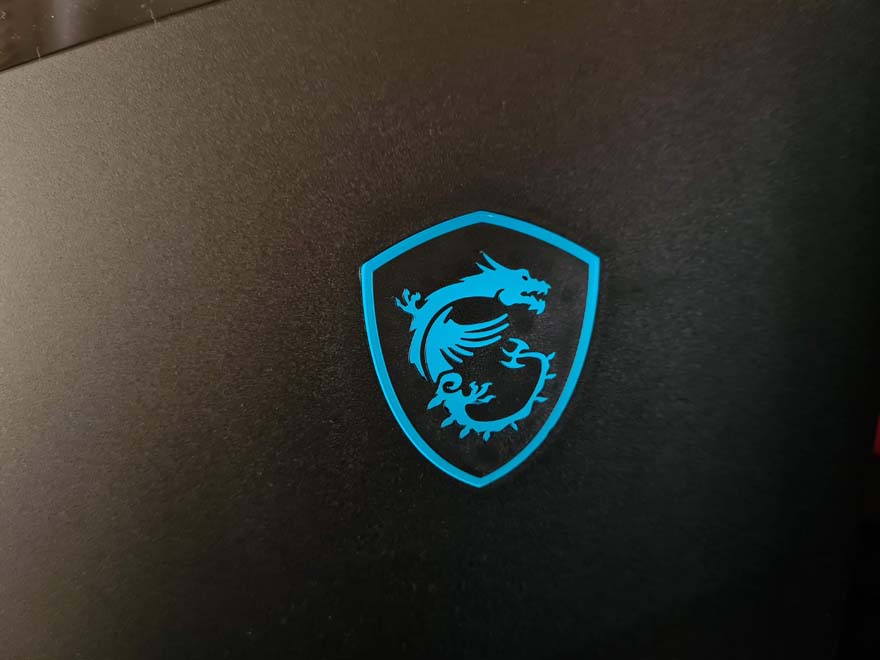 Plus seven inset RGB lights down here too. Don't see them?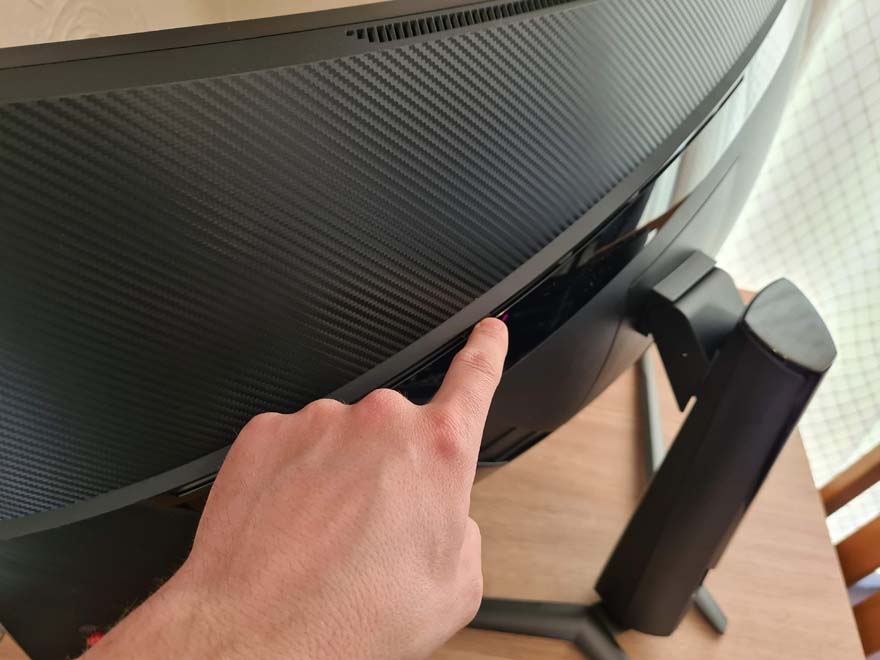 Here they are powered up!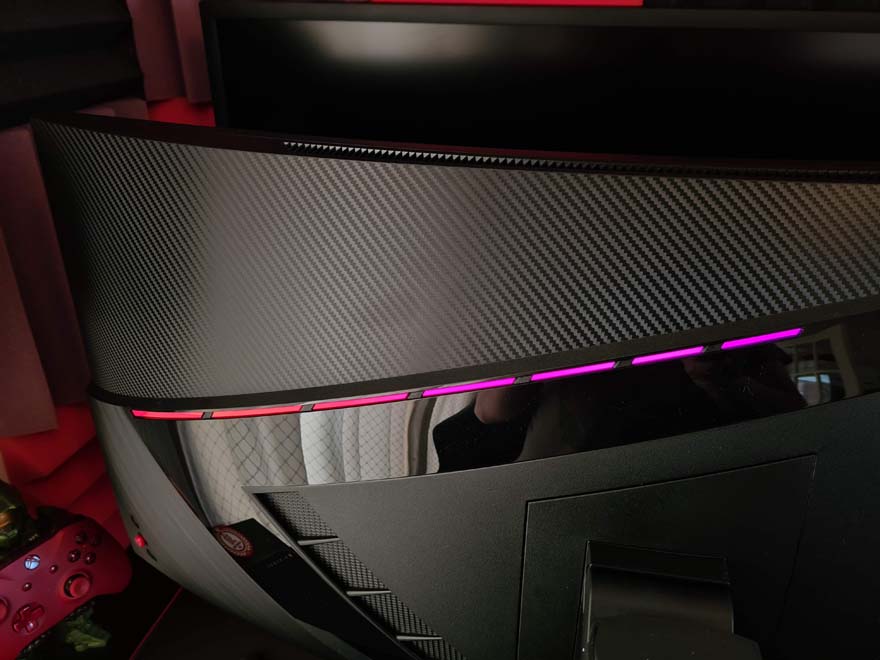 Controls are handled by the buttons at the back on the right side. However, there's also a small analogue stick, which will make for much easier menu navigation.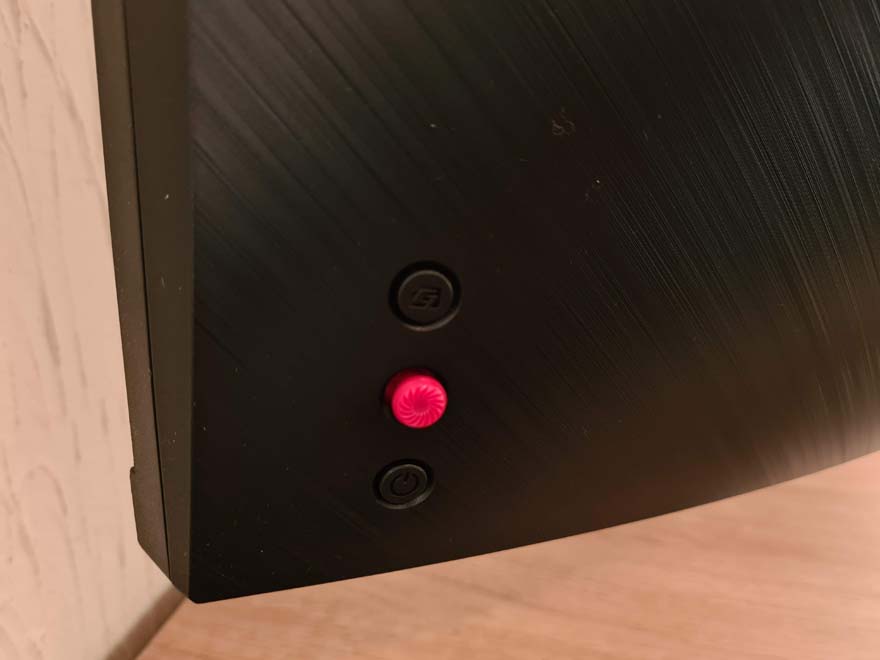 You'll find all the video inputs tucked into the rear with dual HDMI, a DisplayPort, and USB-C. There's also a small USB hub and audio jack here.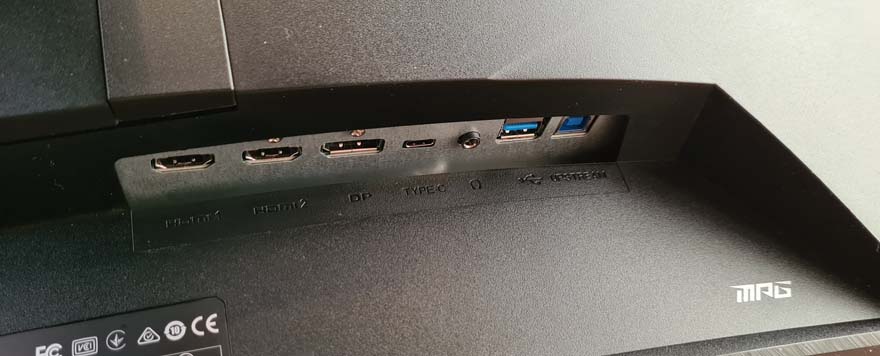 There's a built-in headset hanger too. Just push this button…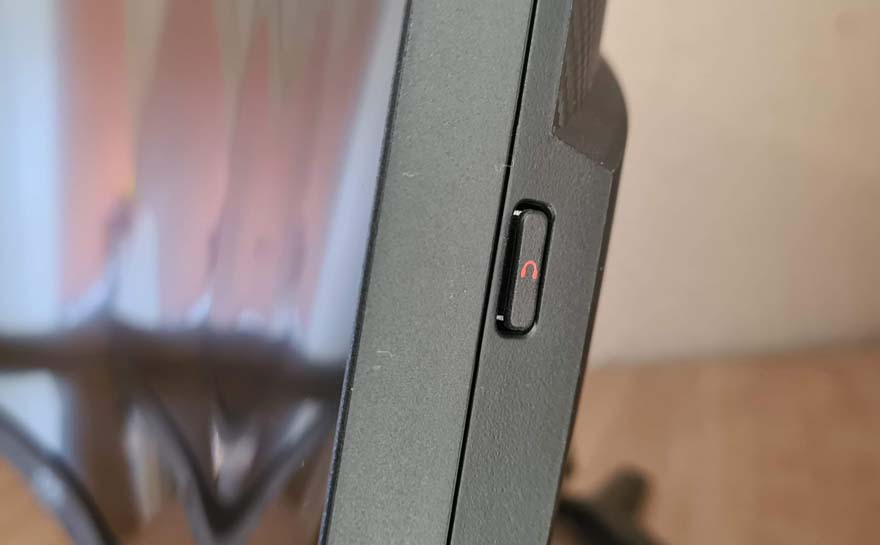 It'll pop out a little and you simply pull it out as much as you need.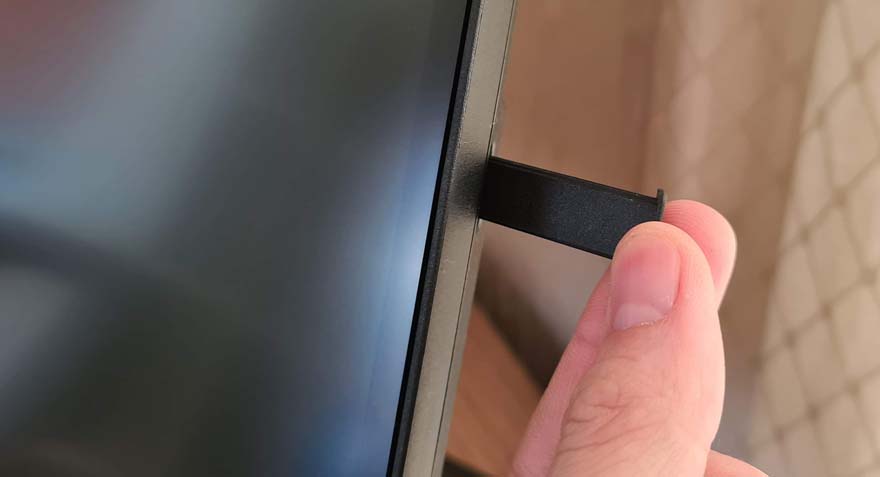 Ta-da!