MSI Updates Intel 200-Series Motherboard BIOS for Optane Memory Support
---
---
---
Ron Perillo / 4 years ago
The latest cutting edge Optane non-volatile memory technology from Intel is finally here and MSI has released a BIOS update to help users get the most out of its performance on their 200-series motherboards. Intel Optane is currently only supported exclusively in 200-series chipsets which include the flagship Z270, the mainstream H270 and entry-level B250 motherboards. Intel's current Optane 3D Xpoint memory comes in the form of a 16GB or 32GB M.2 module which can be used for caching purposes, improving performance for hard drive access by as much as 14 times.
MSI is also adding a new Optane Genie feature that enables the feature with just a single click similar to the one-click XMP and Game Boost toggle available on all MSI UEFI mainboards. In addition to the BIOS update ensuring optimal performance, select MSI motherboards come with an M.2 shield built-in which helps absorb some of the heat generated by the M.2 module. This M.2 shield includes the metal heat shield itself as well as full-coverage thermal pads so it is ready to use out of the box.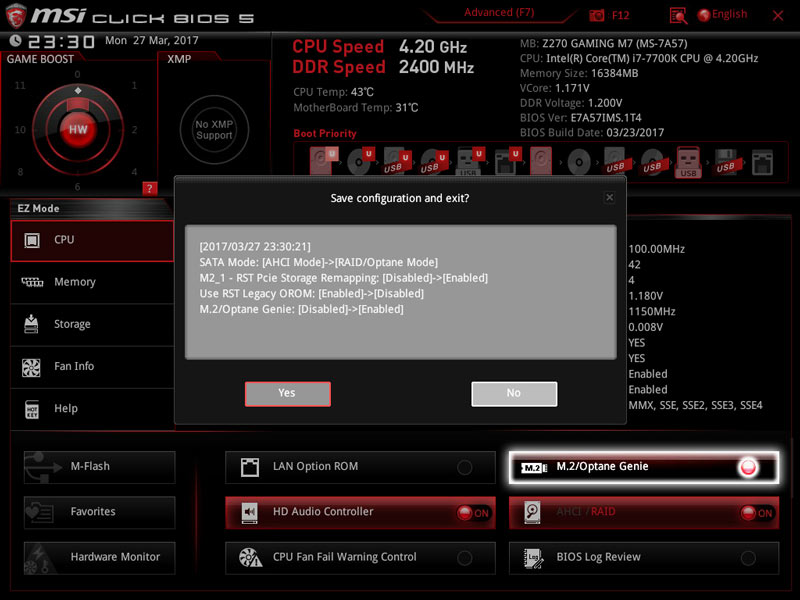 The full list of MSI 200-series motherboards and their corresponding BIOS update containing the optimal Optane update and Optane Genie feature are listed below. It can be downloaded on each of the product pages for each motherboard model, under the service tab.
| MODEL | BIOS VERSION |
| --- | --- |
| Z270 GAMING M7 | E7A57IMS.130 |
| Z270A XPOWER | E7A58IMS.120 |
| Z270 SLI PLUS | E7A59IMS.160 |
| Z270 KRAIT GAMING | E7A59IMS.A50 |
| Z270 GAMING PRO | E7A59IMS.220 |
| Z270 GAMING M3 | E7A62IMS.120 |
| H270 GAMING M3 | E7A62IMS.220 |
| B250 GAMING M3 | E7A62IMS.320 |
| Z270 GAMING PRO CARBON | E7A63IMS.140 |
| H270 GAMING PRO CARBON | E7A64IMS.220 |
| B250 GAMING PRO CARBON | E7A64IMS.120 |
| B250 GAMING PRO | E7A65IMS.130 |
| Z270I GAMING PRO AC | E7A66IMS.150 |
| B250I GAMING PRO AC | E7A67IMS.120 |
| H270I GAMING PRO AC | E7A67IMS.220 |
| B250I PRO | E7A67IMS.A20 |
| Z270 TOMAHAWK | E7A68IMS.120 |
| H270 TOMAHAWK ARCTIC | E7A68IMS.A20 |
| Z270 TOMAHAWK ARCTIC | E7A68IMS.B20 |
| B250 KRAIT GAMING | E7A68IMS.H20 |
| Z270M MORTA | E7A69IMS.120 |
| B250M MORTA | E7A69IMS.220 |
| B250M MORTA ARCTIC | E7A69IMS.A20 |
| H270M MORTA ARCTIC | E7A69IMS.B20 |
| B250M BAZOOKA | E7A70IMS.130 |
| H270M BAZOOKA | E7A70IMS.230 |
| B250M PRO-VDH | E7A70IMS.A30 |
| Z270-S01 | E7A71IMS.320 |
| Z270-A PRO | E7A71IMS.120 |
| Z270 PC MATE | E7A72IMS.140 |
| H270 PC MATE | E7A72IMS.240 |
| B250 PC MATE | E7A72IMS.340 |
| B250M PRO-VH | E7A74IMS.140 |
| B250M PRO-VD | E7A74IMS.140 |
| B250M NANO | E7A74IMS.140 |
| B250M ICAFE | E7A74IMS.140 |
| B250M-D | E7A74IMS.140 |
| B250M-E | E7A74IMS.140 |
| B250M-F | E7A74IMS.140 |
| MSI Z270 GAMING PLUS | E7A75IMS.120 |
| Z270 GAMING M5 | E7A78IMS.160 |