MSI X99A GODLIKE GAMING CARBON (LGA2011-3) Motherboard Review
---
---
---
John Williamson / 7 years ago
A Closer Look & Layout Analysis
---
Aesthetically speaking, the MSI X99A GODLIKE GAMING is phenomenal and undoubtedly the best-looking motherboard I've ever seen. The carbon fibre finish and humongous heatsinks combine to create a bold, striking appearance. I love the uniform design and contrast between the black PCB and silver shielding. On another note, the aluminium cover which houses an assortment of LEDs evokes a premium finish and feels rather study. This is a huge improvement compared to many competing options using a plastic shell. In this particular case, the Dragon cover has a useful purpose and protects against electromagnetic interference from I/O devices.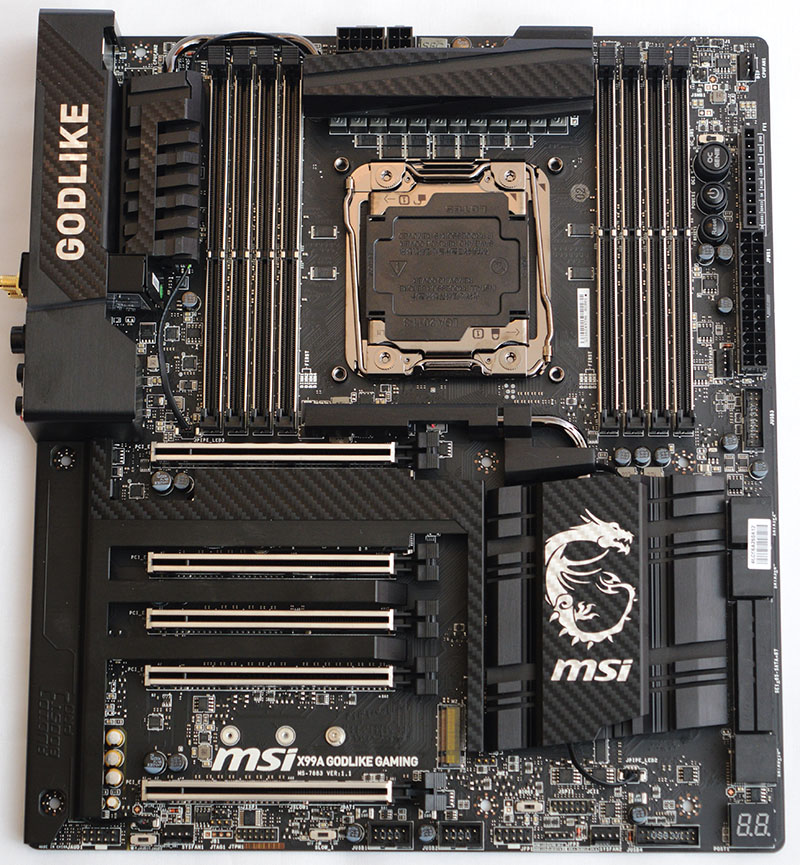 Here we can see the superb soldering work, dedicated audio path and easily accessible screws to service the heatsinks. Even the rear portion is a technical marvel and looks sublime from every conceivable angle.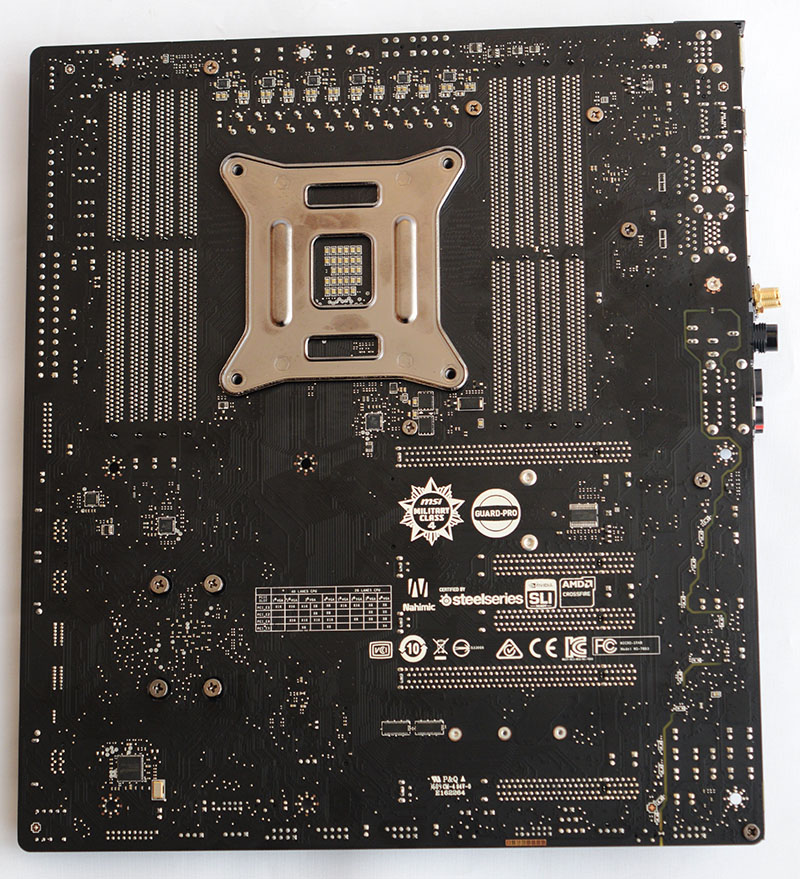 MSI has deployed a 12-phase power delivery and DIGITALL PWM which allows for astonishingly accurate voltage control in extreme overclocking scenarios. Furthermore, the motherboard utilises a tight weave fibreglass OC PCB with 50% more layers to increase humidity resistance and reliability. The motherboard's overcurrent protection is able to withstand user error during rigorous testing and the OC Engine supports flexible BCLK adjustments with a range of 100/125/167MHz straps. This allows you to tweak the CPU and find its maximum potential. Of course, the motherboard is littered with MSI's Military Class 4 components including DrMOS, Hi-C Caps, Super Ferrite Chokes and Dark CAPS with a 10K rating.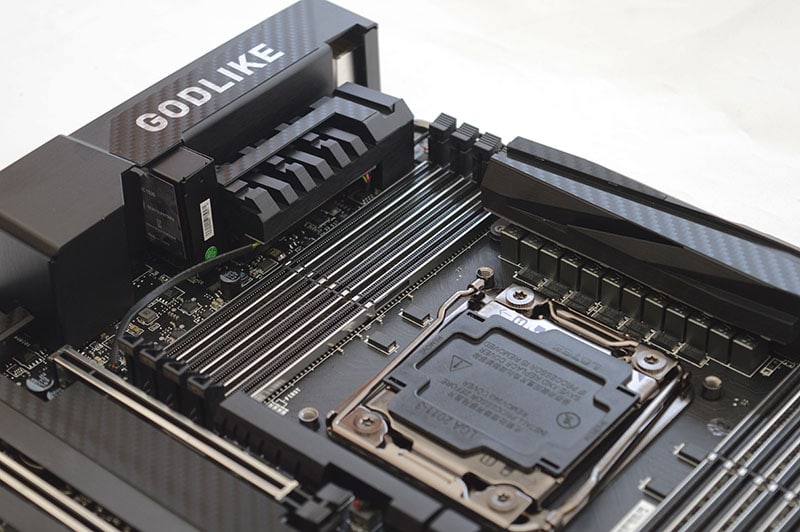 Here we can the Extreme OC Socket design which employs fewer components around the CPU area to insulate the motherboard and improve PCB signal tracing. Additionally, the extra pins should help to push your overclock slightly further and make better contact with the socket.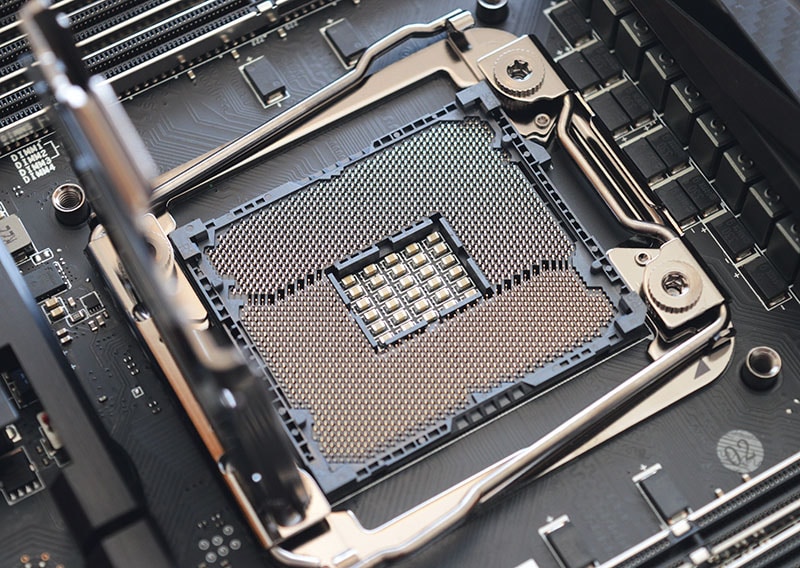 The DIMMs are reinforced by stainless steel shielding which looks amazing and helps to firmly slot the modules into position. Towards this end of the motherboard, there's the conventional 24-pin connector, CPU fan header, voltage points, and a USB 3.0 header. The OC Genie button automatically overclocks the CPU and memory in a single press and offers up to 20% gains. It's also possible to cycle between two overclocking profiles directly on the motherboard and use onboard switches to check your basic hardware will post prior to building an entire system.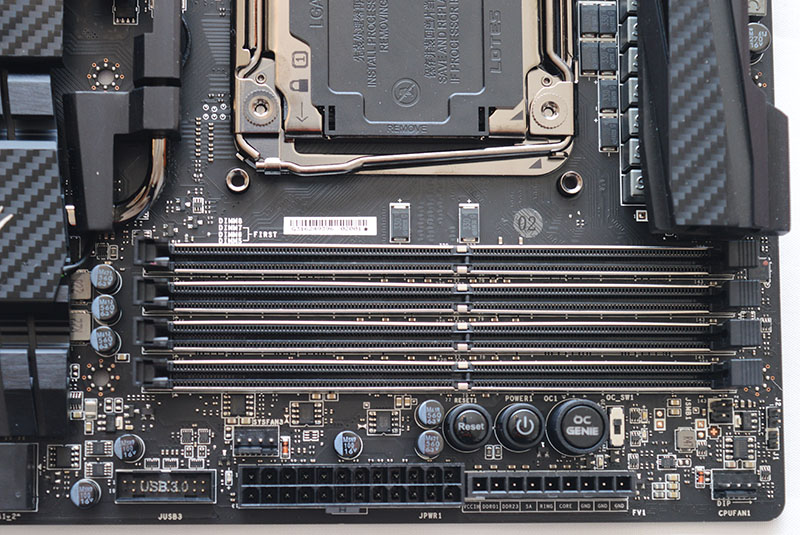 Here we can see the stainless shielding is attached to both sides of each DIMM and the gold-plated contacts means there's less chance of damage occurring if you frequently change memory modules.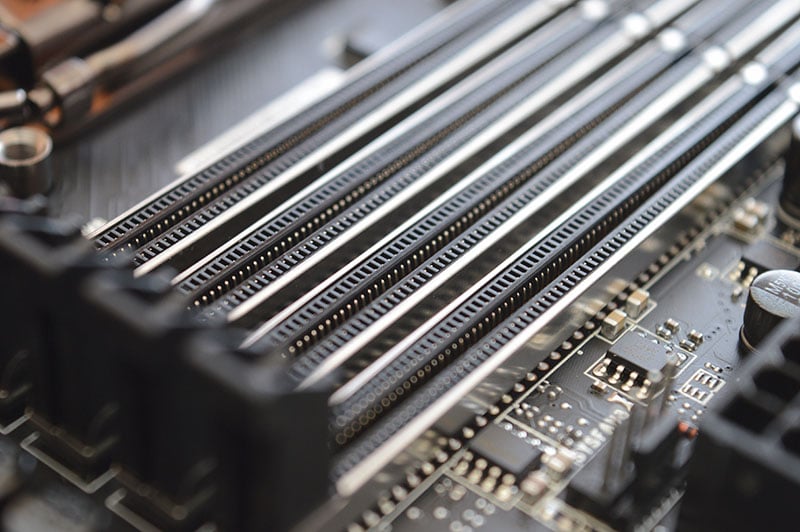 MSI decided to include an additional 4-pin power connector for professional overclockers using LN2. Honestly, even though the motherboard has the electronics to be a suitable choice for LN2 overclocking at events, I wouldn't personally do this and prefer to keep the carbon fibre coating pristine.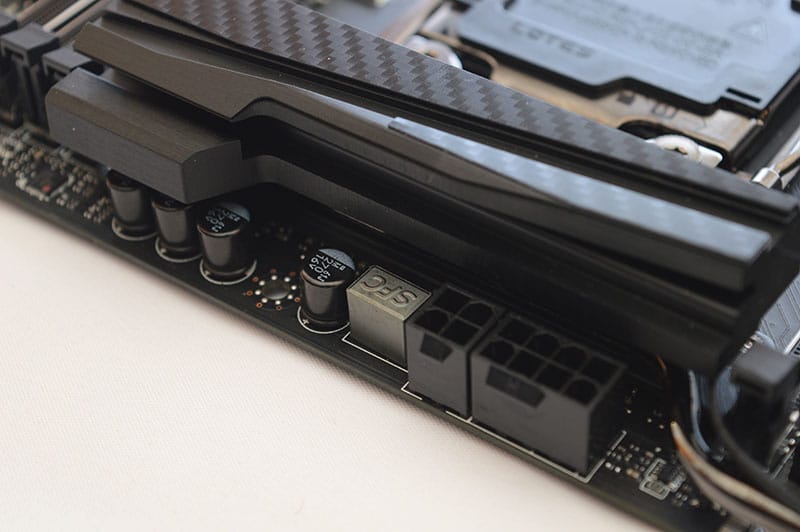 Once zoomed in, we can see the gorgeous PCH design and cable which allows light to emanate from underneath to create a distinctive appearance.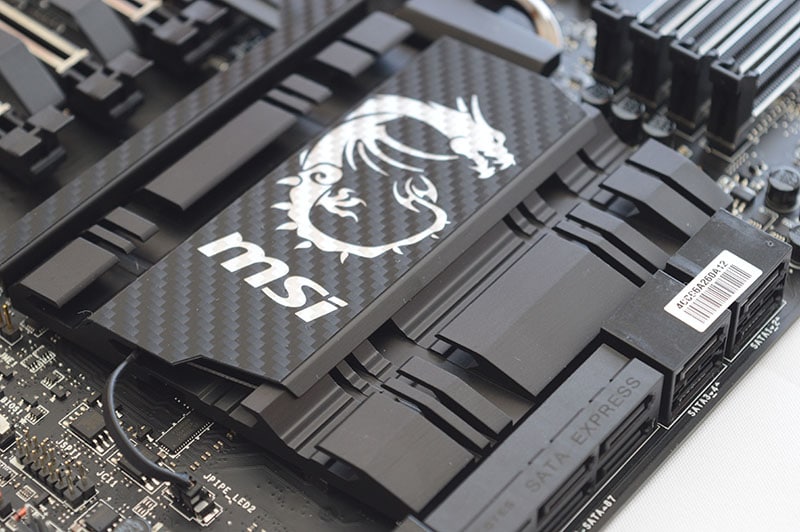 The PCI-E layout is capable of housing 4-way Crossfire and 4-way SLI providing you're pairing this insane configuration with a CPU that supports 40 PCI-E lanes. Once again MSI has used stainless steel shielding to form a better aesthetic design and support heavy graphics cards. Next up is the M.2 connector which allows you to fit extremely fast NVMe drives measuring 4.2cm/6cm/8cm and reach a maximum bandwidth of 32Gb/s.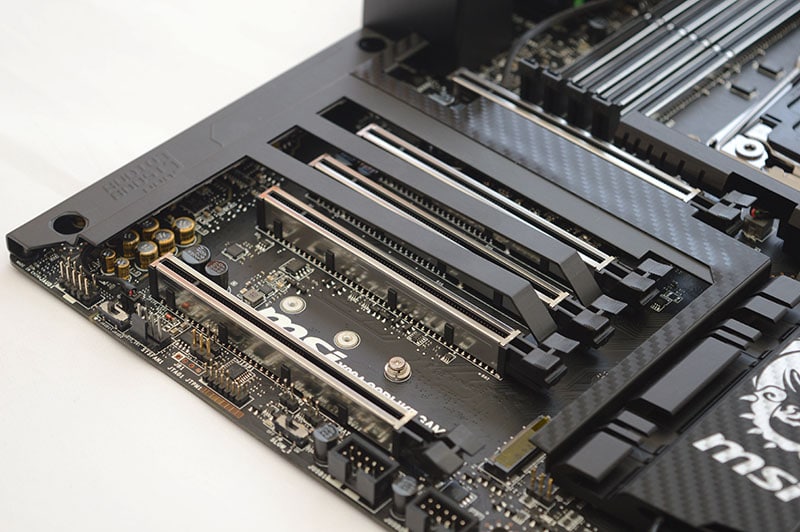 The audio segment is based upon the Realtek ALC1150 codec, features dual headphone amplifiers and an ESS ES9018K2M DAC to output a natural analogue sound with ultra-low distortion. As you might expect, the audio chipset is positioned on an isolated section of the PCB to reduce EMI and provide a clearer signal. The audio processor has been protected by an EMI-shield and utilises premium Chemi-con capacitors. MSI have even included a front and rear headphone switch to quickly toggle between audio sources.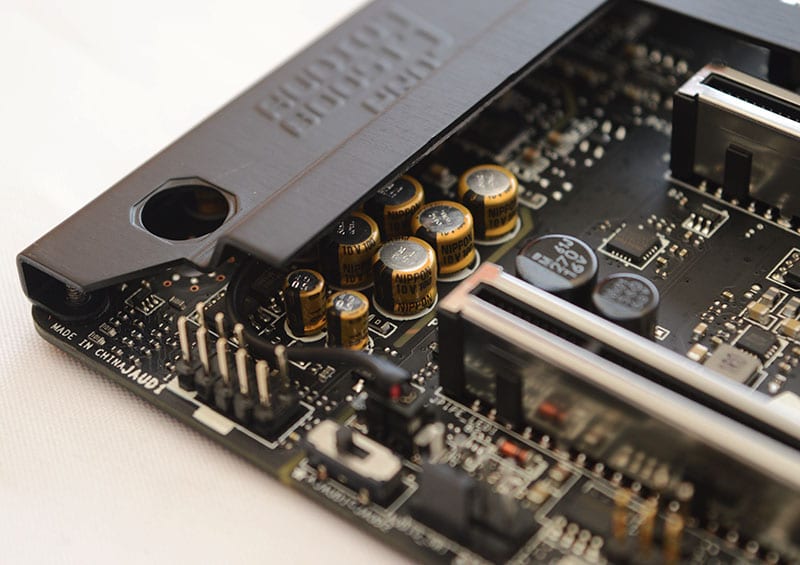 Connectivity-wise, the motherboard has 10 SATA 6Gb/s ports and a SATA Express 10Gb/s port. Please note, only SATA ports 1-6 support RAID 0, RAID 5 and RAID10 while SATA 7-10 are designed for IDE/AHCI modes. On another note, the LED post read-out is great for diagnosing system problems and even turns into a CPU temperature gauge once Windows has booted. This is an absolutely superb addition and makes it so easy to glance at the CPU's thermal output without software.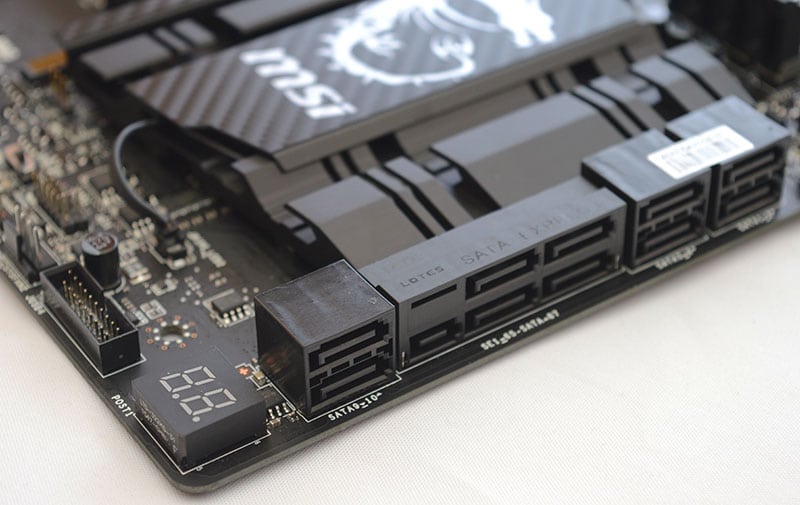 The rear I/O houses a PS/2 port, two USB 2.0, clear CMOS button, USB 3.1 Gen2 port, USB 3.1 Gen2 Type-C port, four USB 3.1 Gen1 ports, dual Killer Gigabit LAN ports, WiFi module, 6.3mm stereo headphone jack, five audio jacks and optical S/PDIF out.

One of the motherboard's most alluring features is the Mystic Light RGB illumination which surrounds the PCH, audio segment, power circuitry and more. The huge selection of vivid colours and spectacular effects adds such a stylish, unique appearance which is unlike anything I've seen before.  Here is a brief snapshot of the kind of colours you can expect on this very special design: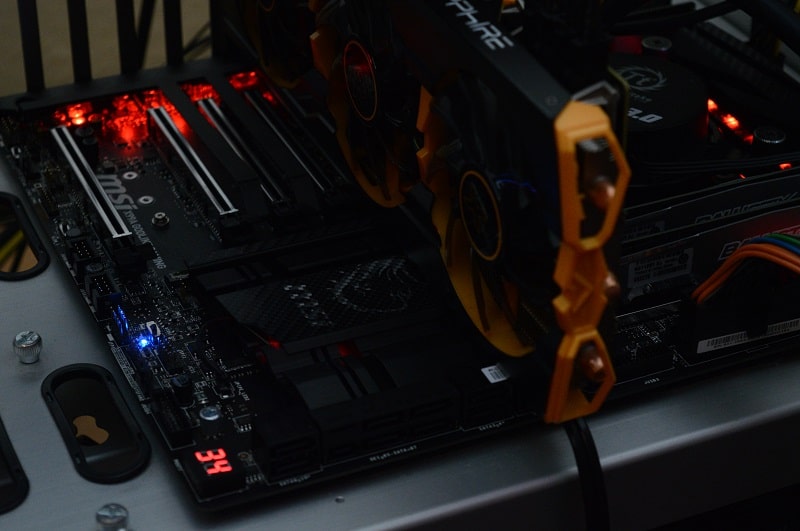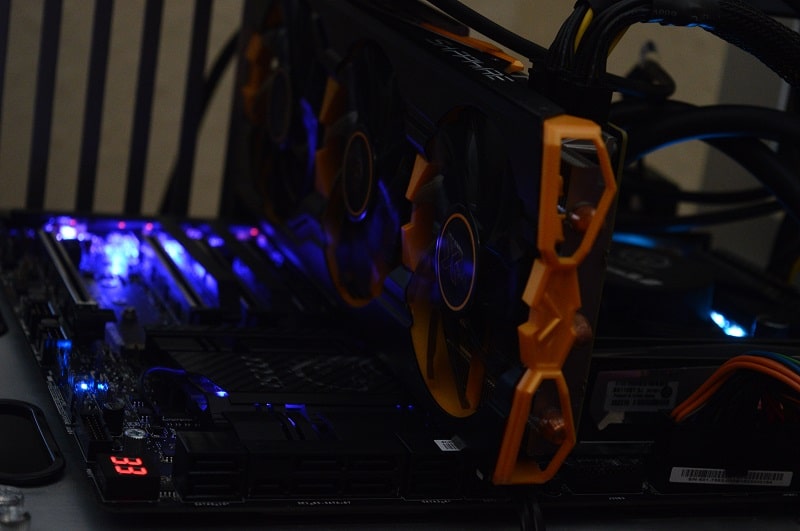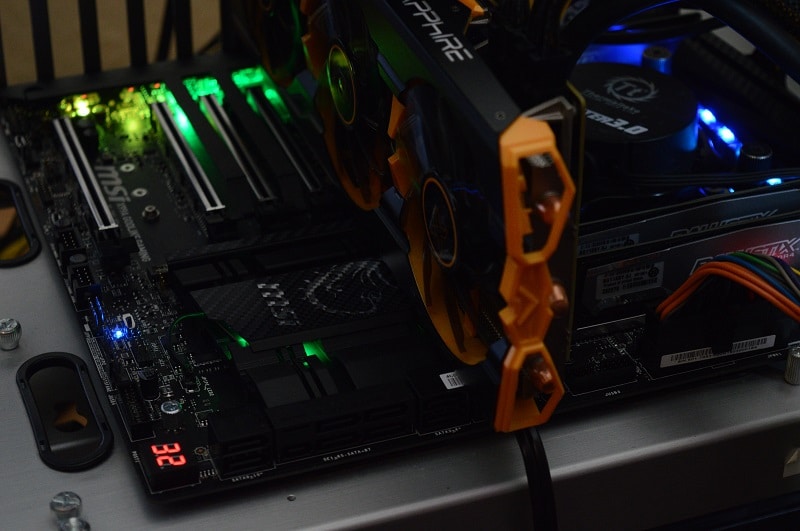 To provide an outline of what the motherboard's effects look like, we've compiled a brief video: