MSI Z87I Gaming AC (LGA 1150) Mini-ITX Review
---
---
---
Ryan Martin / 10 years ago
Introduction
---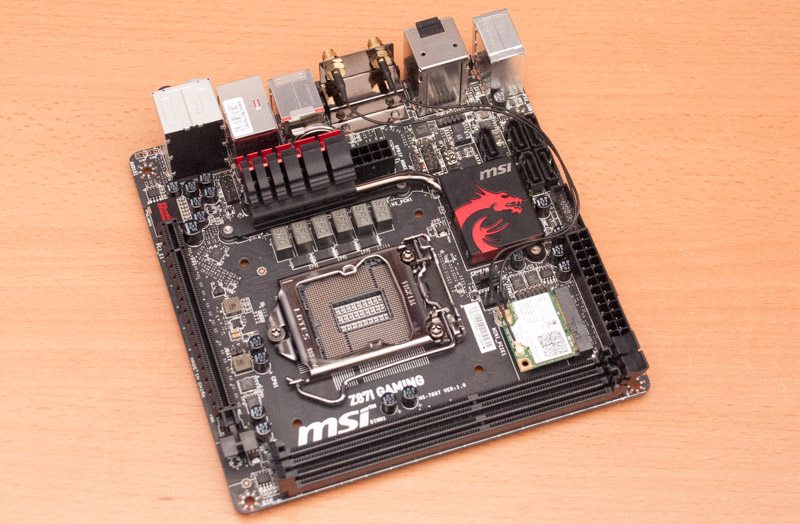 The mini-ITX trend continues to gain ground in the desktop market as enthusiasts look to make cooler, sexier and more compact systems. To an extent the shift towards more compact form factors and designs is the desktop market's response to the increasing pressure from popular mobile form factors like the tablet and the ultrabook. However, while that may be true to an extent, mini-ITX just makes sense for a number of a reasons. If you're only going to use a single graphics card, a pair of memory modules and a handful of SATA devices then why bother with ATX or even micro-ATX. That is especially relevant these days when mini-ITX boards have absolutely everything you could need, and then a little more.
That's exactly what we have on offer today as we're taking a look at MSI's Z87I Gaming AC motherboard. This is MSI's first mini-ITX "Gaming Series" branded motherboard and it has all the hallmarks of a gaming-orientated motherboard – a Killer NiC, high quality audio components and a boat-load of connectivity options. However, it also has all the hallmarks of a solid enthusiast/overclocking motherboard as we've come to expect from most company's "Gaming" product lines. Despite its size there's full support for overclocking Haswell K series CPUs, a 6 phase VRM, support for up to 3000MHz+ RAM, MSI's OC Genie 4 and a fully decked out UEFI BIOS with lot's of overclocking and tweaking options.
The specifications, shown below, resemble a lot of other Z87 mini-ITX motherboards on the market. The reason for that similarity across the vendors is there's only so much you can fit onto such a small PCB and given the Z87 chipset is already feature rich there's little room to customise. However, MSI have done some things quite differently – namely the mini-PCIe bluetooth and 802.11 AC WiFi card which gives you a lot more flexibility to make a portable LAN gaming rig – you don't need to be tied down to an Ethernet connection, though for most gamers Ethernet is still probably the preferred option.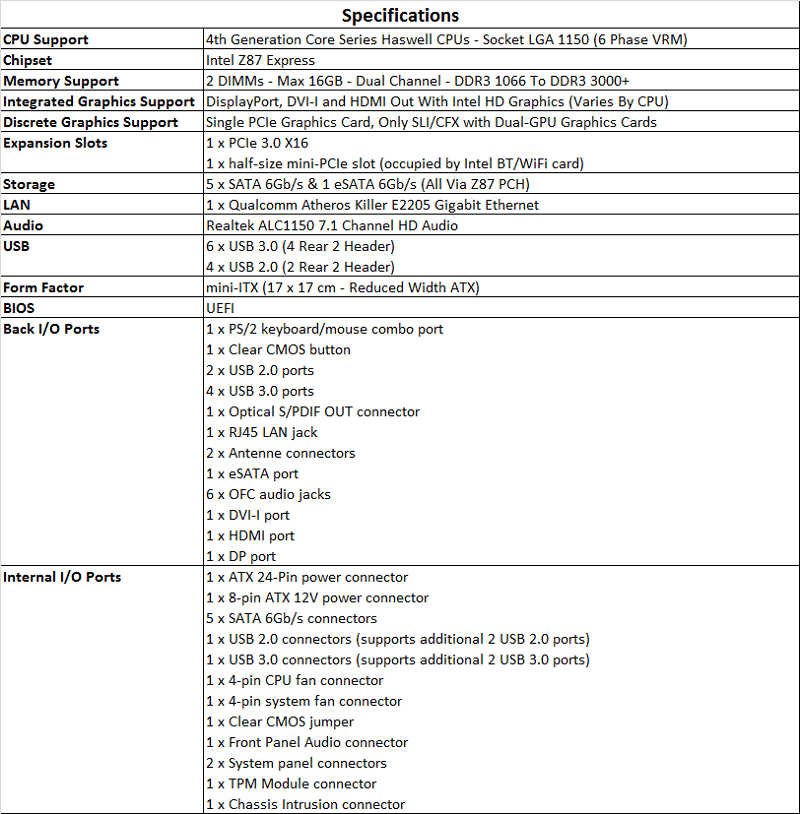 I'm not going to bombard you with the entire set of MSI marketing, because that's not really useful to anyone. However, I have picked out some of the key parts that I think will interest buyers the most. First is the Killer Networking chip, or Killer NIC. The basis for this is the Qualcomm Atheros E2205 Killer Gaming chip. In theory it should accelerate your gaming (UDP, or sometimes TCP) related traffic over other conventional forms of traffic (HTTP for example). Of course how effective the Killer NIC will be is going to be very dependent on the quality of your network infrastructure and broadband service.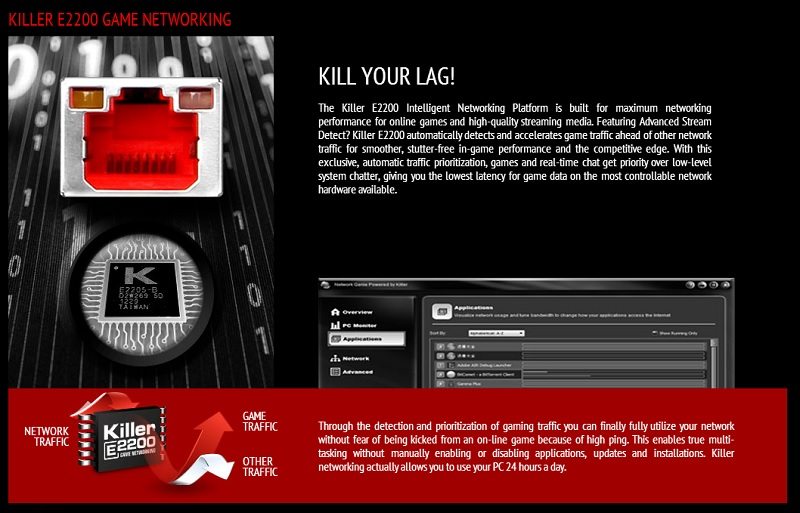 Next up is MSI's "Audio Boost" package which is essentially the Realtek ALC1150 codec with some extra add-ons such as gold plated audio jacks, EMI shielding of the codec, a headphone amplifier and higher quality audio capacitors. While all the extras make for nice marketing material the reality is that the quality of the audio is determined by the codec, however, the ALC1150 codec is solid so expect great audio. The headphone amplifier should also be useful to Gamers who use headsets.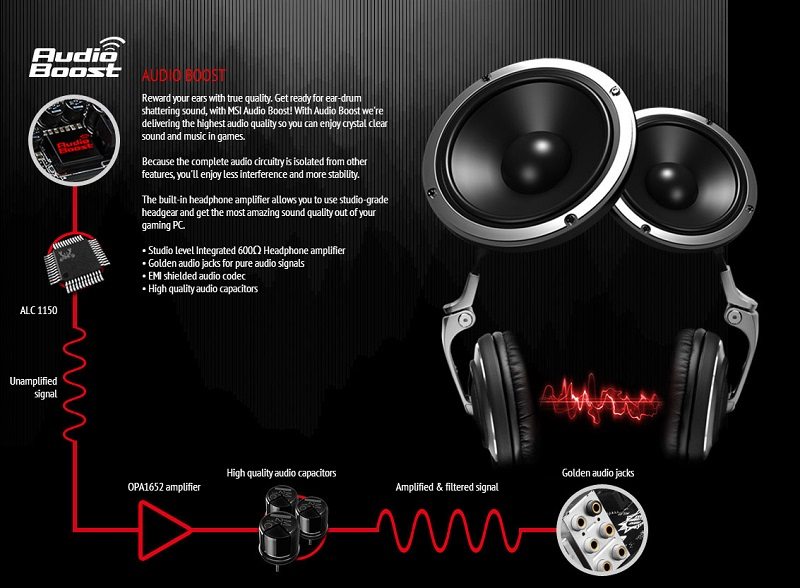 MSI have also implemented their "Gaming Device Port" which is essentially USB 2.0 ports with up to 1000Hz polling rates, though most USB ports can do this anyway. There's also extra gold plating for all the USB and PS/2 ports.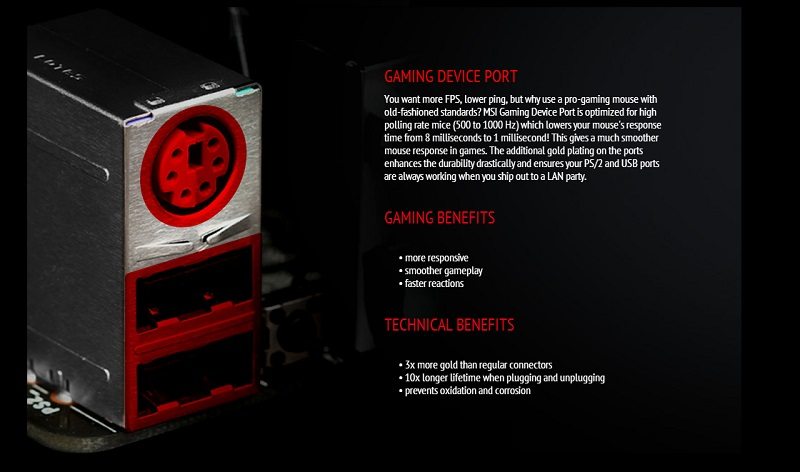 MSI's Military Class 4 component package is also present which includes the usual suspects – SFCs, Dark Caps, Super Ferrite Chokes and so on.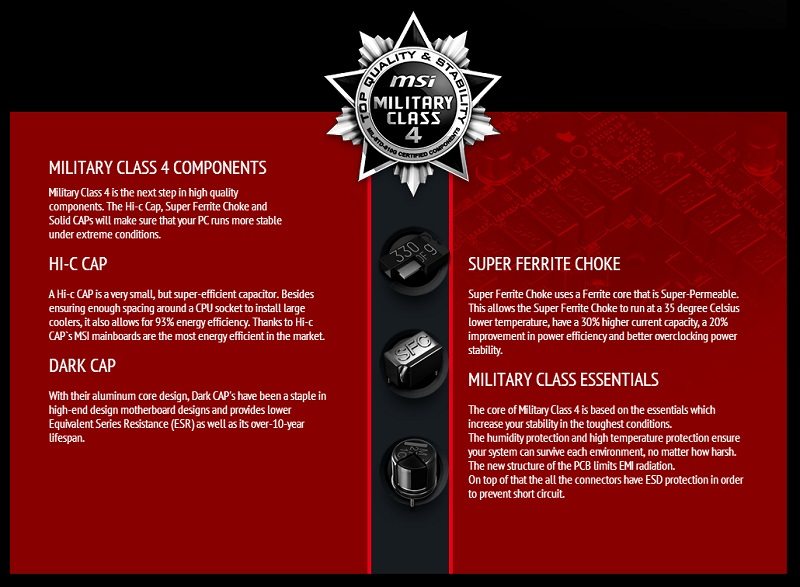 As I've mentioned already this motherboard has an integrated 802.11 AC WiFi card and a Bluetooth module. However, there's another nifty featured worth mentioning which is that the module has full support for Intel's WiDi (Wireless Display) technology. You will need a WiDi ready display to use it but it's something nice to have and gives you even more portability.