MSI's GTX 770 Lightning Graphics Card Pictured
---
---
---
Ryan Martin / 10 years ago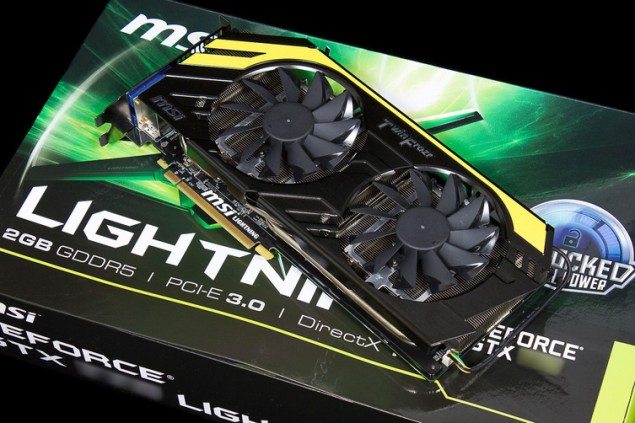 Nvidia's GTX 770 will be a rebranded GTX 680 with a few performance tweaks. As a result we are not surprised to see MSI ready with a GTX 770 Lightning Edition straight away given that they had a GTX 680 Lightning Edition graphics card which is in effect the same product. You can see the performance of the GTX 770 here and the specifications of the GTX 770 here. It is worth noting that while the stock GTX 770 has clock speeds of 1046 MHz core, 1085 MHz boost and 7GHz effective memory, the MSI GTX 770 Lightning Edition will probably have much higher clock speeds – to the tune of around 1100MHz core, 1150MHz boost and 7.4GHz memory is my best "guestimate".
The MSI GTX 770 Lightning Edition uses the Twin Frozr IV cooler with a pair of 10cm PWM fans. There is a dense aluminium heatsink and a bunch of heatpipes to cool the GPU, VRM and memory. The fans are equipped with MSI's "Dust Removal" technology which reverses the fans on start-up to expel dust. In addition the GPU is expected to ship with MSI's GPU Reactor module which beefs up the VRM and reduces static noise, allowing for greater overclocking.
Expect a price point of around $449+ for this model as it will be among the-best-of-the-best when it comes to GTX 770s that are available on the market. For reference the current MSI GTX 680 Lightning Edition costs $499.99 on Newegg. Expect the GTX 770s to hit the market on the 30th of May if rumours are to be believed, availability will probably come in the following week and pricing is expected at $399-$449.
Check out the pictures below and let us know what you think of it!