New Multiplayer Gameplay Video & Overview Released for Halo Infinite
---
---
---
Peter Donnell / 2 years ago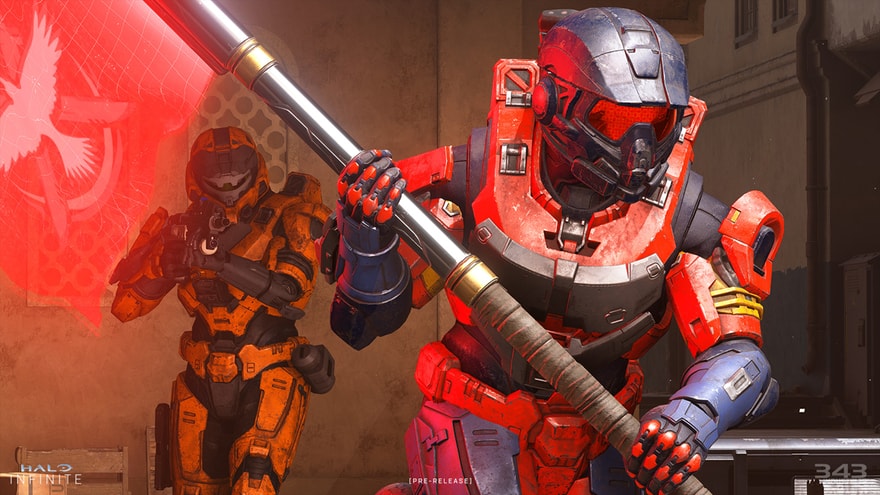 Microsoft finally shared some new details on the Halo Infinite Multiplayer at the Xbox & Bethesda Games Showcase. It was a fantastic show already, but the Halo addition was welcome after such a long delay to the game. Microsoft has now shared a new multiplayer overview video, giving us a deepdive into 343 industries and the work they've been doing. Of course, with this being the first free-to-play multiplayer aspect for the main series, it's certainly going to get a lot of attention.
The video details PC, Xbox, Crossplay, Seasons, Customisation and the new Sandbox mode (basically, the new Forge). Hopefully, the F2P nature of the game won't just see it littered with hackers and bots as we saw on Call of Duty… I'm genuinely concerned about this. I may even stick to playing it on Xbox and blocking PC players if that is an option available to me.
There's plenty of new gameplay footage in the video though, so it's well worth checking out. While it was meant to launch with the Xbox Series X/S, Halo Infinite will now launch Holiday 2021.
Want more? Here's what's to come
"The Great Journey So Far" – Available Today – Visit Xbox Wire to hear from Halo Infinite's Head of Creative, Joseph Staten.
343 Industries Halo Infinite Multiplayer Overview –Monday, 6/14 –More gameplay and insights from the team, debuts at 8AM PT on YouTube.com/Halo.
Halo Infinite Mark VII Spartan Cosplay Guide – Tuesday, 6/15 – Everything you need to know to create your own real life Spartan armor – here on Halo Waypoint.
Canon Fodder – Wednesday, 6/16 – 343 lore master GrimBrother One dives into the fiction behind multiplayer maps, vehicles, armor, and more.
Inside Infinite – Thursday, 6/24 – Our monthly blog series returns with a closer look at the future of Halo Waypoint and the work the team is doing to extend your Halo Infinite experience and we'll catch up with members of the Live team to talk player engagement and customization.
What 343i Had to Say
"After nearly 20 years of Spartan combat and experience to contend with, we know the Halo multiplayer arena can sometimes be a daunting experience. To help address this, a key pillar for Halo Infinite is to be the most approachable and welcoming entry in the series to date. To help ensure all Spartans meet the UNSC's high bar and have the skills necessary to succeed on the battlefield, we're excited to introduce the all-new Academy. Under the mentorship of Spartan Commander Laurette, the Academy offers players the opportunity to hone their skills and get better acclimated with the armaments and environments of Halo Infinite. Recruits will be able to dial-in their marksmanship skills at the target range or jump right into customizable training skirmishes and square off against AI-controlled bots. Training Mode lets you configure specific loadouts, deploy opponent bots of various skill levels, and practice on your own terms. Bots can also be configured in Custom Games to tailor the experience and even in fill-in roster spots for MIA fireteam members." –halowaypoint.com
More Information
Tune in as the team at 343 Industries shares more about the #HaloInfinite free-to-play multiplayer experience. Learn about the sandbox, Academy, bots, customization, and what they're focusing on for launch. Read more here: https://aka.ms/HaloMPReveal Sign-up for Halo Insider to join technical previews: https://aka.ms/HaloInsider