Mushkin Pilot 500GB M.2 NVMe SSD Review
---
---
---
Bohs Hansen / 4 years ago
Introduction
---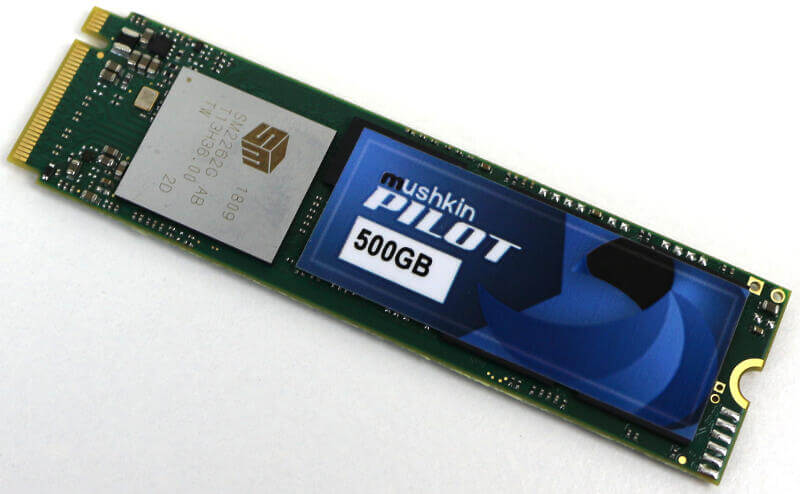 Mushkin Pilot 500GB M.2 NVMe SSD Review
We recently had a look at the latest Mushkin SATA3-based drives, but now it's time for something faster. Today I'm taking the 500GB version of Mushkin's Pilot NVMe M.2 SSD (product link) for a spin on my testbench. The drive promises a solid performance, but let's have a look at all the details first.
Mushkin Pilot NVMe SSD
The Pilot NVMe SSD from Mushkin is made with a Silicon Motion SM2262 controller which is paired with Micron 64-layer 3D TLC. The standard-sized M.2 2280 module has a green PCB and a blue sticker, so it won't win any beauty contests. On the other hand, if you place it under a heatsink, which many motherboards feature these days, then you won't even notice that part.
Mushkin makes the Pilot available in 4 capacity options: 120GB, 250GB, 500GB, and 1TB. A perfect capacity match for any type of need. All of them feature LPDDR4 memory for better performance.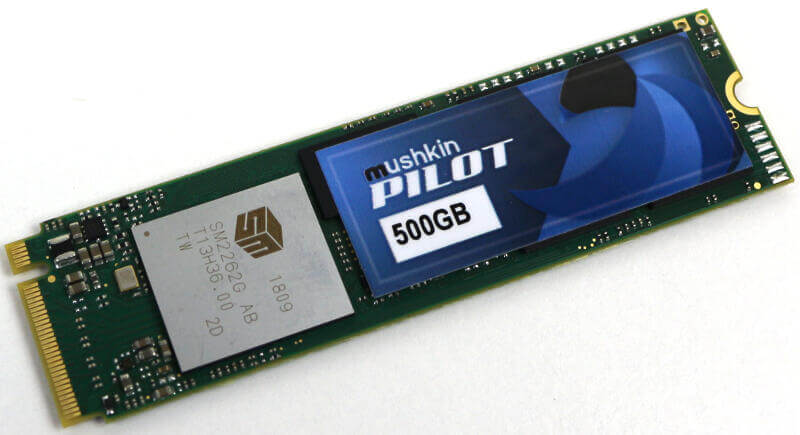 Drive Performance
Speaking of performance, let's dive into the numbers. As we know from 99% of SSDs, the performance depends on the capacity. The largest 1TB version is the fastest with its 2710/1775 MB/s sequential read and write performance. The random performance comes in at 28K/280K IOPS.
The 500GB version hits the sweet spot, and that's the one I'm testing today. It comes with a performance of 2680/1755 MB/s sequential and 335K/277K IOPS random.
The two smaller also have the lowest speeds – but still faster than SATA3 drives. The 250GB comes in at 2470/1000 MB/s sequential and 179K/257K IOPS while the 120GB features a performance of up to 1215/515 MB/s sequential and 91K/133K IOPS random.

Endurance and Warranty
Endurance is an important factor for an SSD drive, but sadly we don't get an official rating here. However, the Pilot has a mean time before failure (MTBF) of 1.5 million hours and it is backed by a 3-year warranty.
Features
Mushkin added their MEDS system to the Pilot NVMe drive. MEDS stands for Mushkin Enhanced Data-protection Suite, and in short, it makes sure that your valuable data is protected. This includes LDPC ECC error checking and data correction, end-to-end data path protection, data shaping, static data refresh, and global wear-levelling.

The Pilot also features SLC caching which accelerates burst performance and supports the L1.2 power mode for ultra-low power consumption. NVMe Security Erase and NVMe Deallocate (NVMe equivalent of TRIM command) function are both supported. As the last, you also get S.M.A.R.T. support, allowing you to keep an eye on your drive's health.
What Does Mushkin Have to Say About the Drive?
The future of storage is moving beyond traditional fom factors and to a place where performance, design, and efficiency define the new normal. Meet the Muskin Pilot PCIe Gen3 x4 NVMe Solid State Drive. Engineered to deliver more than just breathtaking performance, the Pilot elevates your PC to a whole new level of "normal".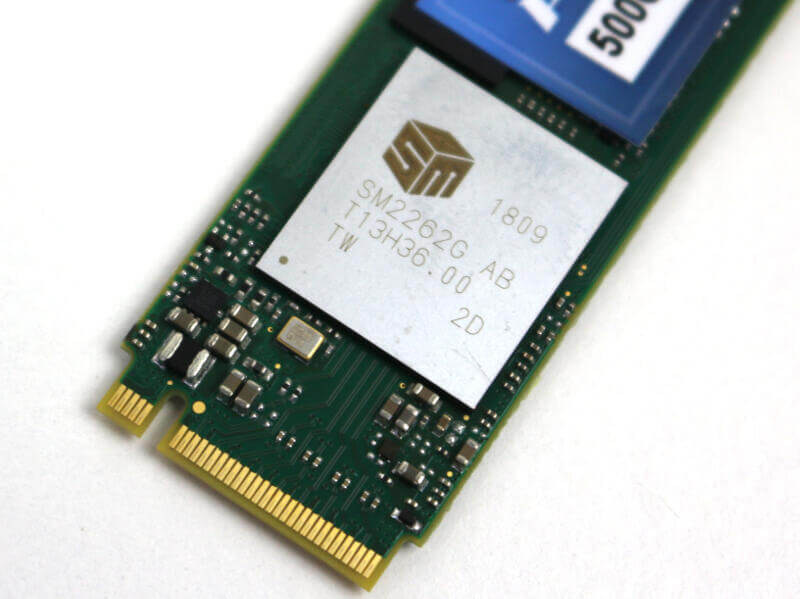 Feature Highlights
Optimal Data Flow: Optimised for dependable and reliable data blow
NVME Deallocate function support: NVMe equivalent of TRIM command
Shock-Resistant: Designed for continued reliable function
3-Year Warranty: For peace of mind
Package and Accessories
Mushkin packed the Pilot NVMe SSD in a blister pack which shows the included drive right away. The front doesn't have a whole lot of more information.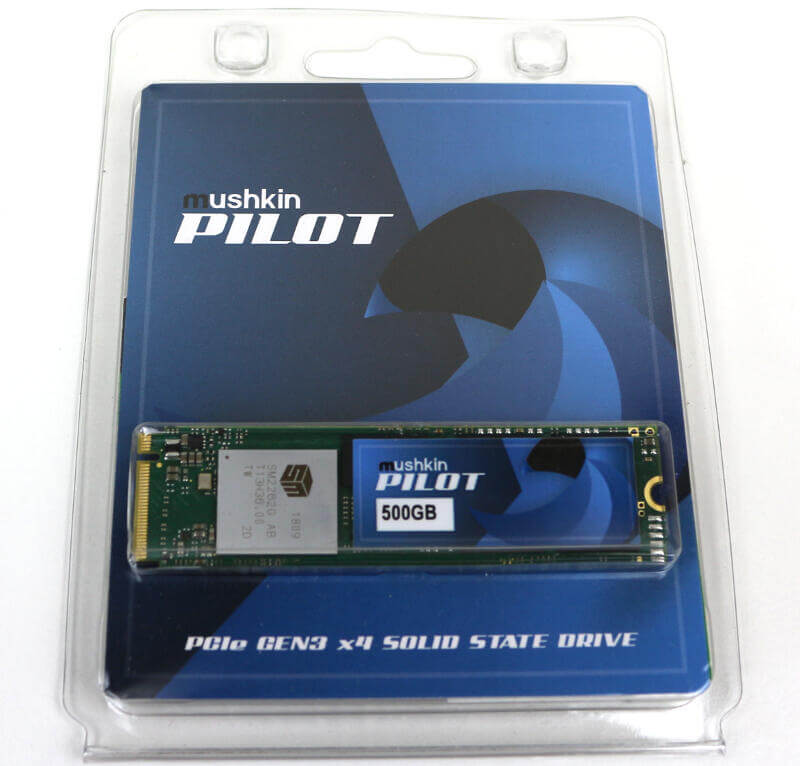 The rear side doesn't offer a lot more information. There's a sticker with the included drive's product number, type, and capacity. The rest is covered by the included sticker and thank you note.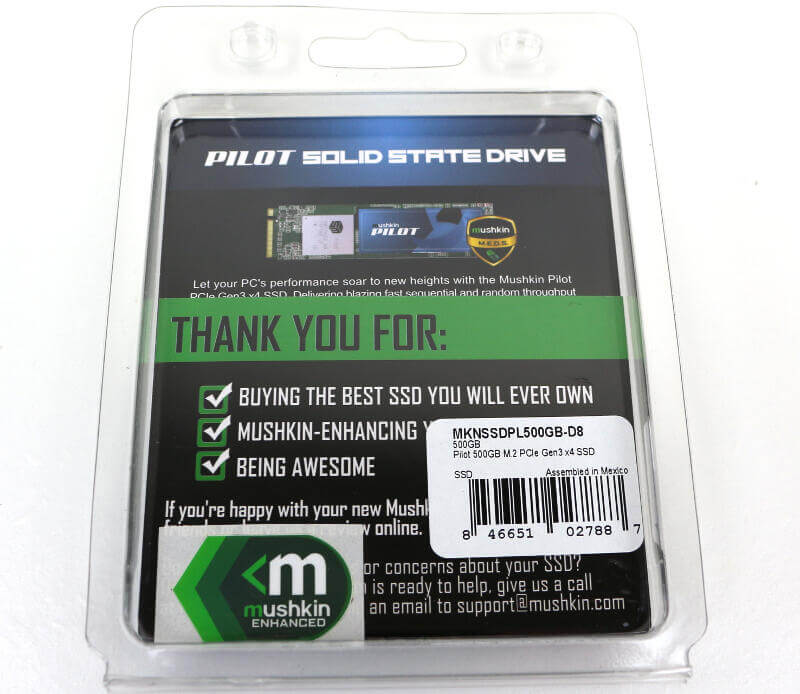 Removing the items from the package and we get a better look at the inlet paper. With it clearly visible, we don't find a lot more information except a short description and that it's a PCIe Gen3 x4 drive.
The Thank-You note also offers up customer service contact information in the event that you have questions or concerns about your SSD. The sticker can be placed on your chassis, or any other place, to show your Mushkin love.