MyDigitalSSD BPX 480GB NVMe M.2 Solid State Drive Review
---
---
---
Bohs Hansen / 6 years ago
Introduction
---
This is a joyful time to be a storage reviewer as more and more NVMe drives get released to the market and as such also find their way into my test benches. Today I'm taking a closer look at MyDigitalSSD's take on the NVMe sector, as I got the BPX PCIe 3.0 X4 NVMe 1.2 solid state drive in the office for some benchmarks and a closer look.
MyDigital's BPX comes in an M.2 form factor which is my favourite. There are no cables you need to connect and thereby less clutter inside your system. You don't need any extra drive bays either, at least not when you got a motherboard with onboard M.2 slots. The BPX comes in a default M.2 2280 form factor and should as such be compatible with most systems, it is the default size for consumer drives.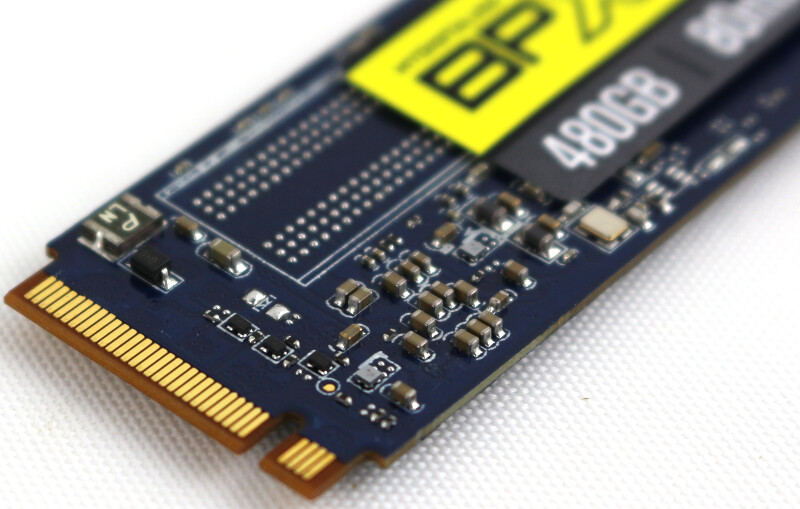 MyDigitalSSD offers the BPX NVMe M.2 SSD in three different capacity options: 120GB, 240GB, and 480GB. As you've already seen above, I'm testing the 480GB version today. The BPX isn't just perfect for stationary systems of users who want the best possible performance, it's also perfect for compact and portable systems such as notebooks and ultrabooks as well as mini PCs and NUC systems. Low power consumption, small size, and only 8 grams heavy.

The MyDigitalSSD BPX is built as PCIe SSD using the PCIe 3.0 generation with four lanes, coupled with the NVMe 1.2 interface. That allows the drive to take speed to the next level and far beyond the traditional SATA3 speeds. "Say hello to GB/s : The Next Evolution of Solid State Drives [sic]."
The BPX can achieve up to 2600 MB/s during sequential read operations and up to 1300 MB/s when writing in such a scenario. That's a lot of performance, even more so if you will be switching from a mechanical drive to this MyDigitalSSD BPX SSD.

The BPX drive features the Phison E7 (PS5007-E7) controller and MyDigitalSSD coupled that with 2D MLC 4-plane high-performance NAND. The result is a drive that takes things to the next level in regards to bandwidth as well as lowered latency times and power consumption. That kind of hardware should stand up against even the most demanding workloads – and if it doesn't, then you can RAID the drives.
The Phison E7 controller is built with great features and to safeguard mission-critical data with end-to-end data path protection as well as the SmartECC engine that ensures data integrity during high-speed transfers. It also utilizes firmware algorithms such as SmartFlush and an optional P-fail circuitry to prevent in-flight data loss from sudden power interruptions. The controller also supports advanced security features with its 256bit AES engine.
Additionally, the E7 controller supports NVMe L1 sub-state with less than 5 mW in L1.2 low power mode which is especially awesome for notebook user.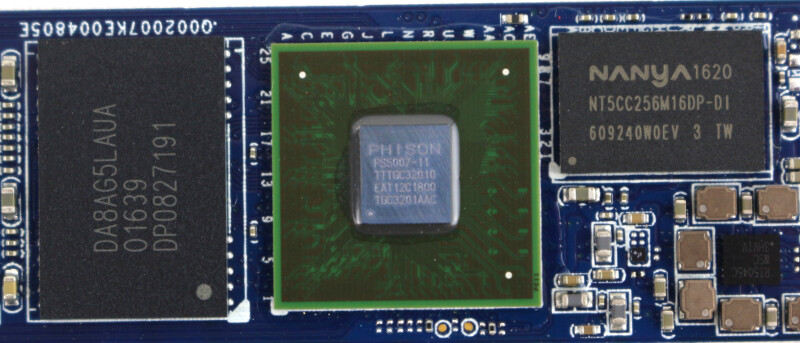 MyDigitalSSD is proud of the drive, there can be no doubt about that when we look at the endurance rating. First, the BPX is backed by an impressive 5-year warranty. Often, long warranties will have small print stating the total amount of data written as an optional warranty end, but not the BPX. Well, it does have such a rating too, but it is set to 1,400 TB total bytes written which is roughly 766GB a day. It also comes with a mean time before failure rating of over 2 million hours. With such a trust in the drive, it has to be good.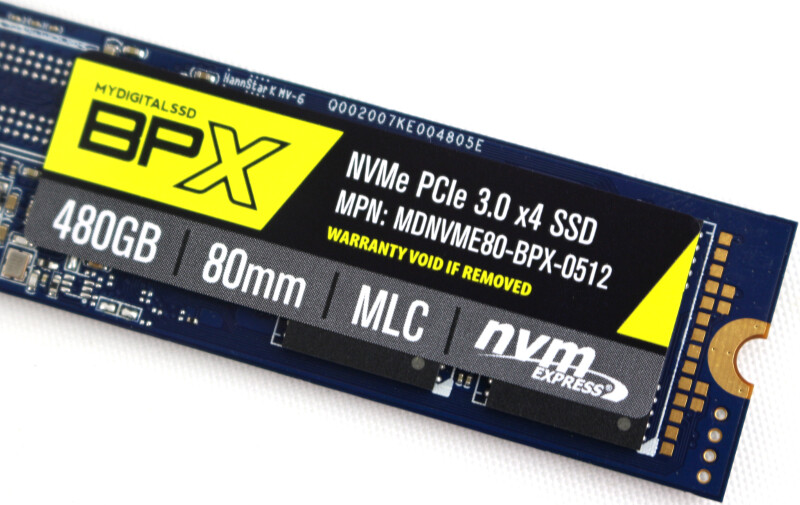 Feature Highlights
Phison E7 (PS5007-E7) Controller
2D MLC with 4-plane High-performance NAND
PCI Express Gen 3 x4 and NVM Express 1.2 Interface
End-to-End Data Path Protection
AES-256 Encryption
Power Loss Protection using Intelligent Cache Management
Low Power Mode Supports L1.2
Built-in Voltage Detector for Power Failure Protection
Built-in Voltage Regulators GPIO pins and Built-in UART
Hardware ECC (BCH) up to 120bit/2KB
Built-in Static and Dynamic Wear Leveling
SMART, TRIM, and RAID Support
Smart ECC – RAID ECC Protection
Windows & OSX Support
5 Year Limited Warranty
Package and Content
The package for the MyDigitalSSD BPX is a simple blister pack, but what more is needed. The bright yellow inlay colour makes it stand out and you'll be sure to spot it hanging in a retail store between other more blend packages.
We can see the included drive and accessories directly through the package, so there is no doubt on what we're getting.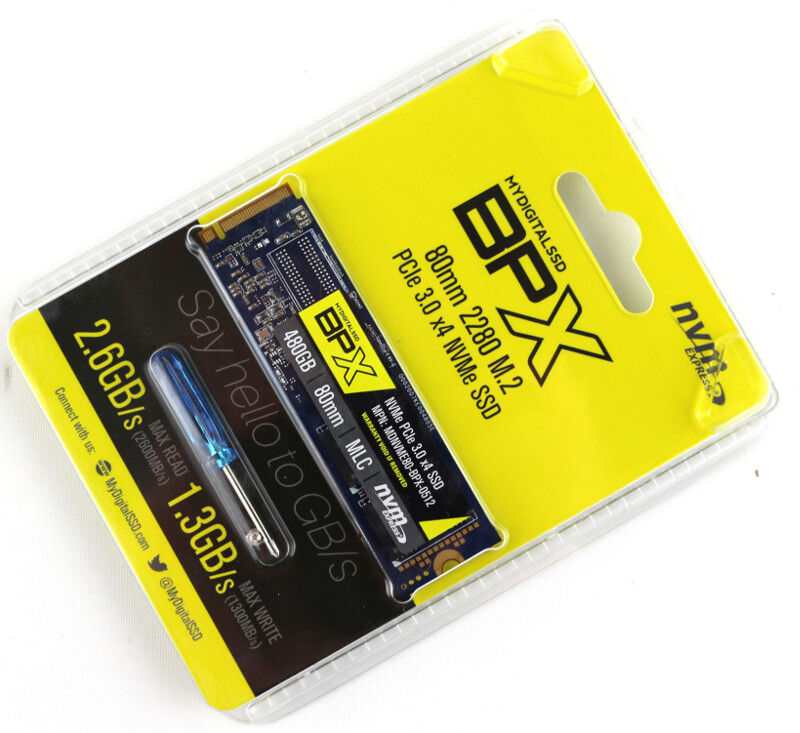 The rear has a viewing hole where the used Phison controller is shown along with one of the memory chips. There's also a list of features and a small text section introducing the BPX SSD.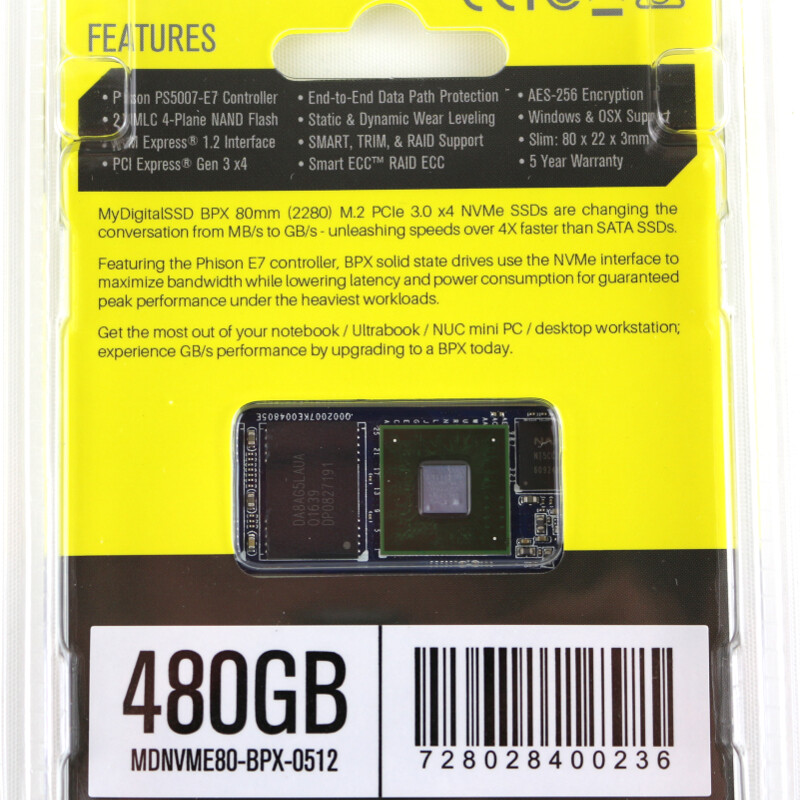 Inside the package are a tiny screwdriver, a screw (should you have lost the one in your motherboard or adapter bracket), and the SSD itself. Everything that you need to say hello to Gigabits per second transfer speeds.