MyDigitalSSD BPX Pro 960GB M.2 NVMe SSD Review
---
---
---
Bohs Hansen / 5 years ago
Introduction
---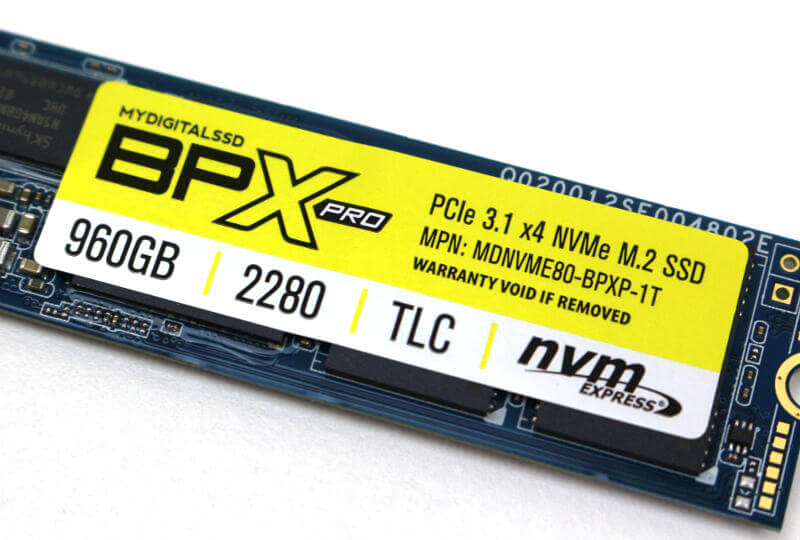 MyDigitalSSD BPX Pro 960GB M.2 NVMe SSD Review
Here at eTeknix, we've had a look at quite a few storage drives from MyDigitalSSD. Today I'm taking a closer look at their newest and probably most impressive drive: The BPX Pro. The BPX Pro (product link) has only just been released, promising high performance for very little money. That sounds perfect, doesn't it?
MyDigitalSSD BPX Pro SSD
The BPX Pro is MyDigitalSSD's latest addition to the X-Series. The full name is Bullet Proof eXpress, hence the BPX. It is a PCIe 3.1 x4 based drive on the NVMe 1.3 interface protocol. At the core, it is powered by Phison's E12 (PS5012-E12) controller and coupled with Toshiba's BiCS3 TLC NAND.

Right now, there are three available capacity options with a fourth just around the corner. It all starts with a normal 240GB and 480GB from where it moves onto the 1TB version which I'm testing today. Very shortly, a 2TB version will become available as well.
With a standard M.2 form factor of 2280 and the NVMe 1.3 specifications for lower temperatures and power draw, it'll surely make it into a lot of systems around the world.

Drive Performance
The MyDigitalSSD BPX Pro's performance is impressive, at least in the larger versions. The read performance is the same 3400 MB/s for all four versions of the drive, from 240GB to 2TB. That's some serious read performance we got here.
The sequential write performance variates depending on the capacity. At 240GB, you get 1100MB/s while the 480GB model goes up to 2100MB/s. The two largest drives, the 1TB and 2TB, have a very impressive 3100MB/s write performance. Again, very impressive and it becomes clear why MyDigitalSSD named it Pro.
The random performance isn't given in IOPS as we're used to. Instead, we get it as MB/s. The smallest version with 240GB is rated at 50MB/s read and 315MB/s write. The three larger models have the same 4K random performance of 55MB/s reading and 325MB/s writing.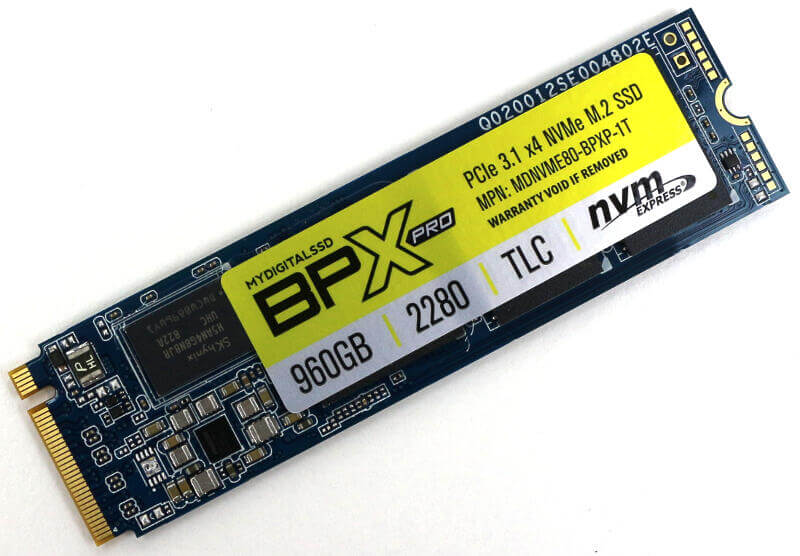 Endurance and Warranty
Endurance is a thing that people worry a little about when it comes to TLC-based drives, but there's no need for that. The 2TB model comes with a TBW rating of 3115 TB. The smaller 240GB, 480GB, and 960GB come with a rating of 380TB, 800TB, and 1665TB respectively.
MyDigitalSSD backs the drive with an impressive 5-year limited warranty – but let us hope that you'll never need it.
Features
MyDigitalSSD made sure that the BPX Pro is equipped with a great feature set too. From Garbage Collection over End-to-End data path protection and bad block management to static and dynamic wear levelling. It's all there. That naturally includes SMART and Trim support too. The BPX Pro is also compliant with AES-256, TCG Opal, and TCG Pyrite encryptions.
The power consumption is as good as non-existent. The drive consumes less than 900mW when idle and less than 2 mW when the L1.2 power mode is active.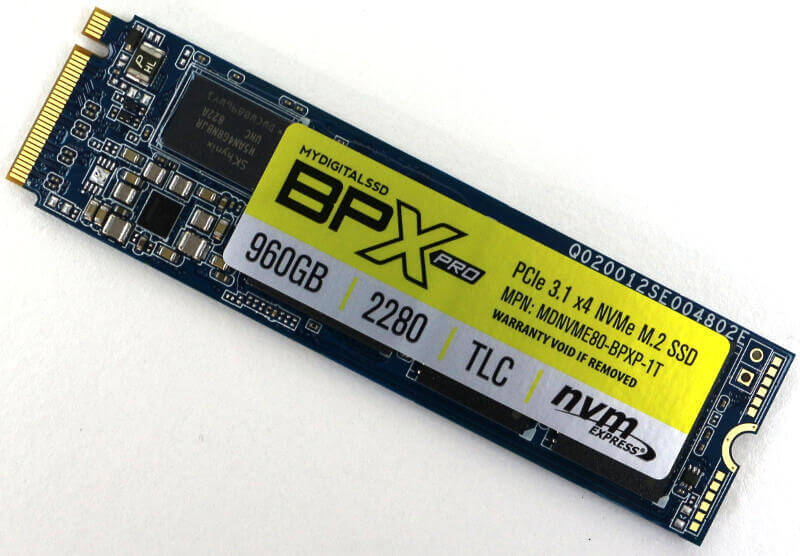 What Does MyDigitalSSD Have to Say About the Drive?
"MyDigitalSSD wants the BPX pro to be the best value for your dollar SSD on the market today PERIOD. In that thinking, we are slashing our pricing up to 25% immediately and giving all backorder customers a refund for the difference. Our new pricing is as follows

Available now at 240GB $74.99, 480GB $129.99, 960GB at only $259.99 while the 2TB is expected in about 2-3 weeks and it will be priced at $569.99.

This pricing is only a few dollars higher than the cheapest and slowest NVMe SSD on the market while its performance and quality are arguably the best on the market. With this pricing, there should be no question on what SSD makes the most sense to purchase today."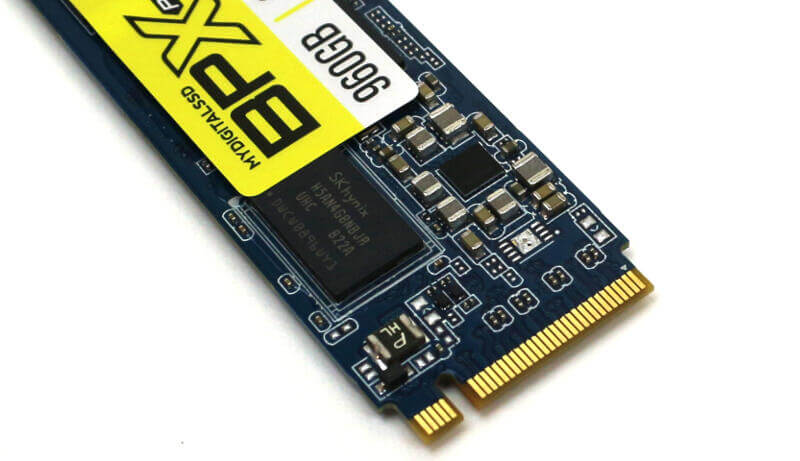 Feature Highlights
Pushing the limits of performance vs price to new levels
Up to 2TB capacity
Standard 2280 M.2 form factor
Equipped with Phison E12 controller and Toshiba BiCS3 NAND
PCIe Gen 3.1 and NVMe 1.3
A great feature set and impressive performance
Package and Accessories
MyDigitalSSD's BPX Pro comes in the same type of package which we've seen for prior drives. It might not be the fanciest packaging, but it's one of the best for display. The inlay has all the vital features printed onto it while the drive and accessories are clearly visible.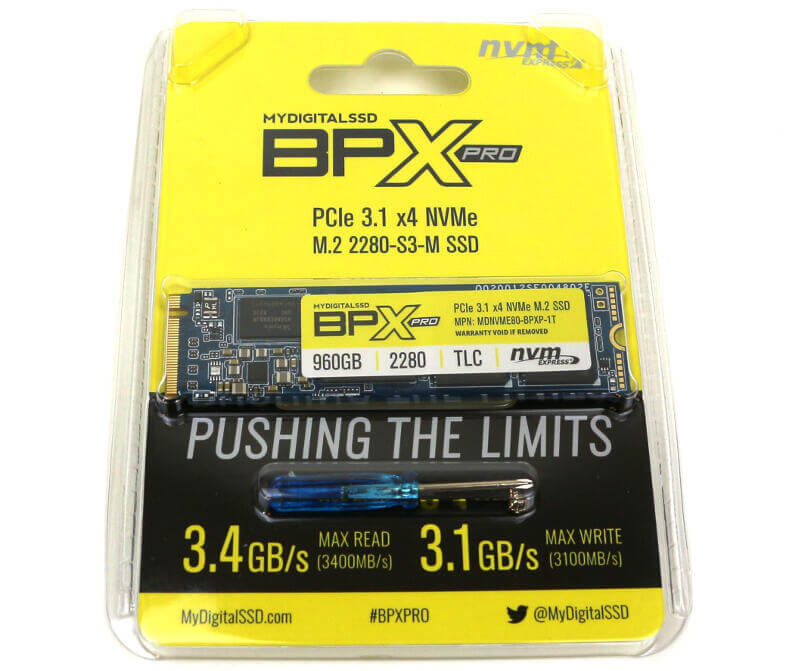 The rear side has more details about the specifications and usage scenarios. It also shows the included sticker, allowing you to brag about to awesome new drive.
Inside the package is a tiny screwdriver and a mounting screw along with the drive itself and a badge sticker. The screw isn't necessarily needed, but it's great to have in the event that your motherboard or adapter card lost its native one.