NAND Prices Fall and DRAM Prices Projected to Climb Further
---
---
---
Ron Perillo / 5 years ago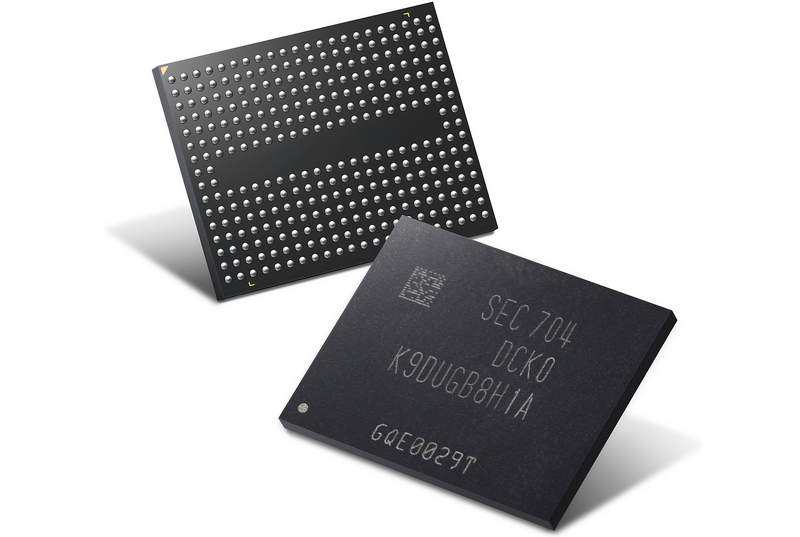 Ups and Downs of NAND and DRAM
One thing that is reliably certain in the PC market, is that memory and storage prices can vary greatly from period to period. As it currently stands, DRAM prices are high, driving the cost of other components that use it (like graphics cards) further. However, NAND prices are actually low and are dropping. Which is good news for those who want larger capacity SSDs.
As it happens, the big three DRAM manufacturers are also the largest NAND manufacturers. So the 15% fall of NAND prices in 2018 does not hurt them as much. Especially with a 60% year-to-year increase in DRAM prices. The entire semiconductor industry in fact has posted a record result in 2017 with a revenue exceeding $400 billion USD. The memory segment accounts for $126 billion USD of that pie.
How Much Higher Are DRAM Prices Climbing Up To?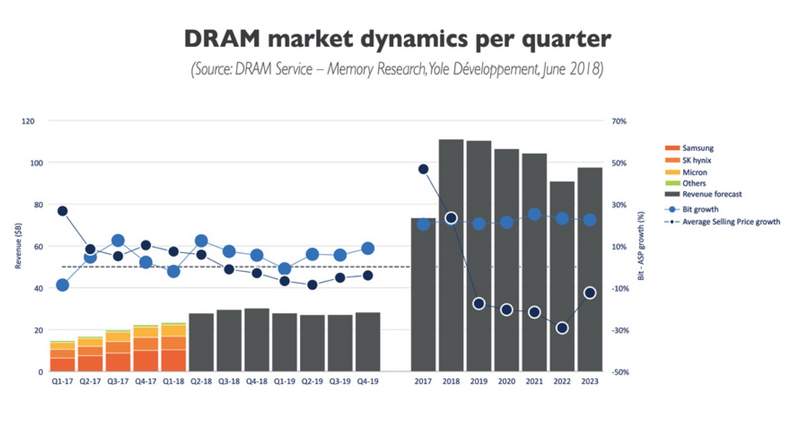 DRAM prices are expected to climb another 23% further from 2017 numbers. Furthermore, shipment forecasts also expect a 22% increase. This is expected to drive DRAM revenue up 51%, from $73 billion to $111 billion. Mobile demand remains exceedingly high with 40% demand of the market, while data centers account for 25%.
Samsung, SK Hynix and Micron control 95% of the DRAM supply market. Even if the recent Chinese regulators price-collusion probe finds them responsible, the fines are expected to be only up to $8 billion. That is less than 7.2% of their projected revenue.
How Does the NAND Pricing Forecast Look?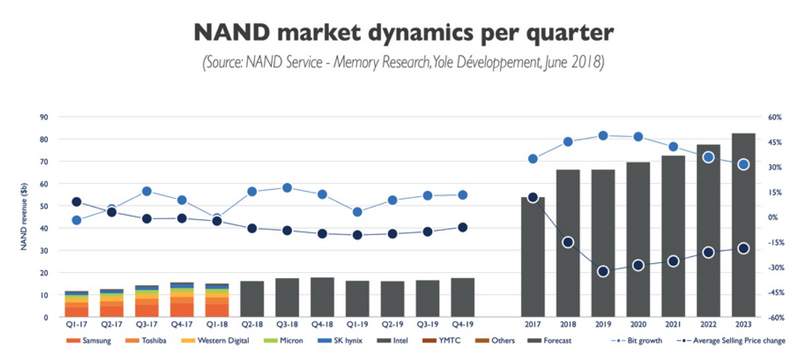 Despite NAND prices falling by 15% in 2018, shipments are increasing by 45%. That means revenue is also expected to climb 23% from $54 billion to $66 billion. The mobile segment also commands a significant chunk of the demand at 36%. Data centers with their enterprise SSDs account for 21%, while regular client SSDs account for 24%.
China is working to disrupt the dominance of the three manufacturers with government-backed YMTC NAND product launches in late 2018/early 2019. However, analysts believe that it will take a few years for them to catch up with the big three. As for DRAM, several Chinese companies have announced plans, but continue to find difficulties in developing in this sector. Mostly due to the lack of intellectual property and increasing complexity of modern memory manufacturing.
This desperation to make a significant mark in the market may be driving these companies to do unscrupulous things. For instance, Micron has recently accused one of these Chinese startups, Fujian Jinhua IC of stealing trade secrets.