NASA Begins Testing X-Plane with Quiet Supersonic Technology
---
---
---
Ron Perillo / 7 years ago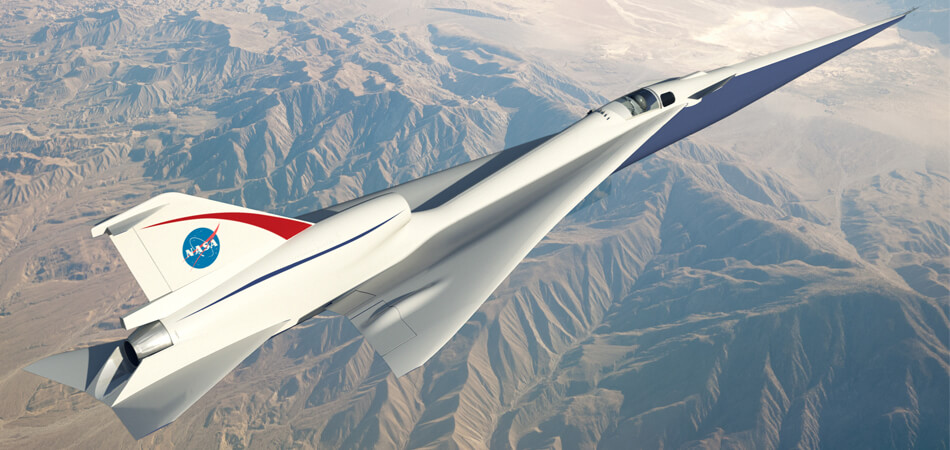 Lockheed Martin has teamed up with NASA to develop a Quiet Supersonic Technology (QueSST) passenger plane which has now begun wind-tunnel testing their preliminary design at NASA's Glenn Research Center in Cleveland. The initial testing of the Quiet Supersonic Technology X-plane is conducted on a nine percent scale model inside a compact 8-foot by 6-foot supersonic wind tunnel with the goal of testing how the design behaves aerodynamically against wind speeds ranging from Mach 0.3 to Mach 1.6.
The core of the project lies in the research that shows it is possible for a supersonic airplane to be shaped in such a way that the shockwaves it forms when flying at Mach speed can generate a sound at ground level so quiet it will hardly be noticed, if at all. Before the full-size model is made, many of the design requirements has to be worked out first on the scale model, measuring lift, drag and side forces at different angles of attack to ensure that it performs smoothly in flight.
Further testing is expected to continue until mid-2017. Much of the aircraft's shape, performance and flight systems have already been worked out prior in the design phase. The contract NASA awarded Lockheed Martin in February 2016 is only for the preliminary design of a demonstrator. NASA will be awarding another contract for the final design, fabrication and testing of the final model, provided that the funding is approved.
The Quiet Supersonic Technology design is only part of a series of experimental planes from NASA's New Aviation Horizons Initiative (NAH), with goals of fuel, emissions and noise reduction through aircraft design. This project will be staggered over several years with the QueSST design starting its flight campaign in 2020 and other projects following in subsequent years.