NBA Live 14 Heads To Next-Gen Consoles
---
---
---
Peter Donnell / 10 years ago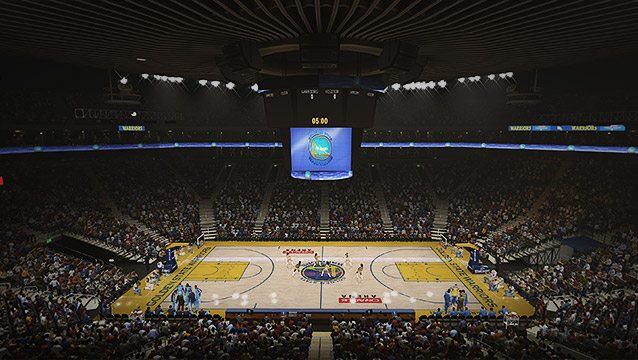 Electronic Art launched NBA LIVE 14 on Xbox One and the PlayStation 4 this week. The game features revolutionary new bounceTek dribble physics, dynamic player and team ratings and tendency updates via CourtQ and Synergy Sports, constantly evolving LIVE Season Challenges, the fan-favorite Ultimate Team mode and much more.
"It feels great to bring NBA LIVE back to the hardwood," said Executive Producer Sean O'Brien. "It's an exciting time in our industry with the launches of both the Xbox One and PlayStation 4 consoles. For NBA LIVE 14 to be chosen as one of the five launch titles from EA shows the commitment the company has to this franchise. I'm looking forward to continuing to bring NBA fans an authentic, relevant and connected basketball gaming experience in the years ahead."

"I'm so happy fans are finally getting to play NBA LIVE 14," added Cleveland Cavaliers All-Star point guard and NBA LIVE 14 cover athlete Kyrie Irving. "I loved these games growing up, and it's great to see them back again. It's been a pleasure working with the EA SPORTS team and we think this is the best version yet."
NBA LIVE 14 delivers a number of features for the NBA game enthusiast. Players will be able to utilize bounceTek dribbling for an unprecedented level of control with the ball in their hands. The innovative physics-based dribbling system provides organic control and authentic responsiveness, introducing a rhythm-based dribble that mimics the NBA game and allows fans to perform ankle-breaking crossovers, hesitations and more.
CourtQ allows NBA LIVE 14 to sync step-for-step with the actual NBA season as it happens, providing updates to over 70 player and team ratings, tendencies, stats and more, all updated within hours after each NBA game. Which is pretty incredible to say the least. I'm not sure if this will bring any real core benefits to gamers, but for fans of the sport it can bring you closer to the actual season than ever before.
LIVE Season introduces new challenge-based games in the form of BIG Moments and NBA Rewind. BIG Moments offer bite-sized challenges based on the biggest performances and most impressive players each and every night of the NBA season. Within hours of the end of each game fans can boot up their console and take on BIG Moments ranging from last-second buzzer-beaters to full-quarter challenges. In addition, NBA Rewind lets players relive their favorite teams' full schedule, with added objectives based on each game's best performers. Relive history or rewrite it as you attempt to replicate the feats of the NBA's best players in the biggest moments.
Those looking for a fantasy basketball experience can dive into LIVE Ultimate Team, putting together dominant rosters composed of the NBA's brightest talent. Play online head-to-head games or Fantasy Showdowns to earn coins to buy new packs of players, uniforms, contracts and more to build the best line-ups possible.
Fans can also look forward to additional modes like Dynasty, Rising Star Powered by Under Armour®, and a best-of-seven Friends Finals series. Augmenting all this is a full ESPN broadcast presentation with commentary and analysis by Mike Breen, Jeff Van Gundy and Jalen Rose, as well as the Mixtape by MICK soundtrack, bringing all the freshest artists and tracks to NBA LIVE 14.
The feature set here is pretty epic and if this is just a taste of next-gen sports games then I can't wait to get my hands on the rest of the EA sports series. The game is available now, you will also be able to download a demo of the game from the 29th of November.
[youtube]http://youtu.be/St-S5PCKAkE[/youtube]
Thank you NBA Live for providing us with this information.